Return Of The Boat People
Edith Updike
I first met Xuan in 1993 at the Phanat Nikhom Refugee Camp, two hours from Bangkok--a sunbaked sprawl of overcrowded shacks enclosed in barbed wire. We both worked for a pittance for the Catholic Office of Emergency Relief & Refugees (COERR). I earned $240 per month. Xuan, a refugee volunteer, got $4, paid in soap or other goods. He lived on 40 cents a day.
Xuan was one of 840,000 Vietnamese refugees who had left their homeland after Saigon fell in 1975 and wound up in third countries, such as the U.S. In 1987, a surge of economic migrants hit the camps. But, their patience worn thin, host countries have been winding down these refugee operations. Phanat shipped out its last inmate in June, 1996. Now, just 10,000 are left in a handful of camps, which will close by yearend.
Xuan (whose name, like those of other former refugees, has been changed) returned to Ho Chi Minh City a year ago. We sit outside the airport with Hoa, another returnee, sipping orange Fantas and catching up. Xuan is married and has a two-week-old baby boy. He makes $300 per month by working in a store and restaurant, and wholesaling toothpicks to hotels. He has a computer, a phone, a Suzuki motorbike, and a TV/VCR he has no time to watch. "I can't save, I want to buy everything," he laughs. Hoa's business card says "consultant," a step up from his first job here as a waiter. He makes only $100 per month, but he gets free room and board.
WORLDLY. My refugee friends are cheerful, though: It seems the life they return to is not so bad after all. They're wiser and more worldly now. "I don't even want to leave anymore," says Xuan. His sister made it to Sacramento, where she works as a seamstress. But her letters have convinced him that his chances in the West aren't much better. "Now I think life in third countries isn't so easy as I thought," he adds.
Roughly 15% of the 80,000 refugees who have returned to Vietnam since 1989 are in freewheeling Ho Chi Minh City. Here, they find more work and less resentment than in the countryside. Returnees, handicapped by lost years of schooling and lack of skills, have trouble getting jobs and housing and are blamed for Vietnam's twin plagues of AIDS and heroin addiction. Many Vietnamese look down on people such as Xuan for having left the motherland--and for having failed to reach the West. The returnees are deeply ashamed. "I was so embarrassed when I came back, I didn't even leave the house for three months," Xuan admits. Phuong, another former Phanat inmate, didn't look up old friends for a year after his return. Social networks are frayed by absence and the taint of desertion, in a country where connections are almost everything.
PIG'S EARS. In the camp, Xuan, Hoa, and Phuong picked up useful skills, such as English. "The ones who worked for international agencies in the camps have the easiest time finding jobs. They've got decent language skills and know how to present themselves to employers," says Frances House, who monitors returnees for the European Community Integration Program (ECIP).
As I spend more time with the three, their good cheer gives way to a rougher truth. On a drizzly Sunday evening, Xuan races the Suzuki down narrow, wet alleyways to his house. Three generations of extended family and a few friends are gathered to celebrate his baby's christening. We eat from huge plates of spicy beef, shrimp, and pig's ears--all washed down with beer.
"They don't trust us," gripes Phuong. "At the police station we're in a black book; we know that." Adds Hoa: "If I'd never left, it'd be easier to find a job. I lost opportunity." Their English skill isn't enough, says Phuong. "Even for foreign companies, I don't have enough qualifications. My English is O.K., but no university degree," he says.
HORRORS. Phuong's resentment has been simmering for years. He was accepted to the university in 1989, but instead of letting him go, his bosses demoted him. "They didn't want me promoted ahead of them afterward," he says. So he decided to leave.
Hoa is irritated at Phuong's carping. "No use crying now," he snaps. "Just forget about it." He left in 1989, looking for an education. Four years later, he returned to My Tho to stay with his father and grandmother. But he couldn't find work, so he moved to the city. "In the provinces they'll tell you, `You're a refugee, I can't have you,' but in Ho Chi Minh City they don't care," he says.
The government requires returnees to go back to their hometowns for at least three months, where they often face hostility. Their children, for example, have trouble getting into schools. The U.N. High Commission for Refugees has spent $34.4 million on small community-development projects and has given returnees grants of up to $360 each. The European Union sent $120 million in aid. But those who stayed behind resent handouts to people they view as deserters.
Some who return can't shake the horrors of camp life. ECIP's House tells of an 18-year-old girl who was raped by her father in a Malaysian camp and got pregnant. She returned to Vietnam with the baby while the father went to jail for the rape. At home, she was rejected by her family. Now the father's back. "She's disappeared, we can't trace her," House says sadly.
Many who came back with Xuan have disappeared, too. At first, they got together, but they've drifted apart. Phuong's brother, also a camp alumnus, is angry when former refugees stop by. "The more we hide our background from camp, the better our life," he says. We try to locate Kien, who last worked at a bowling alley. But he quit--his umpteenth job since returning.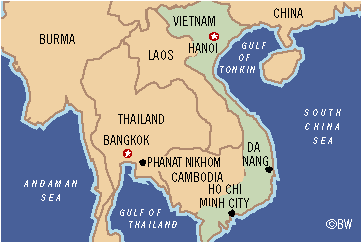 Xuan has prospered by making himself indispensable to his boss. He showed the same drive at COERR, installing showers on his own initiative. It seems to me that those who left were some of Vietnam's most motivated citizens, willing to face dangers and unknowns for better educations, jobs, and lives. Their courage and initiative could be harnessed for Vietnam's economic development, but not until Vietnam forgives them.
At the end of my trip, we share one last meal. Hoa tells the story of his boat trip. I've heard it before, but it's a good tale, with pirates and storms and prayers. Phuong confides that he's arranging a marriage to get to the West. He thanks me for listening: "I'm just so glad to talk to someone who understands." Xuan has voiced few complaints. But in the end, even he asks me not to use his name.
Before it's here, it's on the Bloomberg Terminal.
LEARN MORE