Red Alert At Ford
Behind closed doors, the word goes out: Cut deep, or we get stomped
by
Ford Motor Co.'s American managers had reason to be happy, coming off record third-quarter U.S. auto earnings of $634 million. Instead, in a blitz of meetings with the company's 72,000 salaried employees, Ford executives have been dousing the troops with a cold, sobering bucket of reality. At home and abroad, griped one vice-president to an assembly of managers in Dearborn, Ford is being soundly thrashed by its crosstown rivals, General Motors Corp. and Chrysler Corp. And that is threatening Ford's sweeping global reorganization. "Our competitive position is deteriorating," the VP warned. "If we are going to be the world's leading automotive company, we have a long way to go."
That blunt message is being repeated around the world within Ford this month. An audio tape of the closed-door session in Dearborn, obtained by BUSINESS WEEK, provides a rare glimpse inside a corporation that has suddenly perceived itself to be close to crisis and is moving quickly to react. To outsiders unaware of the depth of Ford's difficulties, the message may seem shocking. Indeed, the tape reveals internal plans and numbers that companies usually guard zealously.
Top Ford executives, for instance, are brusquely telling workers they have to meet a stringent new goal: to slash spending in the coming year by $2.5 billion. Otherwise, they warn that Ford won't make its aggressive profit target for 1997--which the tape reveals to be a 3.3% net on worldwide auto sales, more than double the 1.5% net margin so far this year. "We need to accelerate our plans," the VP implored at the Dearborn meeting.
The call to arms, which began on Nov. 4, was initiated by Ford Chairman Alex J. Trotman, who says he wants to create a sense of urgency about the company's problems. "Our costs are too high," Trotman told BUSINESS WEEK. "The key challenges are to drive product costs down, drive fixed costs down, and meet the budget for next year." But the style of Ford's drive to raise profits has the signature of Jacques A. Nasser, who became Ford's new automotive president on Oct. 10. Nasser is a rough-and-tumble Aussie who is the current favorite of Ford's board to be named CEO after Trotman retires in two or three years. "This sounds like classic Jac Nasser," says Morgan Stanley & Co. analyst Stephen Girsky.
JAC THE KNIFE. What has got Ford's top brass in such a lather? They still expect Trotman's Ford 2000 reorganization of the entire company to pay off--but not until 1999. Nasser has pledged that the initiative will eventually generate $11 billion in savings as the auto maker develops cars globally and eliminates the duplication that plagued its old regional system of product development. In the meantime, top management is growing increasingly concerned about a short-run profit squeeze. Ford executives warn that failing to meet the profit goals they have laid out could derail Ford 2000, whose linchpin is the belief that Ford should average a 5% auto profit margin in good times and bad.
The executives' major worry: Most of Ford's automotive profits are derived from its popular Ford Explorer and F-series pickup trucks, which are coming under increasing attack. "We can't count on this profit in the future," the VP warned. It's also clear that Nasser's cost-slashing in Europe--where he earned his rep for toughness--didn't stick. "Nasser is going to have to be Jac the Knife again in cutting costs," says Bear, Stearns & Co. analyst Nicholas Lobaccaro.
When Nasser arrived at Ford's bleeding European operations in 1993, he ordered executives to rip up their three-year turnaround plan and forge a return to profitability in just one year. And indeed, Ford made a $128 million profit in Europe in 1994 after a huge loss the year before. But since Nasser's departure for Detroit that year to head up product development, results in the Old World have crumbled again: Losses hit $472 million in the third quarter. Trotman and Nasser barnstormed Europe in October to find out why. Much to their chagrin, they realized that Ford's flaws there--costly vehicles and high overhead--are endemic worldwide.
Nasser quickly formulated a plan to chop $2.5 billion from Ford's spending plans in 1997. The top-secret blueprint calls for freezing discretionary spending, eliminating slow-selling vehicles, slashing the travel budget in half, pulling workers back from costly overseas assignments, and putting a hold on adding to salaried employment. This is in addition to a program Ford announced in October to cut 4,000 salaried jobs worldwide. "The title of the Ford business plan these days is: Don't rely on revenue increases," Trotman says. "We control the cost, and that's the thrust of what we're about now."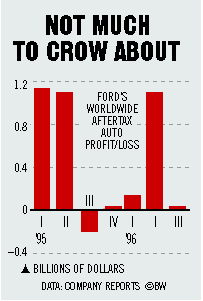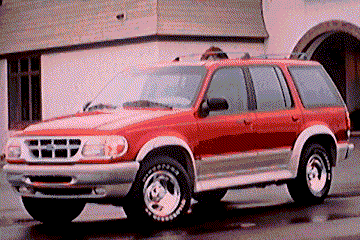 CROSS-TOWN WOES. Ford's automotive earnings have been lackluster for the past 15 months. One problem is that cost-cutting and the weaker yen have allowed Japanese rivals such as Toyota Motor Corp. to slash prices. But Ford also is eating the dust of its Detroit rivals. In its closed-door sessions, Ford is showing managers slides of how they are being outperformed by Chrysler and GM. Chrysler tops Ford by more than $1,000 in profit per vehicle in the U.S., while GM enjoys a nearly $800-per-car advantage in Europe. So far this year, Chrysler's aftertax auto profit margin is 5.7% and GM's is 2.5%. Ford's is just 1.5%. "No matter how you cut it, Ford is behind the competition in costs and profits," the VP said at Dearborn. The "healthy" market share increases Ford was counting on for 1997 now "may not be realistic," he added.
Wall Street has panned Ford lately: In the last month, 15 analysts have lowered their 1997 earnings projections for the company. Ford's stock is off 14.4% since May, to around $32. One reason: Analysts are anxious for Trotman & Co. to own up to Ford's problems. "The only thing Ford can do is to declare a state of emergency," says Bear Stearns's Lobaccaro. Now that it is doing just that, the Street may be cheered. But Ford clearly knows that any glitch, such as a sudden downturn in the auto market, could cut its profits to the bone.
Before it's here, it's on the Bloomberg Terminal.
LEARN MORE