No Midair Miracle For Canadian
The troubled airline's restructuring may come too late to save it, or American Airline's investment
William C. Symonds and Wendy Zellner
When AMR Corp., the parent of American Airlines, bought a 25% voting stake in Canadian Airlines International Ltd. in April, 1994, both sides had sky-high expectations. Rhys Eyton, then Canadian's chairman, called the deal the key to a "miracle" that would finally pull Canada's long-troubled No.2 carrier out of a tailspin. As for AMR, Chairman Robert L. Crandall predicted that "we will make a nice return on our investment." It was, the smiling Crandall said back then, "a win-win alliance."
No one's smiling now. Canadian has lost more than $200 million since the deal was signed. On Nov. 1, CEO Kevin E. Benson announced that the $2.4 billion carrier doesn't have enough cash to keep operating all winter. Benson is trying to push a restructuring plan to boost cash flow by $135 million a year. If he doesn't win union backing by Nov. 30, warns Benson, "we must plan a shutdown." To make matters worse, the board of the carrier's operating company--though not that of parent Canadian Airlines Corp.--resigned on Nov. 15 after lawyers warned they faced "growing personal liability." Under Canadian law, directors can be liable for such expenses as unpaid wages should the carrier fold.
AMR also has a lot riding on the outcome. It is expected to write off most of its $192 million investment in the fourth quarter. While not a huge financial hit for AMR, it's clearly an embarrassment. And the problems could prove something of a black eye for American Airlines Inc. President Donald J. Carty, a Canadian citizen who championed the alliance. Sources close to American say Canadian's troubles haven't yet hurt Carty, but whether he emerges unscathed depends on how the mess gets sorted out.
American says that it "remains committed to Canadian" and the plans laid by Benson, a turnaround specialist who took over as CEO in July after being named Canadian's CFO in late 1994. But Benson's medicine may not be strong enough to stabilize an airline that hasn't made money since 1988. Formed by the merger of Canadian Pacific Air Lines and four smaller carriers in the late 1980s, Canadian labored under heavy debt that pushed it to the brink by late 1992. American took its stake as part of an $860 million restructuring plan.
Despite its troubles, Carty--who headed Canadian Pacific Air Lines in the mid-1980s--argued that the investment was worth the risk. The main reason: American signed a juicy 20-year pact to provide accounting, reservations, and other services to Canadian for $100 million a year. And American counted heavily on Canadian to boost its own paltry presence in Asia. With few Pacific routes of its own, American began feeding passengers to Vancouver for Canadian flights to Asia in 1995. After the deal was signed, Crandall and Carty, whose brother Douglas is Canadian's CFO, joined Canadian's board.
STIFF COMPETITION. But with the Calgary-based carrier now hanging by a thread, American's plans are in doubt. Benson wants American to trim fees on its pricey outsourcing agreement--which a rival airline exec says "was a bad deal for Canadian from the start"--by 35%. And despite the ties, American has done little to rescue the struggling carrier. Sources close to the company concede it may have been too optimistic. American expected air traffic in Canada to grow faster and didn't foresee the stiff competition it faced.
American was also late to step in with help. Only when it saw its investment was in deep trouble did it send up reinforcements: In August, 1995, Barbara R. Amster, a highly regarded former executive at American now running Canadian's marketing and sales, joined George L. Mueller, who took over customer service in April, 1995, and Richard C. Haddock, a top-ranking maintenance executive. Two other American execs have since joined.
Amster says she was horrified at what she found. There was "a lack of discipline in making decisions," she recalls. And owing to earlier cost-cutting, Canadian "was operating in a different century in information technology." That meant the carrier wasn't even able to determine how profitable individual flights were, for example. Amster has since weeded out unprofitable ventures, such as routes to Frankfurt and Paris, and its charter operator, Canadian Holidays. She has also expanded routes with more potential, notably between Canada and the U.S. And Amster has played a key role in the route redesign at the core of the restructuring plan. She wants to cut domestic capacity by 11%, double U.S.-Canada flights, and up service from Vancouver to Asia by 20%.
FEW OPTIONS. But Canadian's woes may be too much for even American to solve. Its biggest problem is that it simply doesn't make money flying in its crowded home market. In the east--traditionally Air Canada's stronghold--attempts to create a shuttle serving the busy triangle of Toronto, Montreal, and Ottawa have added to the red ink. And on the western routes Canadian long dominated, two low-cost startups have forced the airline to slash prices this year.
Now, with $2 billion in total debt and cash down to just $83 million, Canadian's options are few. Although some unions are calling for a government bailout, that looks unlikely. As for American, spokesman Robert A. Britton insists it won't up its stake. "Those who hold out the prospect of further investment are diverting attention from the real issues," he says. "There is no tooth fairy."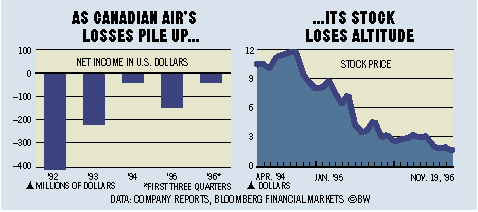 The only remaining hope, Benson argues, is his cost-cutting plan. But union opposition to his demand for a 10% wage cut could doom its chances. Even if negotiations succeed in buying Benson some time, critics say, it does little to resolve Canadian's real problem: the murderous competition from Air Canada. "My opinion has always been that Canada can support only one major international carrier," says former Air Canada CEO Hollis L. Harris, who retired in May. American disputes that. But whatever Canadian's fate, American may find its investment wasn't worth the headaches.
Before it's here, it's on the Bloomberg Terminal.
LEARN MORE