Next Stop For Wireless: Shakeout City
Competition among personal communications services is going to be brutal
by
Peter Kay, an admitted technophile, plans to give up his cellular phone when his service contract expires at the end of November. Why? He thinks he has found something better: a newer technology, called personal communications service, or PCS. Kay, president of CyberCom Inc., a Honolulu-based Internet company, first tried PCS because it's cheaper than GTE Mobilenet Inc., his cellular service. But what he likes even better are cool new PCS features such as paging, caller ID, voice mail, call forwarding, and smooth data communi-cations. "Why bother staying with cellular even if it's the same price?" says Kay.
That's pretty much the reaction that companies plowing $15 billion into PCS systems are betting on. The companies that bid on PCS licenses between December, 1994, and March, 1995, in the first of several Federal Communications Commission auctions, are now rolling out services. If they find enough customers like Kay, these operators will soon reshape the landscape in the wireless phone business. Until now, the U.S. cellular market has been a series of comfy duopolies: the local telephone company and one other provider for each region of the country. With PCS, each market gets at least two new wireless services.
The first PCS network was launched in Washington, D.C., a year ago by American Personal Communications, under the Sprint Spectrum brand. Western Wireless Corp., the service that Kay uses, followed in February in Honolulu, Salt Lake City, Portland, Ore., and Albuquerque.
Now comes the national rollout (map). PrimeCo Personal Communications, a joint venture of Bell Atlantic, Nynex, AirTouch Communications, and U S West, went live in 16 cities on Nov. 12. Omnipoint Corp., a New Jersey startup that helped develop PCS technology, began service in New York City on Nov. 14. Sprint Spectrum, which spent $2.1 billion to buy up the most PCS licenses, and AT&T Wireless Services, the second-largest holder, both plan major rollouts over the next six months.
As PCS spreads, so will the benefits of competition: Cheaper prices, more features, and better sound quality. So far, calling rates for PCS minutes are running 15% to 20% lower than cellular in the same markets. PCS operators are also one-upping the cellular carriers by eliminating annual contracts and making the first minute free on incoming calls. "There's no doubt that consumers are going to be the big winners," says John Stanton, CEO of Western Wireless.
FCC CURVE. Fine for consumers, but for PCS operators--and the cellular incumbents--this will be the start of a painful and costly war of attrition. "Clearly, it's not going to be like the days of the duopoly where everyone is a winner," says Andrew Sukawaty, CEO of Sprint Spectrum. "There will be winners, and there will be losers."
There could be quite a few losers among the newcomers. These companies are leaping headlong into a market where there are no nationwide technology standards and where they face considerable community resistance to their plans to build thousands of transmission towers. And the FCC is about to make life more difficult: After auctioning three PCS licenses in each U.S. market last spring, it's in the process of auctioning off another three. With two cellular operators per region already, that would mean eight competitors in each market. There just aren't enough subscribers to go around.
The PCS wannabes are facing financial pressures as well as competitive ones. The 18 companies that paid a total of $7.7 billion for 99 PCS licenses in the first three FCC auctions are now shelling out an estimated $15 billion or more to blanket their markets with transmission towers and other gear to keep PCS subscribers on the air. Merrill Lynch & Co. analyst Linda J. Runyon estimates that PrimeCo has spent some $31 per potential subscriber, excluding the costs of the licenses, on the systems built in its first 16 cities, compared with the $17 per customer originally budgeted. The entire network could end up costing $35 per potential subscriber, she says.
Investors are already nervous about the potential PCS payoff. The new licenses to be auctioned not only point to greater price competition, but also deflate the values of licenses purchased in earlier auctions. So while the stock market continues its upward charge, PCS issues have dropped considerably. Western Wireless, for example, is down to around 15 from 25 in May, and Aerial Communications Inc. (formerly American Portable Telecom), the fifth-largest PCS license holder, has dropped to 7 from an initial offering price of 17 in April. Now analysts are trying to figure out which players can prosper long-term. "I think you may be able to support four major players [in each market]," says Clint McClellan, wireless analyst at Dataquest Inc. "The fifth is going to have to be a niche player."
RATE DROPS. Meanwhile, the established cellular companies are beefing up technology, adding features, and cutting prices to head off the upstarts. Most have eliminated annual service contracts for new subscribers who buy their phones. And rates are dropping: Shortly before PrimeCo launched its PCS network in Chicago, Ameritech Corp. cut the price per minute on some cellular services by 15%. "We're not going to run from anything," vows Jack Rooney, president of Ameritech's wireless operation.
AT&T Wireless has also tried to co-opt the PCS movement. In October, it launched a new digital-cellular service and called it Digital PCS. The real PCS operators squawked but AT&T didn't back down. Like the real thing, AT&T's service has voice mail, caller ID, and messaging.
Cellular giants aren't the only opponents PCS companies face. In communities across the nation, they are finding it difficult to plant the transmitting towers they need. While cellular operators were able to add sites as they needed to expand over the past decade, PCS operators are trying to get as many as 100 sites in a city at once. They need a lot more than cellular operators because PCS transmitters cover a smaller range.
Many communities have balked at the requests, delaying construction over aesthetic or health concerns. Saratoga, Calif., for instance, restricts new wireless locations to avoid unsightly towers near residences. Not far away, the city of Oakland is requiring a $5,000 deposit for each cell site. The result: PCS operators are launching service with 20% to 30% fewer sites than originally planned, estimates Dataquest's McClellan.
The most vulnerable operators are the tiny companies that won "entrepreneur" licenses. The government set aside radio spectrums for small operators to ensure that the PCS market would not be the exclusive domain of long-distance, cable-TV, and local phone giants. But eight of these entrepreneurs have defaulted because they were unable to come up with the down payment for their licenses. The largest winners of the entrepreneurs' licenses--NextWave and Pocket Communications Inc.--probably have enough financial resources to stay in the race, analysts say.
Despite the turmoil, the FCC may sell off a seventh PCS license this spring. That would mean even less room for small fry. MCI Communications Corp., which sat out the PCS bidding because it thought the asking prices were too high, may now have the money to change its mind, given its pending takeover by British Telecommunications PLC.
LOVE AFFAIR. Whether that auction ends up dedicated to PCS, though, is still open to question. The FCC is considering offering the spectrum for wireless data and Internet services as well as voice service. And if the agency goes ahead with a PCS auction, the existing licensees are hinting they'll sue to prevent further devaluation of their assets. "The participants in the early rounds would have a legitimate gripe," says Benjamin L. Scott, president and CEO of PrimeCo.
In the meantime, PCS operators are counting on the American consumer's love affair with wireless. Cell phones are already one of the fastest-selling consumer-electronic gizmos ever, and PCS could speed up sales. Today, about 16% of Americans, some 43 million people, own a wireless phone, up from 1 million in 1986 (chart). In the next decade, analysts and industry execs expect penetration to hit 40% to 50%. "People do not want tethered communication if they have the option of untethered," says Jack Scanlon, head of Motorola Inc.'s cellular infrastructure group.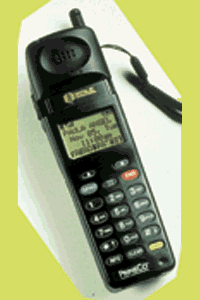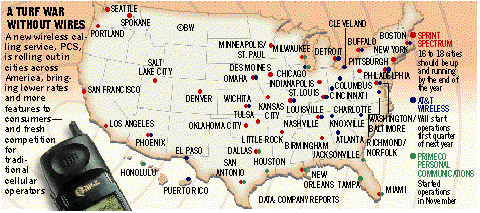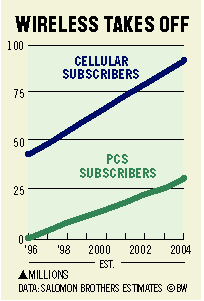 PCS plays a big part in the wireless industry's growth scenario. Ultimately, the new service could drive prices to the point where wireless calling starts to make inroads into the $90 billion local telephone market. "As more carriers enter, wireless prices will fall and it will become more and more attractive as a replacement [to wired phones]," says PrimeCo's Scott.
That won't happen tomorrow, though. Wireless rates are still about 10 times those of wired service. The new PCS competition will start pushing prices down, but it will be two to three years before they drop by 50% or more from today's rates; the operators have to recoup their construction costs first. Within a decade, carriers assert, their rates will drop to wireline range. By the time that happens, though, many of the pioneers of PCS could be DOA.
Before it's here, it's on the Bloomberg Terminal.
LEARN MORE