Investment manager Robert Lyon is an ardent large-cap-stock lover, so he's raking it in as big issues lead the parade in this market's advance. But Lyon looks for more than just large-caps: As president of Institutional Capital, he scours the Big Board for stocks he figures are in the early stages of a turnaround.
That's why he's accumulating shares of Philips Electronics (PHG), the Dutch giant that makes everything from light bulbs, TVs, recorded music, and films to medical devices, telecom systems, and industrial electronics.
Lyon is convinced the stock is worth nearly twice its current 37. "A breakup of Philips' assets would produce a value of more than $70 a share," he says. The stock, which hit 43 in mid-February, tumbled to 29 in late July, weighed down by troubles at Philips' Grundig unit in Germany. That crimped operating earnings of the consumer-electronics division.
Lately, the stock has rallied. On Oct. 1, the company got a new chairman, Cor Boonstra, who Lyon says is a "no-nonsense manager and tough cost-cutter who has been eliminating the bleeders in Philips' worldwide operations." He's the major reason, argues Lyon, that the company is turning around.
Philips owns 75% of PolyGram, also a Big Board-listed company, now trading at 48 a share. One of the world's top three recorded-music companies--along with Time Warner and Sony--PolyGram is worth $18 a share in Philips stock, Lyon estimates.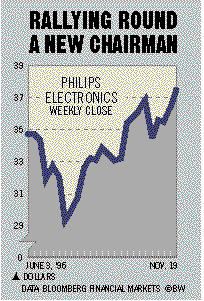 And Philips, he notes, also owns 45% of the Netherlands' ASM Lithography and 36% of Taiwan Semiconductor. These assets are worth a combined $7 a share, he estimates. "So you're getting the rest of Philips' vast operations for just about $11 a share," says Lyon. That includes a 1% stake in Viacom he values at $5 to $10 in Philips shares.
Philips, with 1995 sales of $40.2 billion, is expected to make $2.50 a share this year, figures Lyon. Earnings should rebound to $4.50 next year, and to $6 in 1998. Philips earned $4.91 last year.
Lyon's portfolio record: a 39% gain last year and 25% so far this year. No wonder John Nuveen & Co. is looking to buy Lyon's money-management firm.
Before it's here, it's on the Bloomberg Terminal.
LEARN MORE