It's Zero Hour For Minute Maid
Can an all-out push turn the tide in the juice wars?
Nicole Harris
Just after Ralph Cooper took the helm at Minute Maid, the fruit-juice division of Coca-Cola Co., in July, 1995, he rallied 35 top executives at a resort near Austin, Tex. Three grueling days later, they each emerged with a turnaround plan under one arm and a telescope under the other. "I wanted them to see the long future ahead," Cooper says.
Yet with Minute Maid's troubled present, Cooper may have to use his telescope to scout out something a lot closer. The woes at its $1.6 billion unit have put Coke in an unusual position: The master marketer is being beaten at its own game. Since the early 1990s, Coke's Minute Maid has been outsold and outmarketed by Seagram Co.'s Tropicana Products Inc., its $2.1 billion juice division. Now Cooper, 56, is trying to capture some of Coca-Cola's pizzazz to shake things up. He's adding new products and beefing up distribution, including a deal with French food giant Danone Group, announced Sept. 24, to pump sales overseas.
Clearly, Minute Maid needs a fresh start. While Coke's cola division has quenched thirsts for profits and soft drinks alike, Minute Maid has gone flat. In 1994, it squeezed out just 3% of Coke's $3.7 billion in operating profits, although it accounted for 11% of sales. And last year, it lost $14 million as volume dropped 4%, making it Coke's only unprofitable unit.
"A THORN." Give some credit to Tropicana, which has introduced an onslaught of refrigerated juice offerings since the early 1990s. Tropicana snatched the No.1 slot in the $9.8 billion U.S. fruit-beverage market from Minute Maid in 1993, and it hasn't looked back. While Minute Maid soured, Tropicana's earnings before depreciation and amortization for the year ended June, 1996, rose 26%, to $206 million. "It continues to be a thorn in Coke's side," says Roy D. Burry, analyst at Oppenheimer & Co.
Why can't the world's most powerful soft-drink marketer squeeze decent profits from juice? Simply, the company with the strongest brand in the world let one of its brands languish. Cooper says the Houston-based Minute Maid, which Coca-Cola purchased in 1960, has long been an overlooked orphan. And although Tropicana has been coming on strong for years--backing new products with strong marketing and promotions--only recently did Coke wake up. Minute Maid execs "felt they've known everything about marketing, but they've been slow," says one industry observer.
Certainly, commodity fruit juice is a very different business from cola. Yet for decades, Minute Maid dominated the market with its frozen juices made from concentrate. In the late 1980s, Tropicana attacked. It expanded its line of refrigerated not-from-concentrate juices--and backed it up with a splashy campaign to convince consumers that they tasted fresher and merited a premium price. It worked. According to Information Resources Inc., Tropicana's share of the U.S. orange-juice market, measured by supermarket sales in dollars, rose from 25.4% in the year ended October, 1992, to 32.4% for the year ended October, 1996. For the period, Minute Maid's share fell from 24.8% to 24.3%. "Consumers voted with their pocketbooks," boasts Gary M. Rodkin, head of Tropicana's North America division.
Coke's response lacked punch. Minute Maid came out with a not-from-concentrate juice of its own, but it never succeeded in convincing consumers that its refrigerated products were as high-quality as its rival's. In part, that was because Minute Maid concentrated on price promotions aimed at boosting volume while paying scant attention to polishing the image of its brand. But as Minute Maid struggled, Tropicana expanded masterfully, rolling out a variety of different blends and package sizes. By 1994, when Tropicana added a sales team to place more of its highly profitable single servings in stores and delis, Minute Maid trailed far behind.
ORPHAN NO MORE. Cooper, a career Coke exec then heading its European operations, was brought to Minute Maid as COO in February, 1995. Five months later, he was named president and CEO. Now, the unit has Coke's full attention. "We have just been readopted," he says. To slash annual operating costs by over $30 million, Cooper has sold two plants and plans to get rid of two more.
Cooper is also moving quickly to bring some of Coke's fabled distribution strengths to its juices. Although Minute Maid was previously found only in supermarkets, Cooper teamed up last spring with a network of over 80 dairies to produce single servings of chilled orange juice, lemonade, and punch. He figures dairies, with distribution systems geared to refrigerated goods, will get Minute Maid into delis, cafeterias, and hospitals. And he's redoubling efforts to use Coke's bottling system to sell Minute Maid's nonrefrigerated products to groceries and convenience stores. "We'll be everywhere you can find a Coke," he says.
Maybe so, but Cooper is still playing catch-up. Tropicana's Season's Best single-serving line is well-ensconced in the same outlets, and shelf space may be hard to come by. "I don't think they have any advantage in these outlets," warns analyst Martin Romm of CS First Boston. And thanks in part to a sophisticated program Tropicana uses to tailor promotions to different stores--it can show a retailer how much it will sell and earn using different prices and promotions--Tropicana's lead is growing. Although Minute Maid has a similar system, it doesn't appear to be helping as much. For the year ended in September, Tropicana captured 55% of the growth in the chilled orange juice market, according to Information Resources, while Minute Maid was flat.
To win another look from consumers, Cooper has also thrown in the towel on Minute Maid's not-from-concentrate juice. Instead, he will spend $65 million to market a new version of Minute Maid Premium, a juice that will be advertised as tasting "like eating a fresh, ripe orange." It's still too soon to tell--the juice hit shelves in early November--but Robert G. Tobin, chairman and CEO of Stop & Shop Co., a Quincy (Mass.)-based chain of 193 supermarkets, thinks it may have a winner. "They're getting back to what they do best by coming up with new products," he says. Still, he's not ready to kick competitors off the shelf. The new Premium "will have to prove itself," he says.
GLOBAL TASK. The challenges are even greater overseas, where Cooper hopes Minute Maid can grab a bigger chunk of the $40 billion worldwide fruit-juice market. That's why it has teamed up with Danone, the $15.9 billion Paris parent of Evian water, in a joint venture to sell juice under the Minute Maid Danone brand outside of North America. Minute Maid will handle marketing and technology, and Danone will make and distribute the juice. By 2000, Cooper hopes the brand will be in 50 countries and add $500 million to sales.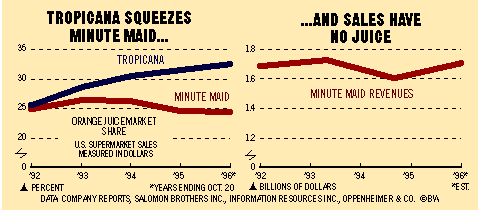 It's a tall order, since most foreign consumers buy unrefrigerated juice in cans or bottles. "The real challenge is to change consumption habits," says Marina Menu, CEO of the joint venture. Cooper thinks the potential is there, since the current consumption rate in international markets is about one-tenth that of the U.S. In Europe, sales of fruit juice are growing at twice the rate of soft drinks. But abroad, too, Minute Maid is late. Since Tropicana's May, 1995, purchase of Dole Beverages, it has expanded into 15 countries.
Can Cooper pull it off? Some think Minute Maid remains at a disadvantage despite its new focus. Coke's top priority remains soft drinks, while at Seagram, slow growth in its alcoholic beverages has made Tropicana's success a must. For Seagram, "Tropicana was the only thing that had growth prospects," says Ronald R. Weber of Weber Management Consultants, a Huntington, (N.Y.)-based beverage consultant. "They focused on it like lasers. It's a side act for Coke." To prove him wrong, Cooper must keep his turnaround from becoming pulp fiction.
Before it's here, it's on the Bloomberg Terminal.
LEARN MORE