Is The S&L Crisis Eternal?
Investors are suing, and the government is suing...itself
Larry Light and Lisa Sanders
Sorry, but the savings and loan debacle isn't over yet. The latest aftershock: Buoyed by a July 1 U.S. Supreme Court decision, thousands of angry stockholders in 46 S&Ls are suing Washington to recover lost investment capital. They claim the government drove the S&Ls under by imposing harsh regulations on them. Worse, investors are irate that the Federal Deposit Insurance Corp., overseer of the busted S&Ls' remaining assets, is trying to nab any recovery money for itself.
The imbroglio started back in the early 1980s, when the first batch of S&Ls began to totter. Government regulators spurred mergers of healthy thrifts and weak ones by permitting them to use a favorable accounting method: Acquirers could count as capital the difference between their purchase price and a weak thrift's fair market value, called "supervisory goodwill," and amortize it over 40 years. That rescued many ailing S&Ls.
ABOUT-FACE. But in 1989, Congress imposed a regulatory crackdown that, among other things, yanked supervisory goodwill, which lawmakers thought was a sweetheart deal for investors. The result: waves of new S&L failures. The feds ended up taking over the failed operations and paying off their depositors.
The investors argue that the 1989 goodwill about-face was a breach of contract. The Supreme Court, by a 7-2 margin, agreed with them and said harmed parties could sue for redress. Joining the dead thrifts' investors are 71 surviving S&Ls, such as Glendale Federal Bank in California, that took financial hits and want damages. (Total sought: $15 billion to $20 billion.)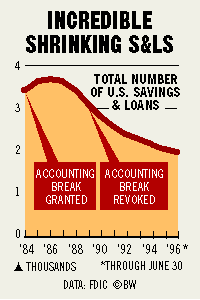 Washington's response so far has been a wily legal stratagem. The FDIC is asking the U.S. Court of Federal Claims if it can replace the investors as plaintiffs. Then it wants to settle the cases with the Justice Dept. The FDIC reasons that as receiver for the defunct S&Ls, it has a duty to seek recovery for creditors. The biggest creditor? The FDIC, since it paid out billions to S&L depositors. It's unclear what, if anything, would be left for stockholders. Court arguments are slated for mid-December.
Investors ask: How can the government sue itself? "The FDIC," grouses Melvin C. Garbow, an Arnold & Porter partner who is a lead attorney for the investors, "is a stalking horse for Justice." Perhaps. But Washington has already spent $132 billion on the S&L mess and seems determined to avoid paying much more.
Before it's here, it's on the Bloomberg Terminal.
LEARN MORE