Germany: A Bumpy But Sure Recovery
by
It's the question haunting all of Europe. Will Germany, the prime mover behind the Continent's hope to build a monetary union, fail to cut its budget deficit to the required 3% of gross domestic product by next year's deadline?
Most private analysts believe that Germany will meet the target. But the 1997 budget, now wending its way through Parliament, will yield the necessary savings only if economic growth meets the government's 1997 forecast of 2.5%, up from 1.5% expected for 1996. On that score, prospects seem good.
The economy is clearly rebounding from its mini-recession at the turn of the year. It posted a strong 6.1% annual rate of growth in the second quarter, and third-quarter growth appears to have been near 4%. Recent data, though, suggest a steep falloff in fourth-quarter growth. September industrial production fell an unexpected 1.8%, and factory orders plunged 3.6%. In October, record unemployment of 10.6%, up sharply for the third month in a row, is adding to government outlays and raising concerns about household spending.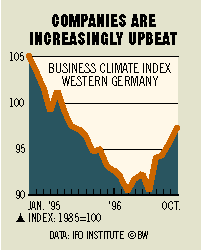 However, any yearend weakness is unlikely to last. While fiscal belt-tightening is sure to be a drag on growth in 1997, the Bundesbank has taken short-term interest rates to a record-low 3%. Long-term rates are also down, reflecting low inflation of only 1.5%, where it's expected to stay next year. And the 12% drop in the German mark vs. the dollar since March, 1995, will fuel exports, along with improvement across most of Europe. Business sentiment is already on the mend (chart). Exports will lead growth in 1997, helping to boost business investment and profits, while domestic industries, such as construction and services, will lag behind.
The recovery's greatest risk is the household sector. The 1997 budget contains several tax breaks for business, but the spending cuts fall on welfare payments at a time when wage growth is barely keeping up with inflation. Moreover, growth next year is unlikely to be fast enough to prevent joblessness from rising even higher.
Before it's here, it's on the Bloomberg Terminal.
LEARN MORE