A New Lilt At Brite Voice?
by
There's nothing like an earnings shortfall to kill a stock--or pound it to a near-pulp. That's what happened to Brite Voice Systems (BVSI) when it told analysts in August that third-quarter results might fall short of expectations because of soft sales. Shares tumbled from 26 in June to 11 in November. They have since edged up to 13. Brite Voice still looks like a loser, but some deem it a real bargain.
Brite, the dominant provider of cellular voice-activated dialing, makes voice-response and audiotext systems that enable businesses to offer their customers access to computer-stored data through touch-tone phones. Brite's customers include telephone and utility companies and government agencies.
Some pros believe that AT&T will place big orders soon. AT&T has tested some of Brite's "enhanced telephone features" that aren't yet available from anybody else, says one investment pro. "The first orders could be worth $60 million to $100 million over a couple of years," estimates one investor. Last year, Brite's sales were $97 million.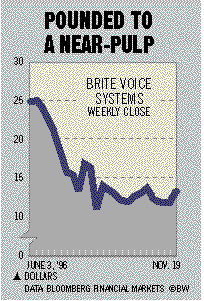 Analyst Herbert Tinger of First Albany expects Brite to become a dominant player in providing multimedia and wireless applications for "enhanced" phone service features. He says Brite and a former unit of AT&T called Amteva Technologies are likely to form a joint venture for Brite to provide the "middleware" that will enable the software to run sophisticated applications for a new multimedia and wireless product. He expects the technology to become the industry standard for enhanced telephone features.
Tinger says investors could see Brite shares "double or triple over the next year, while being exposed to only a modest downside risk."
Before it's here, it's on the Bloomberg Terminal.
LEARN MORE