Vigilantes Fight Crime With Crime...And A Star Cop Tries To Help
Sudarsan Raghavan
It couldn't have come at a worse time or place. On Nov. 3, riot police and members of People Against Gangsterism & Drugs, a vigilante group, clashed at Cape Town's touristy Waterfront mall. When the smoke cleared, one PAGAD protester lay dead, allegedly shot by a cop--and scores of lunching visitors were horrified. It wasn't the first time such a rally had ended in tragedy. On Aug. 4, PAGAD's vigilantes hurled a Molotov cocktail at a Cape Town gangster; then they pumped 72 bullets into his charred body.
But such is the frustration with South African crime that many cheer this frontier justice. PAGAD was formed a year ago in the ethnic Indian communities of Cape Town and has been highly active since the middle of 1996, holding two or three rallies a week in towns throughout the Western Cape. Most of its 2,000 members are Muslim, but they draw support from blacks and mixed-race "coloreds." The protests are "better than what the government can do," says Mervin San, whose brother was shot dead by a gang in Atlantis, 200 kilometers north of Cape Town. "The government is not doing enough to keep gangsters in jail. After a few months, they're out and they kill all over again."
Vigilantism is not new to South Africa. But the latest wave could hurt Cape Town, a contender to host the 2004 Olympics. Up to now, the city's booming tourism has hardly been affected by high crime. Official figures say the number of hotel nights in South Africa sold to foreign tourists in August sank by 6.3% from the same period last year--yet in the Western Cape, the number shot up by 6.7%. No wonder PAGAD's high-profile rallies cause concern. "If this type of action is not stopped dead in its tracks," announced Lampie Fick, the top Western Cape tourism official, "we can forget about the Olympic bid and attracting tourists to our fairest city."
NO FAITH. The jury, however, is out on whether crime is scaring away foreign direct investment. South Africa's murder rate, for instance, is 45 per 100,000 people, as against a global average of 5.5. A recent survey funded by Nedcor, a South African bank, found that since 1990, the year apartheid began to get dismantled, rapes have shot up 81%, serious assault 38%, vehicle theft 43%, and murder 26%. Yet the study concluded that soaring levels of such crimes will not deter foreign investors if there's money to be made.
South Africa's vigilantes and business community have something in common: Both lack faith in their criminal justice system--and seek harsher sentences for perpetrators. According to the study, for every 1,000 serious crimes committed, there were 100 prosecutions, 77 convictions, and a paltry 36 imprisonments. And 75% of businesspeople interviewed gave the government low marks for combating crime. "We tell this to the government and police," shouted one PAGAD member at the Waterfront. "If you take the law into your own hands, then there will be no reason for us to take the law into ours."
Can South Africa's policing quagmire be cleaned up swiftly? "It's doable," says William J. Bratton, ex-chief of the New York Police Dept., who now runs a security consulting firm. He's widely credited with slashing corruption and turning the NYPD into an efficient fighting force. South Africa's frustrated business community, which flew Bratton in the week of Nov. 4 for talks with key officials, is hoping he can help do the same here.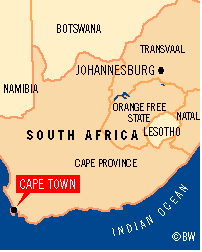 To be sure, there has been progress. The government admits the police force is underpaid and rife with corruption. Cops, meanwhile, are working closer with communities. Even foreign companies are helping out: Consulting firm McKinsey & Co. is advising police stations on how to better utilize manpower. Bratton says the key to his success was running the NYPD "as a business"--for example, by using high-tech systems to allocate resources and gather intelligence. "I was probably the busiest police chief in America," says Bratton. "But New York's problems pale next to the issues [South African Police Commissioner] George Fivaz has to face day to day." Vigilantes, sad to say, are just one of them.
Before it's here, it's on the Bloomberg Terminal.
LEARN MORE