U.S.: Cause For Concern But Not Alarm
Surging unit labor costs are no assurance of coming inflation
by
A paradox is emerging in the economy. How it plays out will go a long way in determining the paths for monetary policy, bond yields, and stock prices in 1997.
On one side is the Labor Dept.'s latest report on productivity and unit labor costs. The data say that during the past year, the productivity of U.S. nonfarm businesses grew by a meager 0.3% and that unit labor costs advanced by an alarming 3.4%.
Those numbers mean that productivity, measured as output per hour worked, is not rising fast enough to offset the growth in wages and benefits. As a result, the labor cost of producing a unit of output--whether it's a new car, a stock trade, or a haircut--is rising much faster than prices. This implies increasing pressure on companies to raise prices to cover those higher costs or a growing squeeze on profit margins--or both.
Moreover, it's not just a one-quarter phenomenon. From 1991 to early 1995, yearly growth in unit labor costs ran below price growth. But in the past six quarters, the opposite has been true. In the past year, the 3.4% growth in unit costs has outpaced the 2% increase in prices economywide by the widest gap in this expansion.
BUT IF THESE TRENDS ARE RIGHT, then how can third-quarter profits have grown some 11% from a year ago, according to BUSINESS WEEK's tally? And how can inflation be so quiescent? The latest evidence: The October producer price index rose 0.4%, pumped up by higher food and energy prices. But excluding the blips in energy and food, the core index fell 0.3%.
Continued tame inflation is one reason why the Federal Reserve left interest rates unchanged, as was widely expected, at its Nov. 13 policy meeting. But whether you are a policymaker at the Fed or just an investor trying to make the right play, you cannot ignore the paradox between what the productivity and cost data are showing and what the profits and price numbers are saying (charts).
One explanation of the puzzle may be that the adverse trends in costs and prices are only now emerging, having been held back by the historically slow recovery and by workers' willingness to surrender wage increases for job security. In past expansions, the cost squeeze usually showed up much sooner.
Also, materials costs are being held down by a global slowdown outside the U.S. During 1995-96, Japan and Latin America were in recession, Europe was in a near recession, and East Asia was slowing down. When world growth was in sync in 1994--the same coordinated upturn forecast for 1997--global competition did not prevent commodity prices from soaring.
A KEY DIFFICULTY in explaining the paradox, however, is the data themselves. Inconsistencies in the official data, along with other readings of the economy, suggest that productivity growth is, to some unknowable extent, understated--thus overstating unit labor costs.
The latest report shows that third-quarter nonfarm output per hour barely rose at an annual rate of 0.2% from the second quarter, when it increased a slim 0.5%. However, manufacturing productivity surged 6.3%. That implies the rest of the economy, mainly services, is becoming less efficient.
The Labor Dept. does not publish a reading of service-sector productivity. But a measure calculated from two data series--Commerce's real gross domestic product for services and Labor's service-hours-worked--suggests that service productivity has been declining for the past 2 1/2 years. That's hard to believe.
Much of the problem seems to lie in financial services. Labor does publish separate data on productivity for nonfinancial corporations only, which currently run through the second quarter. Those numbers show that output per hour excluding financial companies was up 2.5% in the past year, five times faster than the overall rate. As a result, unit labor costs for nonfinancial corporations were up only 1.1%. That's well below the pace of prices--a trend consistent with the recent pattern of low inflation and continued healthy corporate earnings.
However, these numbers imply that the work habits of the financial sector are a shambles at a time when banking consolidation and new technology allows one back office to handle twice as many transactions as before. Moreover, year-to-date bank profits have risen 11%, with other financial companies' earnings up 17%. Those gains are hardly signs of inefficiency.
TO MAKE MATTERS MORE CONFUSING, the mismeasurements in the official productivity data may not all run in the same direction. Manufacturing output per hour is probably overstated.
The numbers would have us believe that since the first quarter of 1995, factory output has risen at an annual rate of 2.7%, while hours worked have fallen 1.5%, yielding a stellar 4.2% pace of productivity. Factory jobs have declined by 290,000, but the factory jobless rate is 4.3%, lower than it was in the first quarter of 1995.
The reason for this contradiction is the increased use of temporary workers, as outlined by economists at the Chicago Federal Reserve. Their analysis documents the shift by personnel-supply firms toward filling manufacturing occupations. But these temp jobs are counted in service-sector payrolls. So hours worked in manufacturing are higher than reported.
To be sure, manufacturers have increased their efficiency. That's why their profits can be doing so well even while producers have little power to raise prices. Producer prices of finished goods, excluding energy and food, are up only 0.9% in the past year (chart). Still, because of the use of temps, factory productivity is not the stunning success story that the data relate.
One final hitch is that the Labor Dept. may be overstating compensation. Labor has two compensation indexes: One, compiled from the GDP data, is used to calculate unit labor costs and is up 3.8% from a year ago. The other, called the employment cost index, has risen 2.8%. Many analysts believe the ECI is the better measure, because it is derived from a separate survey of company payrolls for a constant set of occupations.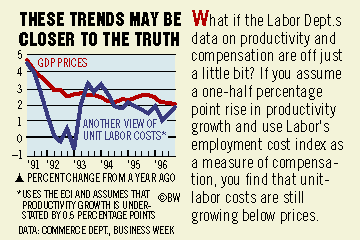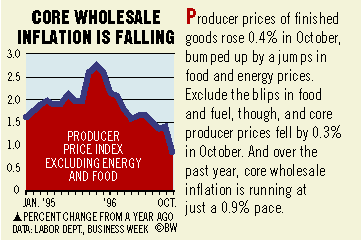 Taking all these inconsistencies and mismeasurements into account, the current growth rate of unit costs does not appear to be as ominous as the numbers indicate. Substituting the ECI in the Labor Dept.'s calculation of unit labor costs and assuming that overall productivity growth is understated by half a percentage point yields the result that unit costs are growing slower than prices. That's in accord with the observed realities of inflation and profits.
Of course, there is no guarantee that these trends will continue in 1997. If the economy remains strong and labor markets stay tight, rising wage pressures may eventually overwhelm even this more optimistic appraisal of price and cost trends.
Before it's here, it's on the Bloomberg Terminal.
LEARN MORE