Transplanting The Organ Transplant Biz
A U.S. hospital's venture in Sicily may be just the start
by
Every year, hundreds of gravely ill southern Italians pack their bags and travel north to modern organ-transplant facilities in Milan or Bologna. Some even venture to Paris or Geneva. These costly excursions are known in Italy as "voyages of hope." But to Dr. Ignazio Marino, an Italian liver-transplant surgeon at the University of Pittsburgh Medical Center, they spell a different kind of hope--as in "market opportunity."
Marino and his colleagues at UPMC are suffering from too much success. The liver transplant, viewed as miraculous a mere decade ago, has now become almost commonplace. But as demand surges, 118 U.S. transplant centers vie with Pitt for a nearly flat supply of livers (chart). Two years ago, this bottleneck prompted Pitt to explore opportunities overseas: Lacking the organs to serve foreign patients in the U.S., it might instead export its expertise. When Marino pointed to the unserved market of 18 million in southern Italy, a UPMC team flew straight to Sicily to start talking organs.
Here was Pitt's pitch: UPMC would provide top-notch surgeons from the most famous liver-transplant center in the world. All the Sicilian capital of Palermo had to provide was a hospital and the prospect of a flow of organs. Palermo Mayor Leoluca Orlando jumped at the deal, agreeing last month to spend $80 million of government funds on a new transplant hospital for the UPMC venture. Orlando, famous for prosecuting Palermo's mafiosi, is now focusing on economic development. He predicts that when the hospital opens in two years, the city "will become the model of sophistication for the rest of the world."
For Pitt, moving abroad is simply a matter of following customers and donors, says UPMC President Jeffrey Romoff. This marks a dramatic shift for the $4 billion transplant industry. Before, transplant meccas such as Pitt, Baylor University Medical Center, and the University of California at Los Angeles attracted patients worldwide, and fresh organs were flown in on ice. But now, regions claim first dibs on their cadavers. And tightening industry rules limit foreigners to 5% of American organs.
This is forcing transplant hospitals to turn away foreign patients--or to pursue them on their turf. Several U.S. university hospitals already are helping set up transplant centers overseas: The University of Virginia Health Sciences Center is assisting in Saudi Arabia, and Johns Hopkins Hospital in Korea. But none has established the sort of business relationship Pitt has with Palermo. If Romoff's global plan flies, others may follow. "There's no reason not to do it," says Andrew S. Klein, director of transplants at Johns Hopkins Hospital.
GOOD JOBS. Romoff predicts that with its Sicilian venture, Pitt could create an enterprise the size of its $150 million stateside business. For 20 years, before control reverts to the Sicilians, UPMC, a nonprofit research hospital, will take home an undisclosed annual management fee, plus per-case royalties. The new revenue is vital for Pitt: Its average cost per liver transplant is $140,000, fully $20,000 more than Medicare and Medicaid pay for the procedure. Romoff says the Sicilian venture could help bridge the gap and preserve research efforts. "Without aggressive actions, I think our future as a research institution would be jeopardized," he says. Just as important, the greater number of cases should permit Pitt, limited by organ scarcity at home, to press forward more quickly with new techniques and therapies.
Sicily, for its part, stands to make a bundle simply by keeping the "hope voyagers" at home. Last year, 600 Sicilians applied to go overseas for transplants; overall, they spent $170 million for health care abroad. But Orlando has a far broader development strategy in mind. Having crippled the Mafia, which long held a suffocating grip on the economy, he and his colleagues now are anxious to finish the modernization with an influx of good jobs. They see how the hospital industry helped Pittsburgh recover from the collapse of steel by creating thousands of service jobs. By piggybacking the Pitt center on top of their two regional hospitals, Sicily is angling for a small industrial transplant.
ENTREATIES. The venture's success, though, hinges largely on its ability to motivate prospective donors. Last year, Sicily's 4 million people produced only 25 prime donors; the donation rate for southern Italy, where transplants are a distant phenomenon, was just a quarter that of the rest of Italy. In order to justify costs, says Sergio Curtoni, director of Italy's biggest transplant coordination center, Turin-based AIRT, the new Sicilian operation must perform at least 60 organ transplants per year. Now, he says, "the numbers are just too small."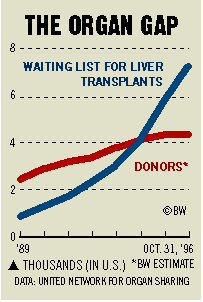 But look at it from Romoff's perspective. Even if Sicily produces just 25 donors a year, that translates into 25 livers, 25 hearts, 50 lungs, and 50 kidneys. And once Sicilians see their organs saving lives, they'll be more likely to fill out donor cards. Mayor Orlando already has done so. And the Cardinal of Palermo, Salvatore Pappalardo, a towering local figure, now is pressing for donations in his homilies. Romoff predicts a veritable organ boom, topping 150 donors per year.
It may be, though, that the transplant business is driven by less calculated demonstrations. In 1994, an 8-year-old American boy, Nicholas Green, was shot and killed by bandits while traveling with his family in Italy. His parents donated the child's organs, which saved Italian lives and touched the entire nation--spurring a rash of donor cards in the north of the country. "The Nicholas Green effect," Italians call it--a cycle of tragedy, generosity, and rebirth. Can UPMC replicate that in Palermo?
Before it's here, it's on the Bloomberg Terminal.
LEARN MORE