The Mall Of The Middle East
Drusilla Menaker
Susan Shaver comes to Dubai to buy bras. In strictly Islamic Saudi Arabia, where the Canadian nurse works, purchasing lingerie is a time-consuming task. Shaver dons a head-to-foot black cover, and then, because women aren't allowed to drive, she hires a taxi to go to the store. Trying on garments there is forbidden, so Shaver guesses at the size. Then she takes a taxi home. If the fit is off, she must repeat the whole process.
Dubai is different. Superdeluxe shops stock everything from hair dryers to Hermes scarves. Nearly all of it is duty-free, and prices are a fraction of those elsewhere in the region--that is, if the merchandise is available. Dubai is Islamic, too, but its population is 80% foreign. There's a tolerant air. Tourist brochures are quick to inform women that they can move about freely. "I could be in Toronto," Shaver says. "Nothing is closed for prayer."
For merchandise-starved expatriate workers such as Shaver, plus Arabs from all over the region and the new entrepreneurs of the former Soviet Union, this teeny emirate has become the mall of the Middle East. Shoppers jet in to splurge at thousands of shops, spending about $2.4 billion a year, by conservative estimates. It seems no accident that Dubai is pronounced "do buy."
The spree starts as soon as visitors arrive at the airport, querying in a babble of tongues: "Duty-free? Where is the duty-free?" Forget such trifles as saving a buck or two on a bottle of Scotch a la tourists on their way home to the U.S. This is serious consumption. A Finnish businessman plunks down $1,527 for a Rado watch. Another spender buys a $139 ticket for a 1-in-1,000 chance to win a Porsche or a Mercedes. Raffles are held as soon as 1,000 tickets are sold, usually several times a month. Gold bars at $1,470 are big sellers; overall, gold accounts for 18% of airport duty-free purchases.
At the other end of the shopping spectrum is powdered milk: 200 tons are sold annually. In between, there are telescopes (popular with French tourists) and frozen chickens, which defrost just in time for roasting in Bombay. Toblerone chocolate bars sell by the case. TVs are on sale, too, but none bigger than 19-inch models these days--after the airliners' overhead baggage compartments cried uncle. Employees at the airport store automatically restock pistachios when Asian flights depart, and shampoo after Teheran-bound passengers clear out their shelves.
40 MILLION WATCHES. A Russian carrier is arranging for Seychelles-bound passengers to leave shopping lists at the airport en route, then pick up the filled orders on their return. Thanks to a crossroads location, some of the world's cheapest liquor, and a lot of "Fly-Buy-Dubai" promotions, the airport alone had $173 million in duty-free sales last year, up 19% from 1994. Retail space there will increase fourfold, to 96,900 square feet, by 1999, part of a $500 million expansion program.
The airport is just the first stop for serious shoppers. The 2.5 miles of silky-smooth new highway leading to downtown Dubai are lined with appliance outlets, sources for anything from drill presses to car tires. Yes, that is a J.C. Penney's rising from the desert. Over there is Ikea, an outpost of the Swedish home-furnishings chain. Those boutiques carry expensive black robes and haute couture pocketbooks for the Saudi ladies.
Downtown, 400 shops make up the gold souk. They're filled with dazzling Indian wedding pendants, Italian chains, and lots of watches. Dubai, with a population of about 500,000, imports 40 million watches a year. Near the waterfront, where wooden dhows loaded with electronics sail for Iran and the Indian subcontinent, there is the anything-you-can-plug-in bazaar. It throbs with hagglers bargaining over CD players, air conditioners, and food processors--one of which will soon be slicing and dicing in my kitchen in Cairo. At $105, it was $140 less than in Egypt.
The future should bring only more consumer bliss to Dubai, second-largest of the United Arab Emirates' seven sheikdoms. The ruling Maktoum family continues to build up this ultramodern free-trade zone, using three decades of oil revenues. While the oil may run out early in the next century, shopping appears to be a renewable resource. Nonoil trade was $19.7 billion in 1995, nearly triple 1987's $6.9 billion. "Historically, this is a city of trading," says Mohamed Alabbar, director-general of Dubai's Economic Dept., who greets visitors with a "How ya doin'?" that he apparently picked up at his Jesuit college in the States. "To see so many expatriates is nothing new," he says.
LOBSTER-RED SHOPPERS. These days, much of the shopping growth comes from residents of the former Soviet Union. In fact, there is some sniffing over what's seen as their coarseness--their shorts and sundresses, bare even by Dubai's liberal standards. But the gripes usually end with: "Still, their business is good." In fact, it's valued at about $1 billion a year. Planet Travel & Cargo, a booking agent for Uzbekistan Airways and Azerbaijan Airlines, brought in 40,000 shopper-tourists from 10 republics in 1995. They spend a day getting lobster-red sunburns, then set about buying vacuum cleaners and irons in lots of 10 for resale at home.
The bazaars' Indian shopkeepers now speak rapid Russian. The hotels where the Russians stay have turned ballrooms into warehouses. And the airlines have stripped out seats to make space for oversized carry-ons. The worst job at the airport: hoisting refrigerators into Moscow-bound jets, says a Sri Lankan baggage handler. "We hate that."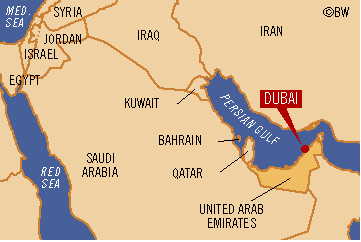 The Dubai government doesn't. It will open a separate airport terminal next year to handle shopping charters and their cargo. Purchases from downtown will be whisked to the airport, which should help ease the traffic jams caused by visitors who rent pickups to haul their loot. There will also be a warehouse-style wing of the airport's duty-free shop for plane-side bulk purchasing. To attract even more spenders, the emirate is sponsoring an annual monthlong shopping festival with government-guaranted sale prices.
"We're a little island of bargains in a sea of countries where nothing is available," says Patrick Macdonald, the Dubai promotion board's deputy chief executive. Groaning airport baggage belts from Cairo to the Caucasus to Karachi bear him out.
Before it's here, it's on the Bloomberg Terminal.
LEARN MORE