Tati Takes Its Show On The Road
Facing rivals in France, the discount retailer heads abroad
Leslie De Quillacq
As marketing strategies go, it seemed only natural. When French discount retailer Tati opened its first South African store last spring, in Cape Town, its Afrikaner partner suggested that the joint venture play up its Gallic cachet with the advertising slogan "French fashion at affordable prices." But at Tati headquarters in Paris, the idea was criticized as being too haughty for the downmarket company. Says Richard Pequignot, director of international development: "We prize our working-class clientele."
And how. For cash-strapped French consumers yearning to save a few centimes, the $244 million Tati is a veritable monument. Each year, some 25 million shoppers swarm through souk-like Tati stores in nine French cities. Armed with the retailer's trademark pink gingham shopping bags, they pull everything from clothes and shoes to jewelry, perfumes, and pans from scruffy bins.
MUSCLING IN. The trouble is, downscale is suddenly in vogue in Europe's depressed economy. And Tati, once emperor of the discounters, is facing lots of new competition. So to stay ahead of the discount wave, Tati is taking its show on the road. Besides Cape Town, Tati has recently opened its doors in Geneva and Beirut. By next year, Chief Executive Fabien Ouaki is setting his sights on Israel, Turkey, Senegal, and maybe Germany. There's even talk of plunging into New York, where such items as Tati's low-priced wedding gowns could prove popular.
It's clear that Ouaki, 38, needs something to turn around slumping sales (chart). As French unemployment has soared and consumers have grown more tightfisted, new outlet malls around Paris have muscled in on Tati's turf. Boutiques have begun running their own sales, cutting into Tati's raw material--the odd lots that account for 70% of its merchandise. Hypermarkets such as Carrefour have jumped into low-price clothing too, grabbing 20% of clothing sales in France. "Everyone is doing Tati," worries Ouaki.
Opened 50 years ago by Fabien Ouaki's father, Jules, who came to Paris from his native Tunisia, Tati has long stood as the antithesis of snobbish French retailing. The store encourages shoppers to handle the merchandise. It posts prices clearly so shoppers needn't ask. Most dramatic, it encourages its salespeople to be tolerant, even helpful, with customers.
Buying up bordellos in the run-down Barbes section of Paris, Tati grew to become a neighborhood landmark by the 1970s. By the 1980s, Tati started to add stores in other French cities. All the while, the company never lost its common touch. "Keep the thieves out of my store and you take away part of my clientele," the elder Ouaki was fond of saying. Helping to clean up the Barbes quarter won Jules Ouaki France's Legion d'Honneur medal in 1976.
OFF THE SCENT. That was long before sales started to slump. Eighteen months ago, Fabien, once a drummer in a British rock group, bought a majority stake in Tati from his brothers and sisters. Since then, results of his efforts to turn around Tati have been mixed. The gold-jewelry business he started has branched into two separate boutiques. But moves to sell Tati's line of low-cost fashion clothing through outside boutiques flopped. And perfume for sale in duty-free and department stores has languished.
So Ouaki is looking outside France to bounce back. He sees a ready market in the immigrants who make up 20% of Switzerland's population. In the Middle East, he's betting that the region's tense politics will ease and that improving demographics will generate a big consumer market. Further out, he sees Tati moving into Poland, the Baltic states, and Moscow.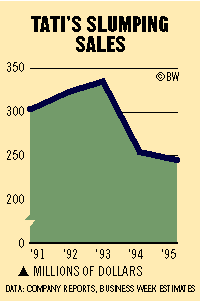 Some outside observers doubt that Tati will pull off its international expansion. Charles Allen, a European retail analyst at Merrill Lynch & Co., sees Israel as a promising, if small, market for Tati. But he thinks the company has little to offer overseas partners through franchising. "What are they actually franchising? It isn't my impression that they go out of their way to create a look," Allen notes.
Still, Ouaki remains undeterred. "If we had stores only here in France, we wouldn't be very happy," he says. "That's why we're going into more promising markets." If his plans pan out, Ouaki may one day attempt another of his radical ideas---taking Tati public and selling the shares at his stores.
Before it's here, it's on the Bloomberg Terminal.
LEARN MORE