Singapore: A Short Circuit In Electronics
by
Like its Southeast Asian neighbors, Singapore has seen its economy go from blazing to just hot. But while other Asian governments are trying to curb growth to rein in inflation, Singapore's slowdown is the result of its dependence on electronics.
Real gross domestic product grew just 3.2% in the year ended in the third quarter, down from a 7.5% rate in the second (chart). Growth was impeded by the electronics industry, which accounts for half of Singapore's manufacturing. Electronics output fell 1.7% last quarter because weaker global economic growth, especially among the industrialized nations, and the rising Singapore dollar have cut into exports. Exports rose 2.8% in the third quarter, from 8.1% in the second. Weaker domestic demand and an inventory drawdown also contributed to the slowdown.
Growth, however, did not ease enough to relax Singapore's tight labor markets. The unemployment rate was only 1.4% in September, after a solid 17,300 jobs were added in the third quarter. The labor scarcity and expensive real estate have made the cost of doing business in Singapore a concern among companies. But for now, consumer inflation remains mild, helped by the stronger Singapore dollar and fierce domestic competition. In the third quarter, consumer prices rose 1.4% from a year ago.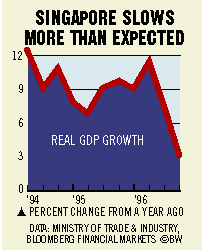 The government has stressed that the third-quarter lull was a "cyclical" swing and will not be repeated this quarter. But the government has also trimmed its 1997 forecast of GDP growth to between 5% and 7% from an earlier target of 6% to 8%. Still, if industrialized economies--especially Japan's and those in Europe--pick up, exports should do well in 1997, lifting overall growth.
Keep in mind that trade goes in two directions. A healthier Singapore will help to boost U.S. exports. Singapore is the U.S.'s eighth-largest export market. And so far in 1996, its purchases of U.S. goods have surged 18.4%, dwarfing the 7.3% advance for all exports and the puny 2.5% rise for Southeast Asia as a whole.
Before it's here, it's on the Bloomberg Terminal.
LEARN MORE