Officemax May Be Hunter Or Prey
by
Although OfficeMax (OMX) has been growing at a fast clip and meeting the Street's expectations, its stock has been in a funk. Shares of the deep-discounter office supplier, with 470 stores in 43 states, have tumbled from 17 in May to 13. What's going on?
One reason: Some shareholders expect it will make an acquisition to keep up with leaders Office Depot and Staples, which in September agreed to merge. That combo creates a company with more than 1,000 superstores and sales of $10 billion. But OfficeMax' slump has some money managers buying in. They think that No.2 OfficeMax will be the next target. They say the Staples-Office Depot deal signals a consolidation trend that will continue.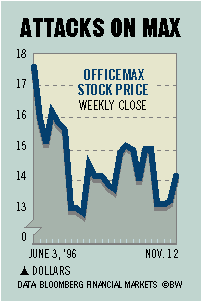 They are betting that a big marketer of office, computer, and industrial products in the U.S. and Europe will make a move for OfficeMax. These moneymen figure OfficeMax is worth $20 a share, based just on its 30%-to-35% sales and earnings growth. "In a takeover, based on the Staples-Office Depot deal, OfficeMax is worth 23 to 25," says one New York investment manager.
In the year ended Jan. 31, 1996, OfficeMax posted earnings of 47 cents a share on sales of $2.5 billion. Analysts expect it to make 60 cents on $3.2 billion in fiscal 1997 and 80 cents on $4.3 billion in 1998.
Before it's here, it's on the Bloomberg Terminal.
LEARN MORE