Microsoft's Suite Spot
Internet-ready Office 97 may well grab even more of the market
Kathy Rebello
When 200,000 geeks roll into Las Vegas on Nov. 18 for the Comdex computer show, the first thing they'll see is a 25-by-18-foot mock-up of the Microsoft Office 97 box. In the convention hall, they'll get Office 97 bags. Later that day, Microsoft Corp. will bus 1,000 customers and press to an Office 97 bash at the Monte Carlo casino. That night, Microsoft will co-host a press party for 250 at the MGM Grand.
All that for a product you can't buy until January. Then again, this is Microsoft's Big Kahuna. Office--a suite of applications including Word, Excel, and PowerPoint--is already used by 25 million customers and outsells all competitors by nearly 6 to 1. And it supplies most of the revenue for the Desktop Applications Div., which accounts for nearly half of Microsoft's $8.67 billion in revenues. "Office 97 is a very big deal," says Microsoft Chairman William H. Gates III, who ranks its importance with that of Windows 95. "That's the only thing that's comparable to what we're doing with Office."
EINSTEIN AIDE. Like Windows, Office is being redone for the Internet. Gates sees Office 97 as key to corporate intranets, allowing workers to share information by creating their own World Wide Web pages. "We're making the Internet scenario real," says Gates. "It's not just people reading Web pages but people creating documents." Office 97 users, Microsoft promises, will be able to create and view Web pages as easily as writing or retrieving a Word file. Also, Office automatically creates hyperlinks to any Web page--from a Word document, an image, or a spreadsheet. A "Web Page Wizard" walks novices through the process.
Office 97 also features Outlook, a personal information manager with E-mail, a calendar, and a group scheduler. Also new: "assistants," which are animated characters (a choice of nine, including Einstein and a perky paper clip) that offer tips. Early users give the whole shebang a thumbs-up. "It's just blowing people away," says Matthew Ghourdjian, director of technology at Hennigan, Mercer & Bennett in Los Angeles. He likes the test version so well he has installed it on 200 PCs at the law firm.
How big will Office 97 be? Market researcher Workgroup Strategic Services Inc. predicts sales of 19.9 million copies next year, boosting Microsoft's market share to 88% from 85%. Half the sales will be $200 upgrades. The rest will be new users, including those who get the program "bundled" on their PCs and those who buy it in stores, where the suggested retail price is $450.
Still, analysts worry about the road ahead. In the era of the Internet, buyers may opt for "network computers," bare-bones PCs that use "applets" stored on network servers. If they catch on big, they could turn Office, which hogs 120 megabytes of disk space, into a dinosaur. "The next two to three years still belong to Microsoft," says analyst Eric Brown of Forrester Research Inc. "But the next turn of the wheel could be different."
Corel Corp., the scrappy Ottawa-based software maker, is trying to spin the wheel now. It has rewritten Corel Office in Sun Microsystems Inc.'s Java language for the Net computers. And with Corel Office Professional for Windows NT, it's aiming at Microsoft's corporate customers. Corel's discounted pricing, $1,500 to $2,000 for a server version that can be shared with perhaps hundreds of PCs, may not snare Microsoft's big corporate accounts. But Corel could grab share among smaller enterprises. Anybody who expects Office 97 to stop Corel's recent gains, says Eid E. Eid, a Corel vice-president, "should not hold their breath."
Lotus Development Corp. says Office 97 is playing catch-up with its SmartSuite, which was "Web-ized" last year. Lotus is timing a major upgrade, SmartSuite 97, to coincide with Office 97. And like Corel, it's creating a suite of office applets for Net computers.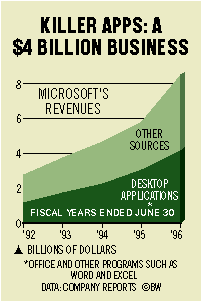 NOTHING NEW? Microsoft's response? Corel's Java suite "doesn't address anything new," says Robert J. Bach, a Microsoft vice-president. Microsoft, he says, has started its own applet effort--although he won't say when the applets will appear.
There may be no need to rush: "I have a hard time believing everyone will dump [Office] for something new, just because it's Java," says Keith Perry, a manager at Columbia/HCA Healthcare Corp. Columbia plans to buy at least 1,000 copies of Office 97. A few more sales like that, and Microsoft will have paid for its Comdex hullabaloo.
Before it's here, it's on the Bloomberg Terminal.
LEARN MORE