`Donorgate' Is Just One Of Lippobank's Problems
Money-laundering allegations and red ink are dogging it, too
Dean Foust
As bank headquarters go, it's about as downscale as you can get--a pale-yellow building occupied by medical offices, labs, and pharmacies in the Chinatown district of Los Angeles.
But the modest headquarters of LippoBank of California is fast becoming a branch of the tangled "Donorgate" scandal. Republican lawmakers are preparing to grill former Commerce Dept. aide John Huang over his role in the affairs of the tiny Indonesian-owned U.S. bank that he once headed--and that has repeatedly run afoul of U.S. regulators. GOP investigators want to know if Huang, as acting president and later vice-chairman of LippoBank, was involved in an alleged money-laundering scheme that began in the late 1980s. They also want to know whether he used his pull as a Clinton appointee to stop regulators from cracking down on the troubled bank.
A BUST. LippoBank's troubles are only the latest for Huang, whose overseas fund-raising for President Clinton's reelection effort has sparked controversy. On Nov. 12, Commerce asked its inspector general to examine records that "appear to present questions concerning the conduct" of Huang while he was at the agency. And Capitol Hill panels are preparing for an investigation into his dealings that could last for a year.
Acquired on the cheap in the mid-1980s by James T. Riady, LippoBank was supposed to become a $1 billion institution providing trade financing for importers in California, most of them Asian American. Riady is the 39-year-old son of Mochtar Riady, one of Indonesia's most powerful financiers and a frequent guest at the Clinton White House. But the younger Riady's Golden State excursion has been a bust: The $110-million bank has lost $16.5 million since 1990 from write-downs of bad real-estate loans (chart). LippoBank has survived because the Riadys pumped in $20.5 million in new capital and purchased millions more in bad loans.
Riady may soon have to ante up again: Regulators at the Federal Deposit Insurance Corp. decline to comment, but a recent internal FDIC memo notes that "earnings are poor, are overstated and that large net operating losses for 1996 are highly likely." If Riady doesn't pony up more capital, regulators may slap the bank for a third time with a "cease and desist" order. "This has been a marginal bank for years," says consultant Bert Ely, who analyzed LippoBank's condition for BUSINESS WEEK.
That's no surprise to former associates. They say Riady's style of lending, based largely on trust and character, has been a disaster in the U.S. The approach unnerved officials at Little Rock-based Worthen Bank, in which the Riadys bought a 15% stake in 1983. Worthen officials shut down an international division launched by James Riady in 1988. "We ask for security and signatures; they lend on a handshake," says one former associate. "When you mix their culture with ours, it's a clash."
LippoBank was first rebuked by regulators in the mid-'80s for paying some expenses incurred by a New York bank in which the Riadys held a stake. And regulators objected when Riady transferred his 98.7% stake in LippoBank in 1987 to a Netherlands Antilles holding company controlled by his father. The move violated U.S. laws, and Riady was forced to reverse the deal in 1988.
But the most pointed questions are yet to come. Lawmakers plan to grill Huang over money-laundering allegations raised by the FDIC. According to investigators, FDIC examiners in June, 1990, filed a criminal referral to authorities for suspected money laundering after discovering that a 21-year-old teller, with apparent knowledge of her supervisor, made over 900 suspicious wire transfers totaling $7 million over 11 months to a Riady bank in Hong Kong. The FDIC alleges that the teller routinely made transfers of just under $10,000--the threshold at which reports must be filed with regulators--from 13 fictitious accounts to the Hong Kong bank.
Lawmakers also want to know why, as a top Commerce appointee, Huang got two 1995 calls from an FDIC official, Ken Quincy, who had overseen examinations of LippoBank. Commerce phone logs reviewed by BUSINESS WEEK show Quincy even offering a time and date to meet. Huang couldn't be reached; an FDIC spokesman says Quincy has "no recollection" of placing the calls.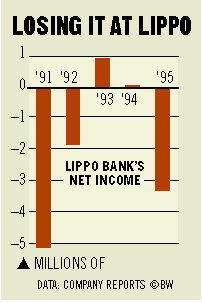 LippoBank's current management says it feels it is the target of a witch-hunt. James Per Lee, who joined the bank in 1991 and became president in 1994, vehemently denies that any questionable activity has occurred. The money-laundering charges "were never brought to our attention," he says. "Nothing sinister has happened here, just lousy banking" during the 1980s.
Lee still bristles that examiners made the bank boost its nonperforming assets--mostly bad real estate loans--from $759,000 to $4.2 million earlier this year, despite the rebound in California real estate. "We got an examiner from Kansas who doesn't understand what's going on here, but we're not in a position to negotiate with the FDIC," he says. But Lee's protests are unlikely to deter investigators. Huang's troubles--and LippoBank's--may be just starting.
Before it's here, it's on the Bloomberg Terminal.
LEARN MORE