Brady Bonds: Are They Worth The Risk?
Your principal is guaranteed--but there's a real downside
Joan Warner
Investors in stocks have reason to be proud this year. Those who ignored the bear calls last January and stayed in the market have enjoyed a healthy 22.5% return, as measured by the Dow Jones industrial average. Among the few places where they would have done a great deal better was the exotic world of emerging-market debt. In fact, mutual funds that specialize in developing-country bonds have shown a total return of nearly 36% for 1996 so far.
The fantastic performance was the result of a flood of institutional money into Brady bonds and similar instruments. Hungry for yield in a year when long-term U.S. interest rates bounced tamely within 50 basis points of 7%, bond-market players looked far and wide for extra interest. So much money flowed into dollar-denominated Brady bonds, the most popular type of emerging-market debt, that they have gained 30% in value since March, 1996 (chart). These days they are yielding only around four percentage points more than U.S. Treasuries, down from a 19-point spread in early 1995. Now, some bond-market pros are starting to warn that average Brady yields of 10% or 11% may be way too low to compensate for their inherent risk.
HIGHLY VOLATILE. Named for former Treasury Secretary Nicholas Brady, who invented them in the 1980s, these bonds represent the restructured bank debt of Latin American and other emerging nations that overborrowed from U.S. institutions. Designed to prevent financial meltdown for lenders and borrowers alike, Bradys are normally collateralized by U.S. zero-coupon bonds of various maturities. That means principal is guaranteed, but most bonds' coupons are not.
If a country can't make its interest payments, investors can collect 100% of their principal when the bonds come due. But they lose out on interest, and they have tied up their money for years instead of putting it into a paying investment. And because the bonds no longer pay interest, their value in the secondary market plummets to only a fraction of their face value. This market is extremely volatile, reacting to moves in U.S. bond prices and especially to bad news from emerging nations, such as the Mexican peso devaluation of 1994.
Hedge funds, insurance companies, and other institutional investors have been willing to take that chance lately. Meanwhile, the managers of the 17 U.S. open-end mutual funds dedicated to emerging-market debt are insisting that Brady bonds have gone mainstream. Says Susan E. Gray, co-manager of Scudder, Stevens & Clark Inc.'s $325 million Emerging Markets Income Fund: "As these countries develop economically and politically, we're getting more transparent reporting. That makes it easier for individuals and professionals to analyze the story."
Indeed, many money managers argue that Bradys are much safer than they used to be, as the decline in their yields suggests. Ed Vaimberg, who manages Bear, Stearns & Co.'s $34 million Emerging Market Debt Portfolio, declares that "Credit quality overall is relatively stable or moving higher." Vaimberg currently has 82% of his holdings in Brady bonds. One Syosset (N.Y.) retail broker who advertises Bradys on the radio as a good, safe choice for income investors says that Polish debt, for example, is graded Baa--better than a lot of U.S. junk bonds.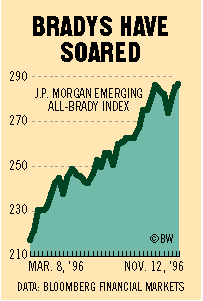 Yet the hot money that has fueled the Brady fire may go elsewhere in coming months. Although Morgan Stanley & Co. chief global strategist Barton M. Biggs says that "it's still a favorable environment for these instruments," he halved his position in emerging-market debt more than a month ago. And Michael Corbat, head of emerging-market and high-yield debt sales at Salomon Brothers Inc., believes that Bradys remain vulnerable to external shocks. Says Corbat: "The big question is, what political or economic event will come along to unseat the market?"
To be sure, if global liquidity stays high, there will still be lots of money chasing high yields in exotic markets. With Europe pursuing monetary union, institutional investors who invest abroad will have more trouble making money on spreads between, say, German and Spanish debt. But considering the risks of Bradys, individual investors might prefer to stick closer to home.
Before it's here, it's on the Bloomberg Terminal.
LEARN MORE