Why Bears Are Prowling The Seoul Bourse
An anticorruption drive and slow growth spook investors
Catherine Keumhyun Lee
South Korea has suffered one shock after another this year. First came a massive political slush-fund scandal involving two former Presidents and several industry tycoons. Next, rising wages and renewed competition from Japan damaged Korea's once vaunted export machine, sending the trade deficit soaring and hammering corporate earnings. So perhaps it's no wonder that 1996 should draw to a close with the Korean stock market in free fall.
These are scary times at the Seoul bourse. On Nov. 5, the Seoul Composite Stock Index hit a three-year low of 733, following a dizzying market slide that started in mid-October (chart). The index is now off by 16% this year, and market pros believe that it will fall as far as 700 by yearend. If that happens, some $36 billion, or 20% of the bourse's market value, will have evaporated in just 12 months.
NO TEETH. Why the carnage? Investors are certainly gloomy about the economy. Accustomed to double-digit growth, they recently saw the government reduce its estimate of 1996 growth in gross domestic product to 6.7% from 7%, compared with last year's 9% advance. But on top of such news, market watchers have been spooked by reports that Korean prosecutors will go after investors who set up bank and brokerage accounts under assumed names. The practice has been a fixture in Seoul for decades, facilitating tax evasion, money-laundering, and other sordid stuff. Although it was banned in 1993, President Kim Young Sam's government has had little success in enforcing the edict.
Now Kim has vowed to find the offenders. The worry, however, is that an anticorruption drive will scare even more money out of the market, "as deep-pocketed investors, who often hold fake-name accounts, are expected to go underground," says Lee Sung Shik, a broker at Shinyoung Securities Co.
That would really sting, since the Korean market already faces a share glut. After the Securities & Exchange Commission lifted a quota on public offerings back in September, dozens of companies rushed to market. In October alone, 12 companies went public, raising $484 million--70% of the total amount for 1995. One flop: A new tranche of Korea Telcom shares offered by the government on Oct. 12 was woefully undersubscribed.
Meanwhile, the time-honored way of bailing out Korean stock investors is no longer affordable. The Korean Finance & Economy Ministry used to prop up the market by forcing Seoul's mutual funds, banks, and life insurers to buy more shares than they sold. But "[the institutions'] capital losses have eaten into their profits," says Yu Yong Ju, a market watcher with the Samsung Economic Research Institute. So the government seems to have ruled out intervention. Says a Finance Ministry official: "We expect the market to rebound when economic fundamentals improve."
SPIRALING WAGES. That may take a while. Declining global prices for computer memory chips, steel, and petrochemicals, which account for 28% of Korean exports, have battered corporate earnings and probably will leave the country with a heavy $20 billion current-account deficit by yearend. Corporate profits fell 41% in the first half, with flagship companies such as Samsung Electronics Co. and LG Chemical Ltd. posting 60% and 80% profit declines, respectively.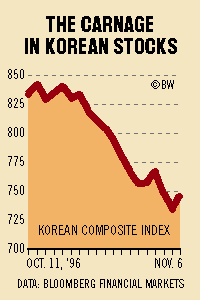 What's more, with the South Korean won up 2% vs. the yen year to date, the chaebol find themselves at a disadvantage against a more price-competitive Japan. Wages are spiraling upward at home, with hourly labor costs in manufacturing around $7.40 last year, up from $1.23 in 1985.
Whether Korea gets back on the fast track depends on the progress of Kim's economic-reform campaign. Kim has backed off from curtailing the economic power of the chaebol and from selling state-owned enterprises. With a presidential election looming in December, 1997, his caution is hardly surprising. Yet until serious reform begins, the stock market is probably in for more misery.
Before it's here, it's on the Bloomberg Terminal.
LEARN MORE