What May Pump Up Westinghouse
by
Now that the Presidential elections are out of the way, investment manager Mark Boyar is gearing up for a big switch in the market. "Money will begin to flow out of areas that have become overpriced and into stocks that are undervalued," says Boyar, who heads a New York investment firm that specializes in companies with unrecognized intrinsic value. The out-of-favor stocks, he expects, "will be in, and the current hits will be out."
A stock in Boyar's "in" category: Westinghouse Electric (WX)--one of the worst-performing components of the record-breaking Dow Jones industrial average for the past two years. Although the Dow has rocketed up 20% this year, Westinghouse has edged up only 7%, to 18 a share. It's barely half of its high of 35 in 1990.
In the next few months, Boyar thinks the stock will climb to the mid-20s. In 12 to 18 months, he sees it rising to 35--solely on the company's business potential. Boyar bought into Westinghouse after it acquired CBS for $5.4 billion in November, 1995.
Westinghouse is the kind of company, he notes, that "you nurture and hold for a longer period because of its huge, still-unrecognized assets." Westinghouse, which sold off some assets earlier this year, agreed in October to acquire Infinity Broadcasting for $3.8 billion in stock in order to widen its reach in the radio business. With CBS and Infinity, notes Boyar, Westinghouse is building up a radio-and-TV empire that he believes in three to five years will become the leader in broadcasting.
Westinghouse is looking into splitting the company in two: broadcasting and industrial operations. Here's how Boyar sees events unfolding: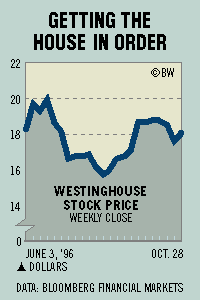 Westinghouse will first sell or spin off to shareholders its industrial businesses, valued at more than $4 billion. These include power generation and temperature-control equipment.
As for CBS, Group W radio, and Infinity Broadcasting--which Boyar says are worth "conservatively" $13 billion--they will become Westinghouse's core business. "Westinghouse should then command a higher market valuation."
Once Westinghouse achieves that goal, he says, the TV-and-radio network will become an "attractive takeover target--whether CEO Michael Jordan wishes it or not--for the likes of MCA," Seagram's film-and-entertainment unit. Argues Boyar: "Such valuable long-term assets make Westinghouse a priceless play over the near term."
Before it's here, it's on the Bloomberg Terminal.
LEARN MORE