Waiting For Godard
B. Kite
Watching an art film at ten in the morning in a theater crammed so full of critics you can almost smell consensus being formed is not everyone's idea of fun. But, bleary-eyed, I sat through almost all of the 44 movies and short subjects shown over a three-week period at the 34th Annual New York Film Festival in October. I have to say that I found the experience, well, pretty cool.
I was there on a press pass, but my motives were purely personal: I love movies, but I love the films of such directors as Jean-Luc Godard more than the taxidermically stuffed &brkbar;uvre of Merchant-Ivory or the collected works of Arnold Schwarzenegger. It's not just that I find Godard's films more intellectually stimulating than Eraser. They're more entertaining, too. Godard's works, including Breathless and Pierrot Le Fou, were widely distributed in the U.S. during the 1960s. These days, he's lucky to get any release at all. His recent film, Germany Year 90: Nine Zero, played at only one New York movie house.
Oh, the '60s. They were before my time, but I've seen the movies on TV. That decade was the golden age for art films, those lower-budget, often foreign-language movies that demand close and critical attention from the audience. It was the era of films such as Michelangelo Antonioni's L'Avventura and Alain Resnais' Muriel, which played art houses all over the U.S.
Nowadays, many of the houses that showed such films have disappeared, and the economics of the movie business have made it harder than ever for offbeat films to get distribution. "Compared with 20 or 30 years ago, the situation is bleak," laments David Ansen, film critic for Newsweek and a member of the festival's film-selection committee. Jonathan Rosenbaum, film critic for the Chicago Reader and another selection-committee member, goes further. It's "abysmal," he says.
Variety reports that, in the past decade, foreign movies have actually doubled their market share in the U.S., to 0.7%. But that's due to a few big moneymakers, such as Il Postino and Like Water for Chocolate. It's a small-scale version of the blockbuster phenomenon that dominates the mainstream movie business. While the number of foreign releases in the U.S. has tripled in 10 years, only a handful of films do well. Major distributors such as Miramax Films take on only the most commercial foreign movies. Few of the challenging movies stay in the theaters long enough to develop a following. To find a U.S. market at all, producers of art flicks depend on small independent distributors to keep their works from ending up in movie limbo.
BACK-SLAPPING. I was glad to see some 35 distributors working the festival. They congregated in the mornings with filmmakers and critics in the concrete corridors of Lincoln Center for the Performing Arts, during the press screenings. There, they slapped backs and made connections over complimentary doughnuts and weak coffee. Since New York--unlike other festivals such as Utah's Sundance and Colorado's Telluride--offers many distractions, this little morning snack bar was the closest thing the festival had to a chummy dealmaking atmosphere. And the distributors were there to deal. Among them were Nancy Gerstman and Emily Russo, founders of Zeitgeist Films, headquartered in Manhattan's Soho district.
Zeitgeist had its eye on French director Olivier Assayas' 1996 Irma Vep. It was one of my favorites, a film about the state of the art film itself, charting the passing of the torch from the 1960s French New Wave to the lyrical, hip Hong Kong school. The story is about a washed-up director who attempts to remake the 1915 classic Les Vampires with Hong Kong star Maggie Cheung. It's timely and loaded with irony for flickerites--beginning with the casting of Jean-Pierre Leaud, New Wave icon and alter ego of both Francois Truffaut and Godard, as a strung-out filmmaker.
Gerstman and Russo believed Irma Vep would be a perfect match for Zeitgeist. Film buffs themselves--Gerstman started out selling tickets at New York's famous Bleecker Street Cinema, and both have worked for other distributors--the two women create a niche for the films they love. "We started Zeitgeist in 1988, with $2,000 and a lot of goodwill," Gerstman said. The company now has more than 60 films in its catalog, including 1964's recently restored The Umbrellas of Cherbourg, which grossed an impressive $700,000 in art houses last year.
"UP-TO-THE-SECOND." With very limited ad budgets, Zeitgeist must fine-tune its marketing. For example, with Manufacturing Consent: Noam Chomsky and the Media, which details the life and ideas of one of America's leading progressive thinkers, they concentrated their limited advertising budget on political periodicals, such as The Nation and the small, radical Z Magazine.
Others at the festival were excited about Irma Vep, too. It was important for the movie to find an American distributor because it would introduce a new, younger audience to art films, said Richard Pena, programming director for the Film Society of Lincoln Center and festival head. The movie "seems to be so up-to-the-second in terms of film style and the kinds of issues [moviegoers] are dealing with," he told me. The same could be said of many of Zeitgeist's releases, which are hip, funny, and cutting-edge.
Producers at the festival knew their films had little chance of being picked up by a Miramax: Even if they were, they would probably get only half-hearted promotion. So these producers were hoping for a deal with an outfit like Zeitgeist. It releases maybe six films a year, which means each one must do well. Irma Vep's producers won't get signing money, but they should make a profit eventually, Russo says.
The negotiations for Irma Vep proceeded intermittently. Traditionally, distributors bid through the film's sales agent, unaware of the details of competing offers or even the names of other bidders. A representative from Zeitgeist had dinner with the film's director during his brief stop in New York. Assayas seemed enthusiastic. "I think he felt we were the perfect company for the film," Gerstman says. "And I know for a fact that he went back and told the sales rep." Still, talks dragged on.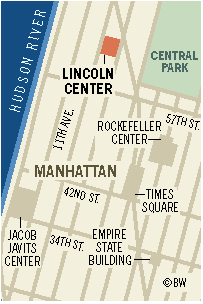 DRAB BUNCH. Meanwhile, the festival reeled on. Moviegoers flocked to Lincoln Center to attend the screenings--or to catch glimpses of the stars, including Woody Harrelson, who was pushing People vs. Larry Flynt, and Chiara Mastroianni for Raul Ruiz' Three Lives and Only One Death. Her father, Marcello, became an international screen idol in Federico Fellini's 1960 art film blockbuster, La Dolce Vita. In contrast to these celebrities, most of the critics were a drab bunch, with the kind of shy furtiveness characteristic of moles and other dwellers-in-darkness. Little wonder, since we were taking in two or three movies a day.
When the festival ended, Zeitgeist still hadn't nailed down Irma Vep. It took two more weeks. "We got it!" Gerstman told me, at last. "Now we just have to book the hell out of it."
So, beginning next April, those hip, young American viewers (and those '60s holdouts) will be able to see Irma Vep in their local art houses. But for half of the movies shown at the festival, the prognosis is cloudy--they failed to find distributors. Still, critics will have to hold their eulogies. The foreign film in America will be around for another year.
Before it's here, it's on the Bloomberg Terminal.
LEARN MORE