U.S.: Will The Economy Look This Good On Inauguration Day?
Right now, the numbers point to continued growth, not stagnation
by
With the election results on the record books, now it's time for the really tough call: How is the economy shaping up in the fourth quarter, and what are the prospects for growth in early 1997?
The third-quarter breakdown of real gross domestic product raised more questions about the immediate future than it answered. The combination of the largest inventory buildup in 1 1/2 years and the weakest growth in overall demand in 3 1/2 years has produced a split among economists on what happens next. The bears argue that growth is fading in the face of consumer retrenchment and excessive inventories. The bulls believe that demand will snap back and that any inventory adjustment will be painless.
The latest data, especially the October employment report, favor strength more than stagnation (chart). Job growth has clearly slowed in recent months, but labor markets remain tight, and wages are outpacing inflation. Amid solid income growth, high confidence, rising savings, and capital gains from a strong stock market and rising home values, last quarter's drop-off in consumer spending looks more like a respite than a retrenchment.
At the same time, very little of the third-quarter inventory bulge appears to have been unplanned. Inventory-sales ratios remain low, especially in manufacturing. And the trend in factory orders is up. Also, a lot of last quarter's stockpiles appear to be imports, which means that the burden of inventory adjustment will fall on foreign producers as well as on U.S. output. If demand bounces back, any inventory realignment will occur quickly, without harming growth prospects for early 1997.
THE LABOR MARKETS continue to tell an upbeat story about the economy. Although the job data corroborate the view that second-half economic growth will be slower than the 3.3% first-half pace, the October numbers hardly suggest growth is about to wither.
For example, payrolls increased by a solid 210,000 last month, proving that the 35,000 decline in September jobs far understated the strength of the labor markets. In fact, the recent trend in initial jobless claims, which typically provide a reliable tracking of the labor market, has yet to indicate any significant slowdown in job growth. Moreover, government employment in October fell sharply for the second month in a row, reflecting the Labor Dept.'s difficulties in adjusting for back-to-school patterns for teachers. Private-sector payrolls jumped 250,000.
To be sure, private-sector job gains also have slowed, from an average monthly increase of 217,000 during the first half to 159,000 per month so far in the second half. However, even at that pace, the unemployment rate will remain at October's 5.2%, or drift lower.
Job markets are already tight enough to allow faster wage growth. Average hourly earnings in October were unchanged from September, but the most recent three-month average is up 3.4% from the same period last year, for the fastest annual growth in 5 1/2 years. Adjusted for inflation using the price deflator for personal consumption expenditures, which is a better measure of household inflation than the overstated consumer price index, real pay is up 1.3% from a year ago, and that's the fastest in almost two decades (chart).
IF THERE WAS ONE DOWNBEAT MARK in the employment report, it was the drop in hours worked. The nonfarm workweek slipped 24 minutes to 34.3 hours, and the factory week, at 41.6 hours, was 12 minutes shorter. Total hours on-the-job started this quarter below the third-quarter average, which suggests fourth-quarter GDP growth is off to a weak start.
One key sector that went against that trend was construction, where the workweek stretched by 24 minutes, to 38.8 hours, the longest in six months. Construction jobs also rose, by 10,000, suggesting the September strength in construction spending was no fluke. Building outlays increased a larger-than-expected 1.9%. Government projects jumped 6.4%--no surprise right before an election--but private construction outlays were up as well.
The employment data also suggest that industrial production last month was about flat. Factory jobs rose only 6,000, but that followed a loss of 59,000 in September. And given the shorter workweek in October, overall hours worked fell 0.4%.
INDEED, THE SNAPBACK IN SPENDING won't provide much bounce to the industrial sector--at least not in the short run. October's extra demand was met by selling the goods warehoused last quarter. For manufacturers, that inventory buildup raises two questions that play into the outlook: How much of it was imported? And how much was intentional?
Certainly, last summer's import surge suggests that a significant portion of the accumulation consisted of foreign-made goods. The biggest gain in inventories came in nondurable retail items. It might have been that merchants stocked up on holiday sweaters and toys. If so, then foreign producers should see a drop in U.S. orders, and import growth may finally slow.
On the second question, the monthly data suggest that businesses intentionally stocked extra goods. Manufacturing inventories rose 0.2% on average in each month of the third quarter, and the inventory of finished goods grew at a stronger 0.4% pace. But sales more than held their own last quarter, rising 0.7% on average. As a result, the ratio of factory inventories to sales ended the third quarter at a record low 1.39.
Moreover, inventories may have declined in October. The National Association of Purchasing Management reported that its overall business index slipped from 51.7% in September to 50.2% in October, barely above the 50% mark separating growth and contraction. One of the biggest drags came from a drop in the inventory index, which fell to 38.9% from 44.8% (chart). The NAPM said that a reading below 43% was consistent with a drop in the government's tally of inventories.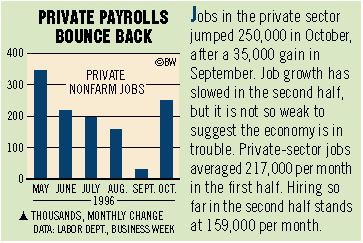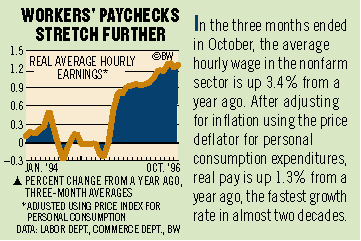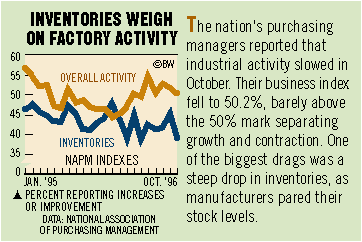 The industrial outlook also depends on future demand. According to the NAPM, orders from both domestic and foreign customers grew in October, but at a slower rate than in September when, according to the government's data, factory orders increased 2.7%. The bulk of that increase in factory orders was in aircraft. And foreign airlines are buying many of those planes, so when the orders are filled, it will boost exports, which have been a disappointment so far this year.
For now, slow-but-steady job growth and rising real wages suggest that demand is plowing ahead in the fourth quarter. And the tight inventory-to-sales ratio and high level of orders mean that the economy will be doing just fine when President Bill Clinton retakes the oath of office in January.
Before it's here, it's on the Bloomberg Terminal.
LEARN MORE