Taking Our Act To The Web
by
It has been nearly two years since BUSINESS WEEK staked out a spot on America Online. We've learned a lot in that time, most particularly about what people want from an online service. Besides making available the full magazine and an extensive archive of our stories, we have created areas of special interest. Our sites for business schools, computers, small business, and other subjects give us a venue for information that is more detailed or more personalized than what we can do in the magazine. Most recently, we have started Daily Briefing, a look at what's coming up in business each day.
Now, we are taking our act to the World Wide Web. The complete contents of the magazine are going up every Thursday night on www.businessweek.com. We will soon be adding archives going back to 1991. And you will find plenty of special-interest areas on our new Web site. One of them, the interactive computer-buying guide, called Maven, went live in conjunction with the BUSINESS WEEK computer-buying guide two weeks ago. Besides describing the computers, notebooks, modems, and printers we looked at, we show how these products ranked in tests carried out by NSTL, one of The McGraw-Hill Companies.
The Web site will also feature Daily Briefing, assembled by Thane Peterson, an editor in the News: Analysis & Commentary department. It relies on the resources of our worldwide staff and Standard & Poor's, another one of The McGraw-Hill Companies, to provide insight into what to expect from the markets and business world each day.
For now, we are not charging for access to our site. We are asking you to register--and if you do, you will get a weekly newsletter via E-mail alerting you to what is new on the site. We will charge a small fee if you want to search our archive for back stories.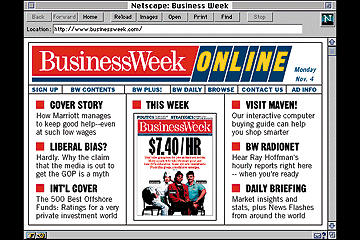 Our online staff is growing to meet the challenge of keeping our services fresh and responsive. Headed by Senior Editor Bob Arnold, it includes Mike Mercurio, the managing editor of BUSINESS WEEK Online; Webmaster Peter Clem, Production Consultant John Johnsrud, and graphics whiz Arthur Eves. They have all played major roles in bringing our online presence to this stage.
Please take a look at our newest offering. As with the magazine itself, our goal here is not to overwhelm you with information, but to explain and analyze. We have found that interactive media enhance the process greatly because we can get almost instantaneous feedback from readers. I'm eager to hear yours.
Before it's here, it's on the Bloomberg Terminal.
LEARN MORE