Commodities: How Low Can They Go?
Even energy prices are dropping, easing inflation pressures
by
Is the great commodity scare of 1996 over? From oil to lead to corn, the prices of many basic materials surged in the first half of the year. Inflation pessimists saw rising commodity prices as the leading edge of an inflationary surge that would force the Federal Reserve to boost interest rates.
But by the end of the summer, prices of farm products and industrial metals were falling sharply. Now, in the past few weeks, the lone holdout, energy prices, is finally heading down as well. Prices for both crude oil and heating oil are off 12% since their October peaks, despite the coming winter. The downward pressure on energy prices was increased even more by a Nov. 5 report from the American Petroleum Institute that showed U.S. crude oil inventories unexpectedly rising. "The hype has had a bigger cycle than reality," says Steven Strongin, director of commodities research at Goldman Sachs & Co.
The decline in prices across a wide array of commodities--both those traded on financial exchanges and not--is already reducing costs for U.S. factories. More than 90% of manufacturing purchasing executives reported paying the same or lower prices for raw materials and other supplies in October, compared with September. With input prices falling, this may help boost corporate profits for the fourth quarter.
STRONG HARVEST. Swings in commodity prices do not directly affect consumer inflation. Nevertheless, unlike the consumer price index, which is only calculated monthly by the Bureau of Labor Statistics, commodity prices can be tracked by traders and policymakers on a day-by-day basis. So if commodity prices are surging, that raises inflation fears and puts pressure on the Federal Reserve to raise interest rates. But if commodity prices are falling, that calms the financial markets and enables the Fed to hold its fire. The break in commodity prices means that "the inflation premium is being reduced, and that means long rates are going towards 6% or lower," says Joel Unger, a partner in New York investment firm Stralem & Co.
To be sure, over the next few years, prices for commodities such as corn and copper will likely drift upward as Japanese and European economies recover and incomes rise in East Asia. Moreover, suppliers are holding smaller inventories, increasing the possibility for demand to temporarily outpace supply for particular commodities. But even in the long run, says Strongin, "we don't expect a '70s repeat of commodity inflation."
The incipient commodity boom was deflated by a convergence of events. For one, a strong U.S. harvest of corn and soybeans, combined with good crops in Western Europe, surprised traders, who were betting on rising agricultural prices. Instead, the sharp fall in grain prices set a bearish tone for commodity markets overall, says William E. Byers, top futures strategist at Bear, Stearns & Co. And soybean trader David J. Fisher, first vice-chairman of the Chicago Board of Trade, says intense selling pressure from commodity-trading advisers has put floor traders in a negative mood.
Prices of industrial metals such as aluminum and nickel have been hit hard by a combination of growing supply and slow demand in industrialized countries. Metals are "very, very sensitive to economic growth," says James E. Annable Jr., chief economist at First Chicago NBD Corp. In 1996, the large industrialized countries only managed a sluggish 2.2% growth rate. And next year won't be much better, according to DRI/McGraw-Hill, which forecasts an equally tepid 2.3% growth rate for these countries.
PAPER CUT. Still, prices for energy commodities such as crude oil and heating fuel kept the commodity boom going until recently. Energy commodities, which make up a full 48% of the Goldman Sachs commodity index, rose by 64% between the beginning of the year and mid-October. But inventories of crude oil are up over last year, and once refiners cranked up production, the high prices could not hold. Moreover, oil is expected to continue to be in plentiful supply. The futures market is projecting an average price of $19 a barrel for 1997, down from the current $23 a barrel, and "there is potential for significant amounts of oil to enter the markets," says Salomon Brothers Inc. energy analyst Keith Petersen.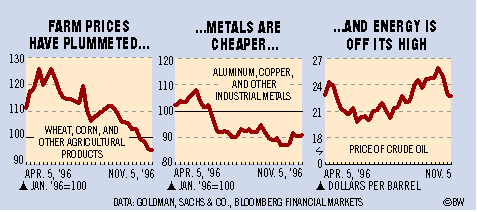 The commodity deflation is hitting all types of basic materials. The price for wood pulp is down by 27% in 1996, with further declines likely next year. Prices for polypropylene and polyethylene are expected to drop because of extra polymer-processing capacity that's coming online in the Gulf Coast. Despite strong demand and low inventories for steel, "we still haven't seen a surge in pricing" says Roger A. Malehorn, vice-president for commercial operations at Bayou Steel Corp., a minimill in LaPlace, La. And there is no sign that commodity shortages are becoming a problem. "The crucial bottleneck is only on the labor side," says Charles Lieberman, chief economist for Chase Securities Inc. "There are no other visible bottlenecks."
The absence of commodity price inflation is a surprise for this stage of the business cycle. But going into the end of the year, it's one more sign that the economic recovery--and the stock market boom that has accompanied it--may have further to run.
Before it's here, it's on the Bloomberg Terminal.
LEARN MORE