Canada: Just What The Doctor Ordered
by
Will Canada's stiff fiscal medicine put the economy back on its feet? Thanks to the leeway provided by the government's progress on reducing its deficit, the Bank of Canada has pruned interest rates by 2 1/2 percentage points since January and by nearly 5 points since May, 1995. The prime rate is now down to 5%, the lowest in two decades.
The financial markets are already doing handsprings. The Toronto Stock Exchange's bellwether 300 index is up 20% this year, outperforming the 16% rise in the Standard & Poor's 500-stock index. The previously huge spread between Canadian and U.S. 10-year bond yields has evaporated. With less borrowing from abroad, the current-account balance has posted its first quarterly surplus in 12 years, which is a key factor in the Canadian dollar's recent strength. It hit 75.2 cents per U.S. dollar on Nov. 5, nearly a two-year high.
The problem is that, so far, rate cutting has not yet worked its magic on a moribund domestic economy. Exports are strong, but job growth remains too slow to bring down the unemployment rate, which has averaged just under 10% since June. Retail sales are still sluggish, and the service sector is weak.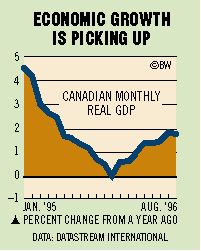 But all this may be changing. Interest-sensitive sectors, including housing and durable goods, are already strengthening. Third-quarter real gross domestic product appears to have risen about 3%, up from a sickly 1.3% pace in the first half. The Canadian Auto Workers strike at General Motors Corp. will hurt fourth-quarter GDP, but analysts are increasingly looking for a stronger first half of 1997, which will make a modest dent in the jobless rate. But with so much slack still in the economy, inflation at 1.5% in September will remain in the lower half of the BOC's 1%-to-3% target range.
Finance Minister Paul Martin has suggested that Canada can eliminate its deficit by decade's end, and private analysts say the goal is achievable in the absence of a recession. In the meantime, Martin is banking on lower rates to jump-start the economy.
Before it's here, it's on the Bloomberg Terminal.
LEARN MORE