America's Most Wanted Brokers?
Dozens may be accused of accepting bribes to tout Teletek's stock
Phillip L. Zweig and Michael Schroeder
Small investors have always had good reason to be on guard against dishonest stockbrokers who try to churn their accounts or stuff them with poorly performing securities. But now they may have another cause for concern: Some stockbrokers may also be on the take.
In what could be the largest case involving brokers who were allegedly bribed, the U.S. government may be close to filing criminal fraud charges against dozens of brokers, stock promoters, and a former official of Teletek Inc., a Las Vegas telecommunications concern. BUSINESS WEEK has learned the expected indictment will likely accuse the company of plying brokers and promoters with cash and stock to push its shares. The brokers and promoters, who sources say worked for small firms throughout the U.S., allegedly received payoffs from approximately 1991 to 1996, often through offshore accounts.
TIP OF THE ICEBERG? Sources say Teletek represents just the tip of the iceberg of a rash of broker bribery. The possible indictment comes on the heels of a massive sting operation last month in New York in which 46 people, including stock promoters and officials of several small companies, were arrested for allegedly paying bribes to FBI agents posing as brokers to promote securities. In September, the Securities & Exchange Commission charged now defunct Atlantic Capital Corp. of Orlando, Fla., with paying nearly $500,000 in bribes to seven brokers in a stock promotion scheme that raked in $2.6 million in illegal profits. Atlantic Capital is said to figure in the Las Vegas investigation as well.
In an unusual departure from the SEC's practice of referring criminal cases to the Justice Dept., SEC enforcement attorneys have been deputized as special assistant U.S. attorneys to prosecute the Teletek probe. One reason, sources indicate, is federal authorities recognize that SEC civil injunctions often are ineffective in deterring sophisticated securities fraud artists. Bruce M. Bettigole, an SEC assistant chief litigation counsel and special assistant U.S. attorney, said he was "unable to comment as a matter of policy."
Sources close to the probe say Michael Swan, who left Teletek as president and CEO in May, 1995, is at the center of the investigation, which got under way formally in January, 1994. It's believed that current management would not be named in any indictment. Asked about the possible indictments, Swan said before hanging up, "I haven't heard anything about this." Teletek declined to comment.
The government is expected to allege that former Teletek officials used so-called "S-8" and "Regulation S" stock to reward brokers, promoters, and overseas investors who were in on the scheme. Under U.S. security laws, these forms of stock can be issued with minimal disclosure.
Sources with knowledge of the probe say Swan made extensive use of stock promotion firms, including Wall Street Marketing Group Inc. in Winter Park, Fla., an affiliate of Atlantic Capital. The firm was a target of an FBI raid in 1993 and was accused by the SEC of paying off brokers to push shares of corporate clients.
Expressing surprise at the FBI raid, Swan told the Orlando Sentinel on Jan. 3, 1994, that he was pleased with Wall Street Marketing's work.
An FBI affidavit during that period said Atlantic's modus operandi was to make "sizable payoffs" to brokers to push stocks. Teletek, it said, was one of at least nine stocks that had been manipulated. Mark S. Missler, former president of now defunct Wall Street Marketing Group and a former officer and director of Atlantic Capital, said "neither I nor the company paid bribes to brokers that I'm aware of."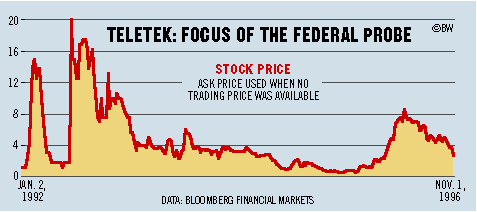 In February, 1995, Swan teamed up with Thomas A. Mills, named president and CEO of Teletek last month, to operate Las Vegas-based American Motorcycle Manufacturing Inc., which is trying to raise up to $5 million in a private placement to build a line of roadster motorcycles. Though Swan is not mentioned in the company's prospectus as an officer, a source says that he is helping to raise money for the firm. The prospectus warns that management "has no experience in manufacturing motorcycles."
If the feds indict Swan, learning how to make motorcycles could be the least of his problems.
Before it's here, it's on the Bloomberg Terminal.
LEARN MORE