American Standard Wises Up
Smart manufacturing methods make it a growth machine
Joseph Weber
Emmanuel A. Kampouris learned early the value of diversification. When he was 27, his father, a Greek cotton merchant and farmer then living luxuriously in Egypt, was among foreigners driven out in a spasm of Egyptian nationalism in 1962. Gone were the house in Alexandria, a 200-acre banana plantation in the Nile delta, and a trading business. Shrewdly, his father had a made a few investments in Greece that got the family back on its feet. "Were it not for that, we would have been cast into poverty," he says.
Kampouris, 61, now CEO of American Standard Cos., based in Piscataway, N.J., has traveled far since. But his devotion to spreading his eggs among several baskets remains strong. In an age when many U.S. companies are paring down to one core business, Kampouris' belief in "judicious diversification" is paying off. Riding rising global demand for air-conditioning and heating gear, plumbing parts, and truck brakes, Kampouris has turned the $5 billion conglomerate into a growth machine.
"BAT OUT OF HELL." That's quite a change. Back in 1988, Standard went private in a $3.2 billion leveraged buyout to fend off a hostile takeover bid by Black & Decker Corp. A year later, when Kampouris, then a 24-year Standard veteran, was promoted to the top job, Standard was staggering as recession and the enormous debt load combined to bring heavy losses. Typical LBO practice would have been to sell off its myriad businesses piecemeal. Although Kampouris sold off a few unwanted units, his real energy went into making the survivors better. Today, outsiders say Standard's success at finding gold in mundane commodes, coolers, and truck parts is an object lesson in smart manufacturing. Says management guru Michael Hammer: "They've learned how to take a manufacturing business and run it like a bat out of hell."
Last year, after a February IPO that returned Standard to the public market, Kampouris put an end to the red ink. Net income before extraordinary items hit $141.8 million on sales up a sizzling 17%, to $5.2 billion. And though sales growth is expected to slow slightly, to 11.5% this year, analysts expect income to climb nearly 30%, to $184 million. Investors are cheering: Since the IPO, Standard's stock has climbed 86%, to around 37. "It's not hard to become a believer," says Kevin L. Risen, who co-manages two Neuberger & Berman Management Inc. mutual funds that own 3 million shares. "They are revolutionizing how products are delivered."
What's Kampouris' secret? Over the past several years, Standard has streamlined the way it makes everything from its name-brand bathroom fixtures to the giant office air-conditioning systems and pneumatic truck brakes produced by its Trane and Wabco units. The common thread in Kampouris' industrial crazy-quilt is a little-known manufacturing discipline with the unglamorous name of demand flow technology (DFT). By radically improving production efficiencies in its manufacturing plants, DFT has allowed Standard to slash costs by boosting its overall inventory turns. That's the number of times a company sells its inventory each year; the faster it turns over inventory, the more efficient use it makes of capital, plants, and equipment.
The technique has even drawn raves from another apostle of efficiency: General Electric chief John F. Welch. After hearing about Standard's gains over lunch with Kampouris a couple of years ago, Welch sent a dozen GE engineers to study Standard's plants. GE has since used DFT to cut manufacturing cycles in half and trim inventories nearly 30% in many of its plants.
ONE UP. Kampouris came upon DFT by necessity in 1990, when a cyclical slump sapped sales. He'd already pared the company down as much as he cared to. "Economies will buffet you day in and day out," he says. "You always have to have one part of your business that is doing well." Kampouris had little choice but to attack the production process. Hearing of big improvements managers in a Trane plant in Tyler, Tex., were reporting in experiments with DFT, the brainchild of Englewood (Colo.) consultant John R. Costanza, Kampouris began pushing DFT companywide.
Standard's demand flow techniques take Japanese-inspired just-in-time inventory systems and go them one better. Rather than simply trimming inventories of supplies and finished goods, says David B. Gleditsch, a former associate of Costanza's who is now in charge of implementing DFT at Standard, the aim is to shorten manufacturing time. Combining time-management techniques with a detailed study of "work flow," Gleditsch has redesigned the shop floors to organize production more efficiently. "It's an endless war on waste, so people aren't waiting for material and material isn't waiting to be used," says one production manager, Andrew J. Stevenson.
At Standard's Middlewich plant in central England, for instance, bathroom fixtures that once took three weeks to make now come out in just four days. Products that emerge from a kiln are immediately inspected, boxed, and shipped out--instead of being carted off for those tasks and then stored before shipping. Next to the kiln, workers spray on colors just before baking. In the past, fixtures were painted elsewhere, then hauled over for firing.
DFT has also increased Standard's flexibility, allowing its assembly lines to handle many different products in a single shift. At Stevenson's furnace plant in Trenton, N.J., punch-press operators used to change the 4,000-pound dies just once a shift. Now, thanks to a system that mounts the dies on rollers, they can be changed in less than five minutes. With the operator able to switch among nine different parts, the plant can build 202 different furnace models to order, up from just a handful. And it now takes 2 hours and 20 minutes to produce a furnace, from 15 days in 1991.
Across Standard's operations--some 102 plants in 34 countries--DFT is bringing similar gains. As a result, Standard turned its inventory 11 times last year--up from less than five in '91. That slashed operating working capital from 8.6% of sales in 1991 to 4.9% in '95.
Just as important, the quick turnaround means Standard's units can make goods to order while still delivering fast enough to keep even tough customers happy. At Home Depot, Standard's plumbing, heating, and air-conditioning goods now show up within days of being ordered, not months. "They are way ahead of a lot of other folks," says Bill Hamlin, Home Depot Inc.'s executive vice-president for merchandising.
To keep the lead, Kampouris is now adapting DFT to office work. At headquarters, many private offices have been dismantled. Business chiefs who control more than a billion dollars in sales share a common space with sales staffers and secretaries. The aim: quicker decisions. "It's a competitive edge," says G. Eric Nutter, who leads the $373 million U.S. plumbing group from one bullpen. "You've got to be able to change."
That lesson Kampouris knows well. Schooled in England, he took a law degree at Oxford in 1957 and was set to work for the Lloyd's of London insurance exchange when his father asked him back to Egypt to help his business. After the family fled, Kampouris took a job with a Greek ceramics outfit. He joined Standard's Greek unit in 1965 and rose up the ranks.
MODEST GAIN. As a Standard lifer, Kampouris has a personal touch. Former Vice-President Dan Quayle, a Standard director, recalls a plant tour the pair took. "He knew everybody," he says. "Not just the plant manager, he knew the foreman in the back shop, people in the front shop, he knew marketing and salespeople. He really has control."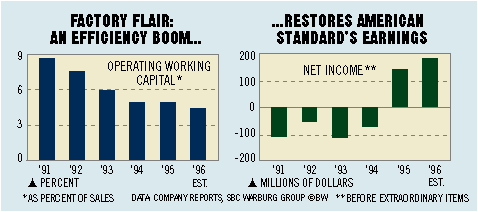 Kampouris' other big priority has been slashing Standard's debt. By refinancing regularly and taking the company public again, he has cut debt from $2.8 billion to $1.8 billion. Today, its debt-to-capital ratio is about 39%, from 87.5% in 1988. But servicing the debt still depresses Standard's net income. Last year, the company netted a modest $111.7 million after an extraordinary $30 million charge for early debt-redemption. This year, partly because of accounting changes, Standard will likely report a net loss of $51 million. Investors shrug off the red ink, however, pointing to healthy operating gains. SBC Warburg Inc.'s equity research chief Barry B. Bannister forecasts a rebound to $239 million in net income for 1997.
But with fears of an inevitable slowdown in his cyclical markets, Kampouris is not sitting still. He's built up joint ventures in such hot-growth spots as China, where Standard's plumbing sales in a few years could top those in the U.S. And, true to his eclectic style, he is prowling for acquisitions. "Something countercyclical would be useful," he says. What's likely? Something in manufacturing, where it can squeeze out efficiencies. For Standard and its worldly chief, what it makes is less important than how fast and how well it does so.
Before it's here, it's on the Bloomberg Terminal.
LEARN MORE