Where Rice Is King, And Queens Throw Cow Pies
Susan Jackson
Byron Gautreau waves a plastic forkful of shrimp-and-rice casserole under his nose. He opens his mouth and savors the morsel. "Can you feel the pecan behind it?" he asks his co-judge. A second bite, and he's not so sure. "It's got too much of an artificial taste," he says, looking at the recipe tucked underneath the casserole. The culprit: Liquid Smoke.
Gautreau runs maintenance at the Gillis W. Long Hansen's Disease Center (the disease "used to be called leprosy," he explains), over in Carville. But on this Friday morning, he is one of three dozen judges in the annual Creole Cooking Contest at the International Rice Festival in Crowley, La. He patiently answers my questions: He supposes he's a judge because he has won several jambalaya contests, and no, he hasn't tasted anything as good as his own jambalaya. Then he waves me away. Work to do.
Rice is serious business in Louisiana, which ranks third behind Arkansas and California in U.S. production of the grain. Crowley's fortunes were built on rice after the Houston-to-New Orleans railroad came through late in the last century. Midwestern farmers who flocked to Louisiana discovered wheat didn't grow well here, but the rice that the Cajuns raised did. The farmers took to calling it Providence Rice: If providence brought ample rain, there was a crop. If not, well.... Last year, providence brought in a $200 million harvest in Louisiana; good weather and high prices should raise that by $60 million this year.
Thanks to a greater interest in healthy eating, the rice market is growing. Americans consume 24 pounds per capita annually, up from about 10 pounds in the 1970s, according to the USA Rice Federation in Houston. About 17% of it is used in beer, down from 24% in 1973. Still, the remaining 20 pounds sounds like a lot--until you consider the comparable figures for candy (23 pounds) and fried potatoes (60 pounds).
HIGH LIFE. Other cultures eat more, an average of 150 pounds per capita worldwide, and the U.S. exports about half of its output. But rice eaters are demanding. The rice that grows best here is long grain, which holds up better under fats in gravy and sausage. The Japanese like medium-grain rice, which cooks up sticky and grows better in a cooler climate. Joseph A. Musick, director of the Rice Research Station at Louisiana State University's Agricultural Center in Crowley, has been trying for years to create a suitable grain for them, but it isn't easy. "The Japanese consumer has a very sensitive palate," he says. Besides, the Japanese don't like buying foreign rice on principle. Three countries that do like Louisiana rice are on the U.S.'s no-no list: Cuba, Iran, and Iraq.
In Crowley, 150 miles from New Orleans, where Cajun staples such as gumbo and jambalaya call for huge scoops of rice, consumption approaches the international average. So little wonder that since 1937, everything has shut down for two days in October while Crowley (pop. 14,500) pays homage to rice. Parkerson Avenue, the main street, is closed off from the courthouse to the train tracks, and a line of stalls down the middle of the street sells jambalaya, Boudin sausage, funnel cakes, cracklings, fried shrimp, and lemonade.
At night you can buy beer and carry it around, which upsets the Baptists so much that they set up a subfestival, the dry Harvest Fest, on a nearby street. That one is quieter, with a playground, bake sale, and puppet shows. "Carnival people bring a lot of low-life trash in, and I don't mind being quoted on that because it's true," says Ron Lawson, a Baptist.
The lowlifes prefer the action at the rice festival, and for that matter, so do the tourists and most of the locals. Kira Viator, 10, stands near a Parkerson Avenue platform as she decides whether to take part in the accordion contest or play accordion with a group of zydeco musicians. In the end, she puts aside her accordion to sing somber old Cajun tunes in French as the crowd cheers.
Nearby, Jessica Lejeune, 6, waits to compete with 17 other 6-to-8-year-olds in the Rice Princess contest. In the meantime, she watches the Ricettes, a local gymnastics group, and joins in as they do the macarena.
The princess and other rice royalty-- the winners of four different beauty contests--grace the floats in the festival's Grand Parade. The floats are sponsored by local businesspeople such as Keith Broussard, who runs Broussard Rice Mill in Mermentau. Last year, Broussard processed nearly 165,000 tons of rice. Revenues this year will be around $45 million. Like the other millers who sponsor the float with him, he's thankful for the successful harvest.
Less thankful, it would seem, are participants in the cow-chip throwing contest. It's appropriate that local politicians take part, of course. More surprising are the beauty queens from all over Louisiana, as well as Texas, who gamely trade their ball gowns for jeans. They toss chunks of cow manure into a mini green-and-yellow privy. Surgical gloves are available, but contestants get an extra point for going barehanded.
The contest draws looks of bewilderment from a 48-member delegation from Crowley's sister city, Vaux sur Sûre, Belgium. The Belgians are ending a two-week U.S. tour with a visit to Crowley, and they've brought along their own queen, Caroline Lepinois. She daintily removes her soiled gloves after missing the privy with her projectile and observes: "There is nothing like this in Belgium."
NICE FORM. More comfortable with cow chips is Miss Crowley herself, Jamie Jo Martin, 20, who scores two ungloved hits. The announcer claims it's because Martin was raised on a dairy farm, but according to Martin, "It helps if you play softball."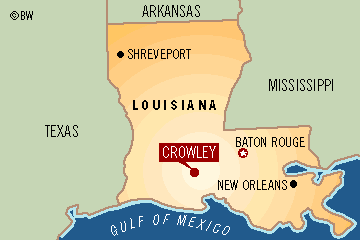 All of the congenial beauty queens, however, draw the line at the rice-eating contest. While rice has practically no fat and not many calories, the portions do add up. Perennial champion Joe Hargrave, 52, wins again by eating 22 scoops of rice in 10 minutes. The retired oil-field worker's secret: practice regularly, eat a hearty meal (fried shrimp, rice, gravy, ham, and salad) the night before, but fast on the day of the contest. And don't drink water. It expands the rice in your stomach. This is Hargrave's last year. He's retiring his spoon to give his son a chance. Twenty-five-year-old Chad, who works at Wal-Mart, scarfed 16 1/2 scoops to come in fourth.
My own dramatic rice-eating moment comes at the cooking contest. I ask judges Rose Breaux and Codrey Navarre to tell me the most unusual dessert submitted in the teen section. It's an academic question, but an unfortunate one, as it turns out, because they insist that I sample it: mushed-up rice and dates on a Ritz cracker with cream cheese frosting on top. It isn't too bad, considering how it looks. But I'm glad Crowley's rice industry doesn't depend on dates and cream cheese. I'll stick to gumbo, I decide, and line up at a food stand.
Before it's here, it's on the Bloomberg Terminal.
LEARN MORE