U.S.: Wall Street Is Cheering More Than Just The Yankees
The economy should snap back--without triggering inflation
by
The New York Yankees may not be the fourth quarter's only comeback story. The economy also seems poised to rebound after a sluggish third-quarter showing, though not so strongly as to breed inflation worries, especially since labor costs remain in check.
U.S. growth fell to an annual rate of 2.2% last quarter, according to the Commerce Dept.'s initial take on real gross domestic product. That pace is down from 4.7% in the second quarter and 3.3% in the first half. Overall demand weakened substantially, while inventories grew by the largest amount in 5 1/2 years, accounting for almost all of the gain (chart).
For the fourth quarter, just the opposite trend is shaping up. Demand is set to pick up, given continued strength in the labor markets and confident consumers. But because of the summer lull in consumer spending, some of the third-quarter buildup in stock levels appears to have been unplanned, so inventory growth this quarter is likely to slow.
As a result, fourth-quarter GDP growth may not be much faster than the third quarter's pace, but the improved mix of demand and inventories will enhance the economy's prospects for early 1997. Meanwhile, based on the latest evidence, moderate growth in labor costs will hold down inflation and keep pressure off the Federal Reserve to hike short-term interest rates.
This best-of-all-worlds scenario has been even more exciting to Wall Street than the Yankees' ticker-tape parade, especially to the bond market. As the confetti blizzard fell outside on Oct. 29, traders sent the yield on the benchmark 30-year Treasury bond tumbling to 6.68%, from 6.83% the day before. It was the most powerful one-day rally since June, 1995, taking long-term interest rates to their lowest levels in almost seven months. Blue-chip stocks followed bonds higher, although smaller issues fell.
WHAT REALLY TURNED WALL STREET ON was a surprisingly modest increase in third-quarter labor costs. The employment cost index, a measure of hourly compensation costs for wages, salaries, and benefits, rose only 0.6% for all civilian workers last quarter, down from 0.8% increases in both the first and second quarters. The ECI is up 2.8% from a year ago, showing no acceleration from the yearly pace recorded in each of the previous four quarters.
The third-quarter surprise was the cooling off in wages and salaries, which grew only 0.6%, the slowest quarterly pace in four years. During the third quarter, the measure of hourly earnings contained in the Labor Dept.'s monthly employment report had yielded sharply faster growth compared with the ECI, raising inflation worries.
However, the ECI for wages is considered to be the better measure of wage growth. Its coverage is broader, and unlike the monthly gauge, it is adjusted for overtime and the changing mix of jobs and pay levels. It's also the wage measure preferred by Federal Reserve Chairman Alan Greenspan.
NEVERTHELESS, THE YEARLY TRENDS in both wage measures are creeping up. The third-quarter ECI for wages rose 3.2% from a year ago, up from a 2.8% annual pace in last year's third quarter. In particular, wage growth for white-collar workers has picked up significantly to the fastest pace in 4 1/2 years, while pay growth for blue-collar employees has been about flat (chart).
That pattern may confirm the anecdotal reports of shortages of some high-skill positions. Indeed, the Fed's own Beige Book report on regional economic conditions, released on Oct. 30, said that "indications of upward pressure on wages continue to spread" across a growing number of regions and skill levels.
The offset to this upward crawl in wages continues to be benefits. Employer payouts for perks such as insurance premiums, lump-sum bonuses, and retirement programs, not to mention Social Security, workers' compensation, and other mandatory benefits also rose 0.6% in the third quarter, and they are up only 1.8% from a year ago. Five years ago, benefit costs were rising 6% per year.
Companies are using an increasing number of temporary workers as a way of avoiding benefit costs. And after having squeezed health-care costs to the bone, the emerging area for cost control may be workers' compensation, as suggested by efforts this year to overhaul workers' comp rules in Florida, California, and New Jersey.
EVEN AS THE MODERATE PACE of labor costs eases inflation worries, the economy continues to chug along. Although third-quarter final sales grew at an annual rate of only 0.3%, the weakest showing in 3 1/2 years, demand seems likely to rebound this quarter. That's especially true for consumer spending and foreign demand, the two biggest drags on third-quarter GDP.
The net-export deficit widened sharply last quarter, to the biggest gap in nearly nine years. That alone subtracted a full percentage point from GDP growth. Exports barely grew last quarter, but pickups in Europe, Latin America, and continued strength in East Asia will eventually lift foreign demand.
Also, consumer spending seems poised to snap back after its disappointing rise last quarter of only 0.4%. Looking ahead, the trend in jobless claims suggests firm labor markets, and real income grew at a solid 4.9% annual rate last quarter. Consumer confidence, while down in October, remains high. The Conference Board's index dipped to 106.2 last month, from 111.8 in September and 112 in August, which was the highest reading since late 1989. Still, the October reading was above the average for the previous year.
Other signs of consumers' resilience: September sales of new single-family homes stood at an annual rate of 816,000, barely below the 10-year high of 820,000 reached in August. And according to an annual survey by Deloitte & Touche LLP, consumers plan to spend 12% more on holiday shopping this year than last year, the strongest survey result since 1992.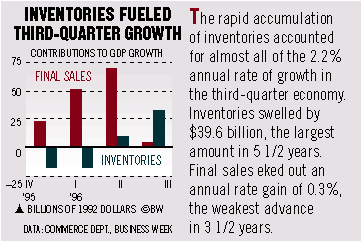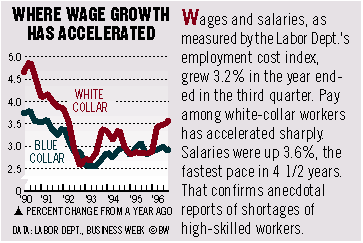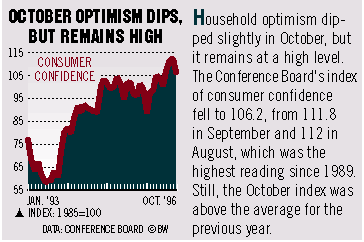 Demand in the manufacturing sector is holding up particularly well, even amid the $39.6 billion surge in third-quarter inventories. Factory orders for durable goods rebounded in September, and orders in the third quarter rose faster than they did in the second. Even excluding aircraft, bookings for nondefense capital goods also rose strongly last quarter. That suggests that capital spending on equipment, which advanced at a sturdy 18.9% annual rate last quarter, remained firm heading into the fourth quarter.
Because of the third-quarter inventory buildup, economic growth this quarter may not look like a World Series champion. But if the combination of moderate growth and low inflation keeps the Federal Reserve out of the ball game, then the celebrating on Wall Street may just continue for a while.
Before it's here, it's on the Bloomberg Terminal.
LEARN MORE