Trying To Snag A Mortgage Banker
By
After a summer slump, shares of North American Mortgage (NAC) have rebounded. Low interest rates are part of the reason. Also, says a New York money manager, three financial-service outfits have recently met with NAC's brass to talk about buying it.
Analysts put the value of North American, one of the nation's largest mortgage-banking companies, at $25 to $30 a share based on fundamentals. In a buyout, it is easily worth more than $35, notes the money manager, who has been buying shares. Companies expressing interest, says this pro, include Countrywide Credit Industries, MGIC Investment, and Green Tree Financial. They all declined comment. North American is a major lender to buyers of single-family houses in California, Colorado, Hawaii, Maryland, Virginia, and Texas.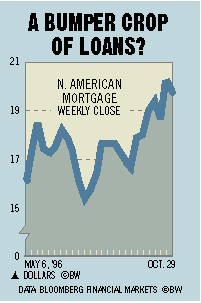 Analyst Gary Gordon of PaineWebber figures North American's book value plus the value of its loan-servicing portfolio is about $20 a share. NAC's mortgage-lending business is worth a further $3 to $5 a share. And then, there is North American's alliance with ContiFinancial Services, through which NAC will start to originate "subprime mortgages" to be underwritten and bought by ContiFinancial. These loans don't meet the loan standards set by the Federal National Mortgage Assn. (Fannie Mae) or Federal Home Loan Mortgage Assn. (Freddie Mac): The borrower either has too much debt or has an uneven debt-payment history. Gordon says these are high-margin loans and could add up to $3 a share in value. Analyst Gareth Plank of UBS Securities says the ContiFinancial connection could add 75 cents a share to his estimated 1997 earnings of $2.70 a share. For 1996, he foresees $2.38.
Before it's here, it's on the Bloomberg Terminal.
LEARN MORE