The Brazilian Central Banker Living In `Dante's Inferno'
Franco may be Brazil's most important economic player
by
Gustavo Franco is in a hot seat. As director of international affairs for Brazil's Central Bank, he manages the exchange rate of the real, the currency that anchors Brazil's highly successful anti-inflation strategy. Investors hang on Franco's every word for any hint that Brazil might ease its tight monetary policies and hasten the depreciation of the real, which has inched slowly downward from U.S. $1.21 in early 1995 to 97 cents currently.
Would-be speculators face a tough foe. Franco wields the formidable clout of a $58.8 billion stockpile of hard-currency reserves (chart). Even so, the job "is like going into Dante's inferno," Franco says, slouching in a rumpled khaki-colored suit in his 22nd-floor office overlooking downtown Rio de Janeiro and Sugarloaf mountain. "If you enter with a pure soul, you're O.K. But if you have doubts, don't go in."
Although Franco, 40, is outranked by Central Bank President Gustavo Loyola and the Finance and Planning Ministers, he has become perhaps the most influential member of Brazil's economic team and an intellectual soul mate of President Fernando Henrique Cardoso. "Of the key people in government, Gustavo [Franco] is the one who goes beyond the day-to-day and puts forth broad ideas on the economic model," says economist Edward Amadeo, a friend of Franco's since high school. Cardoso also values the firmness of Franco's views. "Franco is Cardoso's one-handed economist," Amadeo says, referring to Harry S. Truman's distaste for "on the one hand...on the other hand" economic advice.
"FACTS OF LIFE." Some business leaders are calling for faster devaluations to stimulate exports and spur the economy, which is expected to grow just 2.7% this year. Franco rejects such arguments, saying that aggressive devaluations to make exports cheaper would only disguise inefficiency. Tempering his free-trade view with pragmatism, however, he defends measures such as the 70% import duty that Cardoso slapped on car imports last year to protect the big buildup by carmakers in Brazil. In autos, almost every country has a negotiated system covering trade and investment, Franco says, adding: "These are facts of life."
The Harvard University economics PhD exudes self-assurance. In 1994, along with Cardoso, who was then Finance Minister, Franco was one of the chief architects of the Real Plan, which slashed four-digit annual inflation to less than 15% currently. After a brief run on the real in early 1995, following the Mexican peso's collapse, Franco has steadied the currency in foreign exchange markets. He ended the attack by setting a predictable pace of depreciation for the real in step with inflation and by defending it against speculators. He likens the experience to confronting a wolf in the forest. "If you kick him hard in the face, you go on," he says. "If you do nothing, the wolves jump all over you."
A prolific producer of academic papers and a fiction writer in his spare time, Franco attacks critics with a ferocity that belies his boyish looks. "He enjoys being provocative," says political analyst Walder de Goes. When a prominent Brazilian economist took issue with some points in a Franco policy paper, Franco responded by calling him "a mediocre, repressed, frustrated guy." Franco is particularly annoyed by critics who label him a rigid neo-liberal. "There are no doctrines" in the Cardoso government, he says. "It's a question of responding to concrete situations."
In late October, Franco set off on a fast-moving road show to help peddle a $750 million bond issue to investors from Los Angeles to London. "It's like an NBA [National Basketball Assn.] schedule," joked the former Boston Celtics follower, still an NBA fan.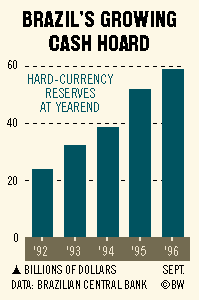 Starting next year, Franco is likely to find himself in the middle of a high-stakes political campaign: Cardoso's effort to win congressional approval of a constitutional amendment allowing him to run for reelection in 1998. Brazilian presidents are now limited to one four-year term. Although keeping a tight lid on inflation has been Cardoso's top priority up to now, when the campaign begins he will feel pressure to ease monetary policy and put more purchasing power in voters' pockets. In that case, Brazilians and foreign investors alike will be watching Franco's money-market moves even more closely.
Before it's here, it's on the Bloomberg Terminal.
LEARN MORE