Lilly Rides A Mood Elevator
Under CEO Tobias, new drugs--and earnings--look promising
Ron Stodghill II
When Randall L. Tobias, then vice-chairman at AT&T, was tapped as the new CEO at Eli Lilly & Co. in 1993, the company was in one of the darkest periods of its 120-year history. Lilly was suffering gaps in its product pipeline just as managed care began squeezing drug companies' juicy margins. A series of personal tragedies only increased Tobias' burden.
Now, Tobias--and Lilly--seem to be returning to the sunlight. This year, Lilly has impressed investors with three new drugs, including Zyprexa, a schizophrenia drug approved in October that analyst Richard Vietor of Merrill Lynch & Co. thinks could hit sales of $1 billion by 2000. Since Tobias took over, Lilly's split-adjusted shares have risen nearly 200%, to about 69, and Vietor expects 1996 earnings to jump 19%, to $1.45 billion, on sales up 8%, to $7.3 billion.
It's a healthy outcome few would have bet on. After the runaway success of the antidepressant Prozac, launched in 1986, Lilly's labs went cold. Lilly's other big drug, the antibiotic Ceclor, went off-patent in 1992. And a $100 million investment in Centocor Inc., a Malvern (Penn.)-based maker of an anti-infective, failed when the Food & Drug Administration didn't approve the drug. Between March, 1991, and June, 1993, the company's market value dropped by an astonishing $11 billion. "Lilly had too few eggs in too few baskets," sniffs a portfolio manager at one institution currently holding a large stake in Lilly.
In June, 1993, the board ousted then CEO Vaughn D. Bryson in favor of Lilly Director Tobias, now 54, the first industry outsider to run the company. The plainspoken telephone executive seemed an odd choice. Yet the Indiana native won kudos during his 27 years at AT&T for fixing many laggard units and boosting its presence abroad. Arriving in Indianapolis, Tobias saw a company adrift. "We needed a sense of urgency," he says.
Tobias' challenge was compounded when he found himself facing a series of personal crises. Within a year, Tobias' mother died, he developed diabetes, and Marilyn, his wife of 28 years, was diagnosed with clinical depression. Like millions of others, she was prescribed Prozac. But Marilyn was one of the approximately 30% of users who don't improve when given Prozac's class of drugs. In May, 1994, she took her own life. "I wish she had been one of those people who had responded immediately," Tobias says quietly. "That's why we're spending over $1 billion a year in research and development. We don't know all the answers--and we need to keep going."
TEAM APPROACH. That's exactly what Tobias did. In the midst of his turmoil, he pressed forward with radical changes. Insiders say his difficulties never affected his management skills, although he frequently worked from home. "He managed to take hold, cope with his tragedy, and be a very effective leader," says Steven C. Beering, Purdue University's president and a director since 1983.
Tobias began with a cost-cutting drive. Lilly's efficiency lagged its rivals', and managed-care organizations had sliced drug price increases from the double-digits of the mid-1980s to about 3% per year by 1992. So Tobias cut 4,000 jobs, about 10% of the workforce. Next, he spun off Lilly's medical-device unit, which contributed about a quarter of the revenue but was less profitable than the drug units.
With Lilly's research struggling, Tobias lured renowned neurologist Steven M. Paul from his post as a scientific director at the National Institutes of Health in 1993. Paul moved quickly to reorganize Lilly's key central nervous system division. In the past, Lilly's scientific, marketing, and manufacturing employees had split their time among different drugs. Paul created cross-disciplinary "heavyweight teams" of about 150 people dedicated solely to one drug. The new system helped shorten Zyprexa's development time by 18 months. Moreover, when the FDA asked for more data on the drug, the team gathered it in one week rather than Lilly's usual three months.
To further expedite new-drug production, Tobias spent $72 million in 1994 to buy Sphinx Pharmaceuticals Corp., a drug-screening technology company. And under Tobias, Lilly's once insular culture has become friendly to the exchange of ideas between scientists and executives. "They are a much more transparent company," says Thomas R. Malley, an analyst with Janus Capital Corp., which holds 8.5 million Lilly shares.
Today, the biggest potential lies with its schizophrenia drug Zyprexa, which has fewer side effects than Johnson & Johnson's rival Risperdal. Still, Risperdal, with 1995 revenues of $400 million, has a headstart. "We fully expect to maintain our leadership," says Dr. Bruce D. Given, group vice-president for the U.S. unit of J&J's Janssen Pharmaceuticals.
In addition to Zyprexa, Lilly has introduced Humalog, a more rapidly acting form of insulin, and Gemzar, a pancreatic cancer drug. Among the drugs in FDA trials are treatments for hypertension, incontinence, and osteoporosis. Altogether, analyst Vietor says Humalog, Zyprexa, Gemzar, and the osteoporosis drug could add $3 billion to revenues by 2000.
That could ease Lilly's biggest worry: Prozac's 2001 patent expiration. In 1995, the drug brought in nearly a third of revenues. Yet sales growth is slowing as it loses share to Pfizer Inc.'s Zoloft and SmithKline Beecham PLC's Paxil, which together control some 29% of the market to Prozac's 20%.
MERGER AVERSE. And Tobias has other problems that remain to be solved. Controversy still surrounds his July, 1994, purchase of PCS Health Systems Inc. from McKesson Corp. for $4 billion. Tobias has been criticized for paying more than 100 times earnings for PCS, a prescription-management service used by employers' health plans. "We did not like the PCS acquisition," says Malley of Janus. "It added a huge amount of debt and hasn't generated a lot of return."
Like rivals Merck & Co. and SmithKline, both of which made similar buys, Lilly hoped PCS would boost market share by creating a distribution pipeline and giving it access to prescription information. That hasn't happened, partly because the Federal Trade Commission ordered Lilly to offer competitors' drugs and barred PCS from sharing rivals' data.
Tobias admits PCS has been disappointing. "A number of assumptions we made at the time have not come to pass as quickly as we had hoped," he says. Some on Wall Street have asked whether Lilly ought to write down the deal, but Tobias says things are improving as he tries to make PCS less of a claims processor and more of a health-management entity. He figures that PCS can use its 1.5 billion prescription database to find cost-effective ways to treat diseases.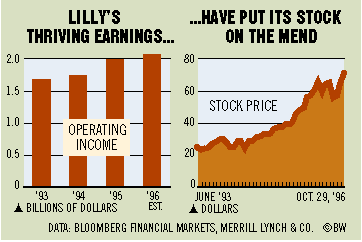 For now, Tobias says he'll avoid the massive mergers that rivals such as Glaxo Wellcome have undergone. While that's left Lilly a relatively small player in the fast-consolidating industry, Tobias says he doesn't think the big deals will work. "They've created an enormous amount of chaos in most cases," he says. With Lilly now in robust health, few are quibbling. "He's brought a vigor back in a company that was going through a malaise," says Hemant K. Shah, an analyst with HKS & Co, a Warren (N.J.)-based pharmaceutical research firm. That's just what the doctor ordered.
Before it's here, it's on the Bloomberg Terminal.
LEARN MORE