Japan: Will A Wobbly Recovery Collapse?
by
Japan's recovery is slow and vulnerable--and could look like a recession when third-quarter real gross domestic product is reported.
Real GDP jumped by a 12.2% annual rate in the first quarter, then fell 2.9% in the second. Another drop is likely in the third, partly because the summer's food-poisoning incident wrecked July household outlays. Back-to-back GDP declines would technically put Japan back in recession.
Recent data, however, do show some strength, though it is narrowly based. Industrial production is rebounding (chart). Output rose 1% in September, with capital goods doing particularly well. Foreign trade is also improving, as exports have been helped by the weaker yen, which hit a 3 1/2-year low of 114 yen to the U.S. dollar in late October.
Consumers, though, remain a drag. Their spending likely rebounded in August and September after July's plunge. But the fundamentals are weak: The third-quarter consumer sentiment index fell to 43.6 from 44.1 in the second. The jobless rate--3.3% in September--has been above 3% for 1 1/2 years. And wage growth is sluggish. The good news: Factory jobs rose in September for the first time in 2 1/2 years.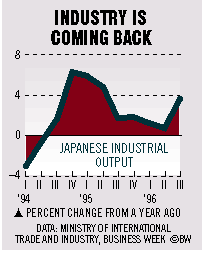 Private economists expect that Japan's real GDP will likely grow 3.7% this year but just 1.5% in 1997. Next year's drag will come mostly from a planned hike in the consumption tax. The Liberal Democratic Party government, reelected on Oct. 20, is expected to offer a public-works package, but the plan's boost to GDP will be small. And the LDP is unlikely to pursue structural reforms or deregulation plans.
Amid the soft outlook, the Bank of Japan is committed to low interest rates. After all, inflation is not a problem: In October, consumer prices in Tokyo fell 0.1% from a year ago, and corporate prices in September were down 0.8%. The BOJ's own quarterly survey says consumer and business spending are set to improve. Still, Japan's momentum must spread to more sectors before any rate hikes look likely.
Before it's here, it's on the Bloomberg Terminal.
LEARN MORE