`Halfway There' At Siemens Nixdorf
Schulmeyer's cultural makeover is starting to show results
Gail Edmondson
Chief Executive Gerhard Schulmeyer leaned on the lectern, gazing intently at 300 employees attending a recent corporate retreat in Hanover for German computer maker Siemens Nixdorf Informationssyteme. "We need 1 billion Deutschemarks a year in productivity gains," exhorted the former Motorola Inc. manager. That number, equivalent to $700 million, "should be burned in your brains," he stressed. The rallying cry was just the latest in a series that Schulmeyer has given employees since launching an IBM-like turnaround at SNI two years ago.
While still a work-in-progress, the overhaul has begun to yield results. On Nov. 6, SNI will report a net profit of around $50 million for the fiscal year ended Sept. 30, the second annual profit in a row (chart). Although that's a meager sum for the $8 billion giant, it's quite a change from the $1.35 billion losses posted from fiscal 1991 through 1994.
SNI boosted its bottom line by making big strides in personal computers--to No.1 in Germany and No.4 in Europe. It has also cut costs, expanded international sales, and built up a computer services outsourcing business with better margins than hardware. By contrast with Olivetti's dire straits in computers and Philips Electronics' deteriorating results, SNI is a relative bright spot on the European technology landscape. "We're halfway there," says Schulmeyer, who was recruited in 1994 following four years of losses and shrinking market share.
To get quick results, the 58-year-old Schulmeyer narrowed SNI's focus, sold off unprofitable businesses, and benchmarked remaining units against global leaders. In PCs, that means Compaq Computer. "Each manager in the PC unit carries a number he has to beat," says executive board member Walter Rossler, in charge of the PC business. "He knows how much time it takes Compaq to deliver, or how much it costs Compaq to produce."
This year, PC sales are forecast at 800,000 units, up from 190,000 in 1992. Breakeven is 500,000, says Rossler. Cost-cutting was helped by concentrating production in Augsburg, Europe's most state-of-the-art factory, using mostly robots around the clock. To avoid inventory backlogs, SNI now builds to order, stocking only the top 20 products. "Our goal is to have no warehouse," Rossler says.
SNI is also boosting indirect sales through distributors, a sales approach now critical to any PC maker. French computer distributor Mediatech, which took on SNI equipment about six months ago, says SNI's prices in France are "10% to 20% below Compaq's."
In 1997, Schulmeyer will redouble efforts to grow revenues and squeeze out his targeted $700 million in productivity gains. To offset dramatic price cutting in the computer industry, higher production and more purchasing muscle should help SNI force component prices down.
Underlying this restructuring is one of Europe's most sweeping overhauls of a corporate culture. Schulmeyer has turned SNI into a virtual laboratory to test a slew of innovative management tools he picked up during an early career at Sony in Germany, five years with Swiss electrical equipment maker Asea Brown Boveri (ABB) in the U.S., nine at Motorola, and a teaching stint at MIT before joining SNI. The goal: to transform a hidebound bureaucracy into entrepreneurial teams that can match the speed and performance of rivals such as Compaq and Hewlett Packard Co.
The experiment began as soon as Schulmeyer got on board in October, 1994. He quickly flattened rigid management hierarchies seven layers deep and installed younger top managers, including outsiders from rival companies.
While a fresh team at the top was crucial, Schulmeyer, who had helped work a radical restructuring of ABB's U.S. operations, also launched an ambitious program to instill more entrepreneurship in the bulk of SNI's 34,000 employees. Hardliners who refused to adapt were eventually dismissed, resulting in a 10% workforce reduction in two years. But Schulmeyer's main aim was to spur a change in attitudes and behavior throughout the company. "When Schulmeyer arrived, we leap-frogged our progress," says Klaus G. Hommer, vice-president in charge of the new Internet services, formerly with the personal computer unit. "Schulmeyer insisted we needed entrepreneurs in sales, too."
At the first of four weeklong corporate retreats in Hanover, Schulmeyer told employees the old way of doing things was history. For starters, he insisted everyone start calling each other by first names. Then came sessions to promote team-building, problem-solving, improvisation, and taking personal initiative, all countering taboos in traditional German management culture.
ENGLISH ONLY. Schulmeyer preached open communications, regularly attending Friday forums that have become a medium for airing gripes and whittling resistance to change. He promoted E-mail as a way for employees to keep him informed about problems. Now some 12,000 employees use SNI's intranet, up from a paltry 600 E-mail users in 1991. Schulmeyer also speaks English, the language of the global computer industry, at business meetings.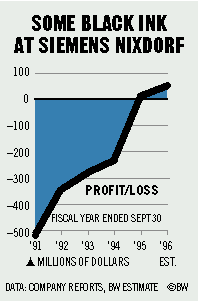 At subsequent retreats Schulmeyer brought in customers and distributors, who voiced complaints about SNI's performance. His aim was to shatter complacency and create a more competitive spirit. At the fourth and final Hanover retreat, held in October, groups of 20 employees were encvouraged to devise their own plans for improving productivity. While cultural transformation is slow, it's critical to the success of structural changes, Schulmayer says, such as the creation last year of some 250 profit centers where there had been none.
In the past, Schulmeyer told the gathering, managers with the most years of experience had been rated the best. "That's wrong," he said. "It might be a 16-year-old kid [who] has a better idea." If SNI's makeover is to succeed, managers and workers will have to take that message to heart.
Before it's here, it's on the Bloomberg Terminal.
LEARN MORE