Can Bob Pittman Upgrade Aol?
Reviving online profits may be the marketer's biggest challenge
Amy Barrett
Robert W. Pittman is nothing if not versatile. In the 1970s, he made a name for himself turning around a series of lagging radio stations. In the early 1980s, he turned to cable, co-founding MTV on a hunch that American kids would tune in to a 24-hour music channel. A decade later, he took over Six Flags Theme Parks--and boosted attendance with hot new attractions.
On Oct. 29, he took on a new challenge, perhaps his toughest. After months of wooing by America Online Chief Executive Stephen M. Case, Pittman agreed to run AOL's core online service, one of three divisions the company said it would create as part of a broad restructuring.
The 42-year-old Mississippi native, who has been on AOL's board since last October, takes the new job at a critical time. AOL's subscriber growth has slowed with the surging popularity of the Internet, and cutthroat competition from giants such as Microsoft Corp. and AT&T have forced it to go to flat-rate pricing of $19.95 per month, lowering the bill for frequent users.
CONTROVERSIAL. At the same time, AOL is taking a massive $385 million hit for the quarter ended in September to write off deferred marketing costs. Under a controversial accounting practice, AOL had been capitalizing some marketing expenses--in effect, yielding higher near-term profits. Now it will expense immediately all of the roughly $150 million it spends each quarter to woo new members with free diskettes and, recently, a splashy new ad campaign.
Under the revised accounting, Case doesn't expect to break even until the March quarter. To emerge from the red, Pittman must keep AOL's membership growth robust while quickly building new sources of revenue such as advertising and merchandising fees. "If they don't come up with these alternative sources of revenue, they're in trouble," warns Mark Mooradian, an analyst with research firm Jupiter Communications.
Such opportunities accounted for just 9% of the company's $1.1 billion in revenue for the fiscal year ended in June. Yet company executives expect that in the near future, those sources will generate the bulk of AOL's profits. Says Pittman: "It's the same as the theme-park business, where the profit comes from selling merchandise and soft drinks."
Such brassy confidence has marked most of Pittman's career. He landed his first entertainment job at the age of 15, as a part-time disk jockey in Mississippi. After jumping to three different colleges in three years, he skipped a fourth year to begin working at a string of radio stations in Chicago, New York, and other cities.
After boosting annual attendance at Six Flags from 18 million to 24 million from 1991 to 1995, Pittman did a 14-month stint as head of the Century 21 Real Estate Corp. franchise. There, he launched a hard-hitting new advertising campaign and struck deals to have the company's agents sell other products or services, such as long-distance phone service, to new homeowners. "He always seems to know what the consumer wants," says his friend Skip Paul, chairman and chief executive of Sega Gameworks.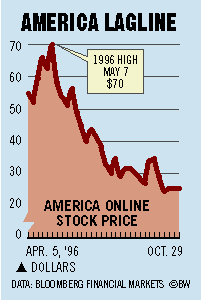 HOT CHANNELS. It's the sort of marketing savvy AOL needs. While Case's aggressive sales pitches have brought the company's subscriber base to nearly 7 million worldwide, turnover among new members has run about 25% in the past several quarters. Pittman will look to keep folks interested by developing hot "channels" in the online world just as he did in cable, from content generated in-house and from deals with new programmers. At the same time, AOL will look for subscribers wherever it can get them: It will offer a bargain-basement $9.95-a-month package, for example, that will let customers gain access to its programming via outside Internet service providers.
News of Pittman's arrival and the restructuring plan impressed Wall Street, but not much: AOL's stock jumped 4%, to nearly $26. "We are past the point where investors will take them on faith," warns Ulric Weil, an analyst with Friedman, Billings, Ramsey & Co. in Roslyn, Va. Pittman will have to prove to both consumers and investors that what works in theme parks truly does play online.
Before it's here, it's on the Bloomberg Terminal.
LEARN MORE