At Disney, There's Life After Toons
Chairman Joe Roth reanimates the studio with live action
by
In the wee hours of a recent October morning, as most of Hollywood slept off its risotto and shiitakes, Joe Roth was up reading. By 7 a.m., the usually laid-back chairman of Walt Disney Studios had already put in three hours digesting 360 pages of Michael Crichton's soon-to-be-published novel Airframe. By daybreak, Roth was doing his best to ruin the morning for rival studio chiefs by making a preemptive deal for movie rights to the hotly sought book. By the end of the day, he had bid a hefty $8 million for the rights.
Tightfisted Disney in a bidding war over a film with live actors? Ever since mid-1994, when the 48-year-old Roth took over from Jeffrey Katzenberg, the studio has become downright talent-friendly. Budgets are up, and superstar directors and writers are signing on. After a slow start, Roth is churning out hits for a studio that had produced few blockbusters that weren't cartoons. And if the Hollywood buzz is right, the studio has two hot holiday flicks: the action film Ransom, directed by Ron Howard and opening Nov. 8, and 101 Dalmatians, a live-action remake of the cartoon classic, starring Glenn Close, opening Nov. 27.
For Roth, the search for hot scripts and big-name talent is part of a plan to remake a studio that lost much prestige, as well as an estimated $150 million, in the early 1990s. While the animated unit churned out such blockbusters as The Lion King, the live-action unit was limping, making duds like Life with Mikey and Cabin Boy. Says Walt Disney Co. Chairman Michael D. Eisner: "We turned out too many turkeys."
Now, Roth's credo is to make fewer but more expensive and higher-profile movies. He's paring back from the 32 films Disney made in 1995 to fewer than 20 by the decade's end. But with expensive stars such as Eddie Murphy and Demi Moore and action directors like Ridley Scott already signed on, the average budget for a Disney film is heading over $30 million, from $22 million two years ago. "This is not a commodity business," says Roth, lunching in the corporate dining room in his workday attire of jeans and a white shirt. "The [movies] people are going to want to watch need to stand out."
"DO IT." To find those movies, Joe Roth collects star producers and directors with his easygoing--and free-spending--style. A onetime director of such lowbrow fare as Revenge of the Nerds II: Nerds in Paradise, Roth is genuinely liked by Hollywood's creative community for his willingness to open his wallet while ceding creative control. Howard, who hadn't made a film for Disney since 1984's Splash, returned when Roth showed him the script for Ransom and promised to keep out of the way. "No notes, no meetings, nothing," says Howard's partner, Brian Grazer. Even when Ransom crept to nearly $60 million and another $1 million was needed to redo the score, says Grazer, "Joe said, `If you need it, do it."'
To free up the money he needs to lure stars, Roth has slashed an estimated $350 million by cutting 20% of Disney's overhead, phasing out the hit-starved Hollywood Pictures unit, and cutting by 40% the number of movies in development. But for those he makes, he intends to spend big. He shocked Hollywood by paying $3 million for the rights to The Horse Whisperer, a novel by first-time writer Nicholas Evans. Then he spent lavishly to promote Nixon, for which Disney had only the domestic rights, and The Rock, a thriller that cost nearly $70 million to make.
That's called playing the odds. The Rock will eventually earn an estimated $100 million profit for the studio from video rentals and foreign sales. And Roth is banking on other high-profile Disney projects to do the same. He lured Home Alone creator John Hughes to Disney to work on 101 Dalmatians. The two had worked together at Fox, which Roth had run before joining Disney as an independent producer in 1992.
WOOING. Roth's biggest coup was to get Robin Williams, who felt Disney underpaid him for his work as the voice of the genie in Aladdin, to rejoin the company. The comic made Jack for Disney and next year will star in a remake of The Absent-Minded Professor. Williams' biggest contribution, however, was to provide the genie's voice in Aladdin and the King of Thieves, an Aladdin sequel that has sold more than 12 million copies. "Joe called him every day until Robin agreed to talk to him," says Harvey Weinstein, co-chairman of Disney-owned Miramax Films Inc. "Joe's got that way about him. Whatever it is, you want to be in business with the guy."
Can a silver tongue and a good eye for a script restore profitability to Disney's live-action unit? Early on, the Roth magic didn't seem to be working. The studio took an estimated $25 million write-down on the lame Celtic Pride and another hit on Nixon. But that was before the string of hits this summer with The Rock and Phenomenon. That success helped solidify a position for Roth, who insiders say was initially worried that President Michael Ovitz would hamper his freedom. Recently, Eisner expanded Roth's role to include TV production and home video.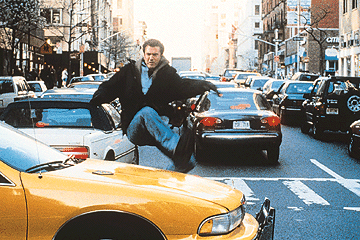 Still, this year's successes could be followed by a sea of red ink, especially if high-priced flicks begin to tank. But Roth says he has that under control. For example, he's splitting the cost of making Starship Troopers, estimated at $100 million, with Sony Pictures--a tactic favored by many studios to keep down budgets. Next year, the Disney film chief has a new slate of biggies, including an airplane disaster film called Con Air, an Eddie Murphy comedy, and Navy Cross, the tale of the Navy Seals starring Demi Moore. Even for Disney's Mr. Laid-Back, that's a lot of dollars and a ton of risk. It's enough to keep any studio exec up into the wee hours.
Before it's here, it's on the Bloomberg Terminal.
LEARN MORE