After The Crash At A Diskmaker
By
Unlike the meteoric rise of certain stocks after initial public offerings, one high-tech stock has headed south in a frightening way: Cerion Technologies (CEON) plunged from 18 in late May to 2 3/8 on Oct. 29. Cerion makes thin-film disks for small, high-capacity, high-speed disk drives used in minicomputers, desktop computers, and workstations.
What happened? Cerion, which posted sales of $512 million last year and earned $106 million, or $2.14 a share, lost its second-largest customer--StorMedia, a maker of 2 1/2-in. and 3 1/2-in. thin-film disks for hard-disk drives. The customer canceled all outstanding orders because of its own problems. StorMedia accounted for about 34% of Cerion's second-quarter sales.
Analyst William Bartels of William Blair, the firm that took Cerion public in May at 13 a share, cut his 1996 earnings estimate from $1.33 a share to $1. But after Cerion reported a third-quarter loss of 7 cents a share, he figures it could earn only 30 cents for all of 1996. He rates the stock a long-term buy, however, saying "it's still a real business with good assets."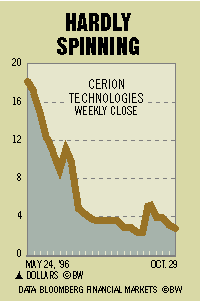 Not everybody joined the rush to bail out. Bill Hopke of Trilon Dominion Partners, which has nearly a 5% stake, held on. Why? He thinks Cerion will replace the lost customer. And he suspects other customers, including IBM and a large computer maker in Taiwan, may be tempted to acquire Cerion, mainly because of the drop in the company's market capitalization from $150 million to just $22 million.
For a company that has $14 million in cash, or $2 a share, and a decent business, with no debt, "the stock is uncommonly cheap," says Hopke. Moreover, StorMedia in recent weeks has resumed buying from Cerion.
Before it's here, it's on the Bloomberg Terminal.
LEARN MORE