A Global Outcry Against Slavery...Just Adds To Bhutto's Problems
Sudarsan Raghavan
She was born a slave. For 30 years, Jeema Devi did back-breaking labor for endless hours on a sugarcane plantation to pay off her parents' debts to the landlord. Her days revolved to the tune of whips cracking and the clank of heavy chains coiled around her pencil-thin legs.
Then, life got worse. The bonded laborer and her 12-member family were sold for $2,000 to a ruthless landlord. They were routinely tortured, raped, and forced to work without pay under dismal conditions--like millions of modern-day slaves in South Asia. Once, Devi escaped--only to find out her prison was as big as Pakistan. "Even the police sided with the landlords," says Devi, 70. "Almost every town I went to, I made reports. But no one took notice. All they said was: `What can we do? The landlords are the law and the government."'
Finally, someone is paying attention. A rising chorus of global condemnation of this age-old custom of debt servitude is worrying Islamabad. Last month, Human Rights Minister Iqbal Haider told concerned British Members of Parliament that measures are in place to root out the brutal practice, outlawed only in 1992. But human-rights groups paint a different picture. They accuse Pakistan of turning a blind eye to its own antislavery laws. After all, they argue, many leading politicans, including Prime Minister Benazir Bhutto, hail from wealthy land-owning families.
There's a lot at stake. Much of Pakistan's agriculture-dependent economy hinges on slavery, and landlords are alarmed by the outcry. "[Bonded labor] has unnecessarily been highlighted," insists Qamar-uz-Zaman Shah, president of the Chamber of Agriculture in southern Sindh province, where the custom is most pervasive. "This will ultimately affect the poor man and agriculture production in Pakistan." Earlier this year, Washington revoked tariff-free status on three of Pakistan's top five U.S. exports--surgical instruments, carpets, and sporting goods. Why? All are industries rife with bonded child workers. International labor activists are lobbying the European Community to impose similar sanctions, though it's too early to tell what the EC will do.
A shaky, debt-plagued Bhutto government is taking no chances, since 60% of exports are related to labor-intensive cotton production. In 1994, textile sales to the U.S. totaled $664.1 million, nearly 10 times as much as Pakistan's second-biggest export. That's why senior officials are jetting to Western capitals to stress their commitment to halting slavery. But critics are waiting for results. "We are seeing a lot of obfuscation, rhetoric, and delay," says Pharis Harvey, director of the International Labor Rights Fund in Washington. "But no progress."
Pakistan is not the only nation with slave labor. In a report last month, New York-based Human Rights Watch estimated some 10 million to 15 million bonded child workers in India toil in silk manufacturing and other industries. Devi, thanks to a campaign waged by Pakistani human-rights workers, now leads a hardscrabble but debt-free existence earning $2 a day in Matli, an oven-hot Sindh village. She's free--sort of. "I'm afraid to go out of this area," she says. "Maybe the landlord's men will kidnap me and take me back to his lands."
On Oct. 24, an International Monetary Fund (IMF) mission landed in Islamabad. The goal: to review the nation's track record--and decide whether reforms have earned Pakistan a $400 million payment, part of a $600 million IMF loan.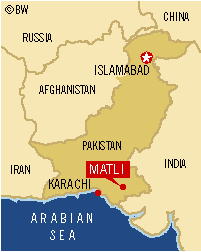 Bhutto's government needs all the help it can get. Both unemployment and inflation are soaring. Confused economic policies, political squabbles, and religious violence, including Muslim fundamentalist rioting in Islamabad on Oct. 27-28, have led analysts to predict the collapse of the government. On Oct. 20, a survey by London-based research firm Merchant International Group branded Pakistan one of the world's five riskiest emerging markets, based on responses from 2,500 U.S. and British companies. Worse, when it came to bureaucratic delays and corruption, Pakistan placed third, after Russia and China.
Says George Martens of the International Confederation of Trade Unions in Brussels: "There's absolutely no strength in the Bhutto government to even enforce the [antislavery] law." This means more Pakistanis will be born into servitude, and most won't be as lucky as Jeema Devi.
Before it's here, it's on the Bloomberg Terminal.
LEARN MORE