U.S.: How Long Will The Slowdown Last?
It was a lazy third quarter-but don't count out a fourth quarter rebound
by
There's no escaping it: The third quarter was soft. Just how squishy it was will be known when the Commerce Dept. reports on real gross domestic product on Oct. 30. Was last quarter's slowdown a prologue for this quarter? With that question in mind, here's a breakdown of what to expect from the upcoming GDP data and what they mean for the outlook.
Real GDP appears to have grown about 2% in the third quarter, down sharply from the second quarter's 4.7% pace. Final demand by consumers, businesses, and government struggled to make any headway. Foreign trade in particular took a big bite out of growth, while a speedup in the growth of inventories accounted for almost all of the advance (charts).
That mix will fuel speculation that the inventory increase was unexpected and that businesses will ratchet down their production and hiring in coming months to clear out their warehouses. If so, the fourth quarter will look as wobbly as the third, and September's dip in payrolls was no fluke. But if companies intentionally accumulated goods and demand snaps back, this quarter's growth could be closer to the first half's pace of 3.4%.
INVENTORY SWINGS are always a wild card in tallying up economic growth. And the Commerce Dept. has to estimate September stock levels when it compiles its advance GDP report. But the data are almost certain to show the largest quarterly buildup in a year. Through August, stockpiles held by factories, wholesalers, and retailers were up $9.7 billion from the second quarter.
But was the accumulation involuntary? A few nuggets of information suggest not. First, the ratio of inventories to sales remains near a record low. And factory output rose a slim 0.2% in September, while retail sales advanced 0.7%, indicating that inventories grew more slowly or perhaps declined.
Moreover, about a third of the rise in stock levels through August occurred in autos and parts, some of which was a planned buildup in case of a strike by the United Auto Workers. A U.S. strike was averted, and auto makers are slowing their production. However, the strike by the Canadian Auto Workers against General Motors Corp.--and its impact on U.S. assembly lines--may have reduced output more than Detroit had in mind. With the strike settlement on Oct. 22, output appears ready to rebound.
In addition, buyers are cruising car lots again. According to Ward's Automotive Reports, October car and truck sales are running ahead of the September rate. And the supply of car and light-truck inventories stood at a desirable 59 days' worth going into October.
THE OTHER CRUCIAL QUESTION that the GDP report will raise is the hardiness of overall demand, especially by consumers. The numbers will show that consumer spending rose only at about a 1% annual rate last quarter. However, that pace follows the fastest two-quarter growth in 3 1/2 years. And the slowdown was not for lack of confidence, which is at an expansion high, or income, which in the third quarter posted the largest quarterly gain in more than two years.
The state of the labor markets remains the key to future consumer spending. That's why all eyes will be on the October employment report, available on Nov. 1, to see if payrolls rebounded from their September decline of 40,000. With initial unemployment claims running at about 330,000 per week, it's a good bet that job growth bounced back, suggesting that consumers remain on solid footing in the fourth quarter.
One area where consumers seem destined to scale back, though, is in their biggest purchase: housing. After housing's second-quarter surge, the GDP numbers will likely show that construction outlays fell last quarter. Housing starts declined in September by 6%, the largest monthly drop in 1 1/2 years, and builder surveys show diminished demand. Given strong consumer fundamentals, housing won't collapse, but its biggest contributions to growth are over for now.
So what will be a bright spot in the GDP report? Capital spending on equipment and construction, most likely. Outlays for new buildings appear to have risen modestly after a second-quarter decline, and the growth of spending for new equipment probably picked up a notch after increasing by 6% in the second.
To be sure, capital spending has slowed from its rapid pace earlier in the expansion. But it will continue to grow faster than the overall economy as companies buy more high-tech items that increase productivity. In fact, the pace of equipment output has picked up this year, rising at a double-digit rate. In addition, orders for capital goods accelerated last quarter, suggesting further strength going forward.
Business spending on more traditional machinery has tapered off since last year, partly because production capacity in manufacturing has been growing faster than output for the past 1 1/2 years (chart). That gap also explains why production bottlenecks have not developed despite this year's acceleration in production. In September, for example, industrial production rose 0.2%, as did manufacturing output. But the capacity utilization rate in manufacturing slipped to 82.2%, from 82.3% in August. The failure of operating rates to pick up is a key reason why upward pressure on goods prices remains muted.
However, the pace of output is closing in on capacity growth. For the quarter, factory production rose at an annual rate of 5.4%, after increasing at a 7.1% pace in the second quarter. Both rates were faster than capacity growth.
THE BIGGEST DRAG ON GDP GROWTH last quarter came from foreign trade. The August trade deficit for goods and services stood at $10.8 billion, only a small narrowing from July's $11.6 billion. So the deficit in net exports may well have widened to the largest gap in 8 1/2 years. Trade could easily have subtracted close to a full percentage point from growth last quarter. Exports slowed, while holiday inventory-building and strength in high-tech demand pushed up imports.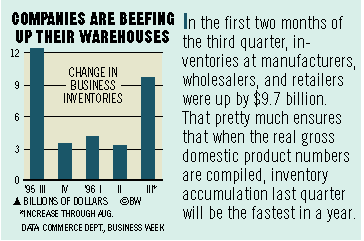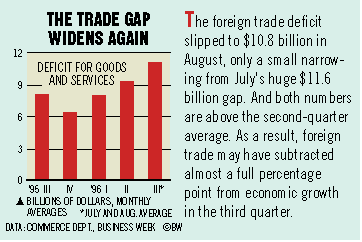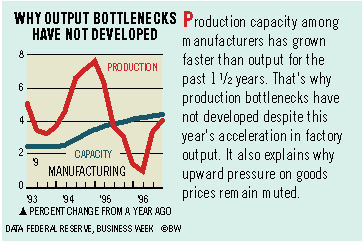 For the fourth quarter, however, trade seems likely to turn around, perhaps dramatically. Imports are set to slow, the result of the slower pace of third-quarter demand. Also, exports appear ready to accelerate, reflecting the pickup of demand in Europe and Latin America and continued strength in Asia. One danger in the outlook, however, is Mexico. The failure of its privatization effort has turned off foreign investors, threatening a new crisis for the peso.
If both foreign and domestic demand rebound this quarter, as the fundamentals strongly suggest, worries that excessive inventories will depress output and payrolls will fade away. And faster growth in late 1996 will put the Federal Reserve--and a possible interest-rate hike--back in the spotlight in early 1997.
Before it's here, it's on the Bloomberg Terminal.
LEARN MORE