Subaru Goes Far By Going Back
It returns to its all-wheel-drive niche--and to black ink
Larry Armstrong
Beating a hasty retreat doesn't often pave the way to success. But that's exactly what happened at Subaru of America Inc., which just four years ago risked becoming the latest on the scrap heap of failed foreign brands in the U.S. auto market. From its 1986 peak, when it sold close to 200,000 cars, Subaru suffered a dizzying slide that cost it nearly half its sales. In 1992 alone, the company lost $250 million on revenues of $1.4 billion as unfavorable exchange rates and poor marketing eroded Subaru's image as a maker of inexpensive, durable cars.
Today, thanks to a bold strategy by President and Chief Operating Officer George T. Muller, Subaru is no longer spinning its wheels. Sales at Subaru, a subsidiary of Japanese giant Fuji Heavy Industries Ltd. based in Cherry Hill, N.J., have risen 22% through September, dwarfing the industry's 3% growth. Subaru projects record sales of $2.1 billion this year, with earnings at the now-private company second only to 1986's $93 million. In August, it introduced a follow-on to its wildly popular Outback wagon. Christopher W. Cedergren, an independent auto analyst in Thousand Oaks, Calif., says it's "one of the most profound turnarounds ever in the industry."
Heady words, those, for a company long considered a neglected stepchild of the auto industry. Subaru has always been a bit different. Unlike the pattern of other Japanese offshoots, Subaru was founded by two Philadelphia entrepreneurs, Malcolm Bricklin and Harvey Lamm, who hoped to duplicate Volkswagen's U.S. success with a cheap, boxy import car from Fuji, a minor Japanese player. Their first try, in 1968, failed: The "Japanese beetle" was banned from California freeways because it couldn't meet minimum speeds.
RURAL ROUTE. The company did better in its next foray. In 1970, Subaru introduced one of the first front-wheel-drive cars into America. Four years later, its all-wheel-drive cars cemented its superior reputation in bad weather. While the rest of the Japanese aimed at the Sun Belt, Subaru focused on rough-weather sites like Colorado and Maine. Too small for big-city dealers--even at its peak, Subaru never held more than 1.2% of the U.S. vehicle market--the company went rural and advertised cars that were "inexpensive and built to stay that way."
Small and profitable, the publicly traded Subaru posted record sales and earnings for 12 straight years, until 1986, when the rising yen destroyed its cost edge. Subaru had also added bigger cars to compete with Toyota and Honda, but the rebates of up to $2,000 and other incentives needed to move the large cars caused Subaru to skid out of control. By 1990, Fuji, Subaru's largest shareholder, had had enough. It paid $66 million for the 50.4% of Subaru it didn't already own, installed new management, and hired Wieden & Kennedy Inc., the hot Portland (Ore.) ad agency, to remake its image. Yet the missteps continued. The new ad campaign mocked pretentious car drivers just as Subaru launched a $25,000 luxury sports car. The hemorrhaging persisted.
FIRST, THE PAIN. In 1993, Muller, 47, then a 14-year Subaru veteran and its CFO, got the nod from Fuji. His harsh conclusion: Subaru required a radical retrenchment. Realizing that it didn't have the scale to compete head-on with the majors, Muller decided Subaru should ditch half of its product line and bet the company on its all-wheel-drive heritage.
The strategy was a risky one. Fully 50% of Subaru's revenues came from front-wheel drive, and if consumers didn't embrace all-wheel drive, sales might not be large enough to keep manufacturer Fuji in the U.S. market. With as much as 90% of Subaru's Sun Belt sales coming from front-wheel-drive cars, the company could vanish from the area altogether. "It's not a mainstream market," says Muller. "But we decided that we're not a mainstream player."
First came pain. Muller fired the ad agency and dropped the two money-losing entry-level cars. He stopped ordering front-wheel-drive versions of all cars. With a 300-day supply on hand--five times the industry average--it took a year to clear the lots. "The biggest risk," says George Peterson, president of Santa Ana, Calif.-based market researcher AutoPacific Inc., "was paring the line and admitting their failure."
Fortunately for Subaru, the shift came just as car buyers were beginning a romance with sport-utility and other larger vehicles. Although Subaru was tiny, Muller figured its long history with the niche would give it an edge on larger rivals. It was the right call. The company eked out a small profit in 1994, and last year, sales of Subaru's Legacy, a family sedan, grew 27%, to more than 74,000 units, and the Legacy wagon outsold Ford's Taurus wagon for the first time. "In the beginning, I was unhappy with Subaru's decision," says Richard A. DeSilva, owner of Liberty Subaru in Oradell, N.J. "But they've made a believer out of me."
What did it for DeSilva--and for the company--was the Subaru Outback, introduced in August, 1995. With it, Subaru singlehandedly created a new industry segment--a hybrid vehicle with the off-road capabilities of sport-utilities but the comfort and handling of a passenger car. The Outback is a Legacy wagon with a taller roof, beefed-up suspension, and bigger tires. It also has sport-ute styling cues such as a bolder, truck-like grille and bug-eyed foglights. Australian actor Paul Hogan of Crocodile Dundee fame was named pitchman. "The Outback is the first of a new breed," says Cedergren. "As boomers get older, they get tired of the road manners of sport-utilities. They'll graduate to products like this."
Because it's built on a car platform rather than a truck base, the Outback offers better handling than regular sport utilities, plus fuel economy comparable to that of midsize cars. Unlike four-wheel-drive sport utes, which require the driver to switch to four-wheel mode when needed, Subaru's all-wheel-drive is always engaged and can be driven at high speeds on dry pavement.
So far, the plan is working. The Outback has accounted for 40% of Subaru's sales so far this year and forced some of the big names into a catch-up game. The first rival product, Honda Motor Co.'s CR-V, will arrive in December, and virtually every carmaker is developing a sport-utility built from a car, although no other new models are expected for at least a year. "We see [the Outback] as a minor competitor," says Scott Yogi, product planner for the CR-V at American Honda Motor Co. in Torrance, Calif., "but the CR-V can also compete in the mainstream sport-utility vehicle market."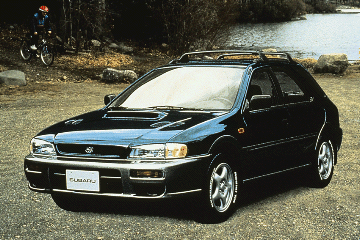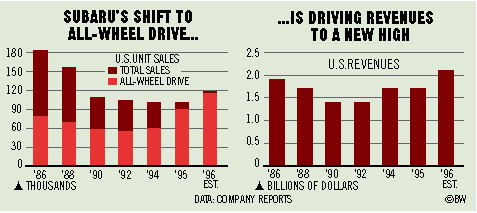 LEANER MACHINE. Having stirred the competition, Subaru is rushing to capitalize on its own craze. In August, it introduced an upscale version of the Outback for around $25,000, as well as a junior model, the $18,000 Outback Sport. In the works for the 1998 model year is a third vehicle, designed from the ground up to better mimic the sport-utility category.
The new, leaner Subaru of America may not break its 1986 unit sales record, but that's okay with Muller. He's happier about Subaru's profits and its average transaction price, which has risen from $15,875 in the 1993 model year to $20,564 in the 1996 model year. Muller hopes to sell 130,000 cars by 1998, up from this year's estimated 117,000. "We're never going to get big," he says. "We're operating in a smaller segment, but one I can make money in." It looks like Subaru has finally discovered its niche--the one that was there all along.
Before it's here, it's on the Bloomberg Terminal.
LEARN MORE