Putting Beverly In The Pink
by
Beverly Enterprises (BEV), the nation's largest operator of nursing homes, hasn't been very healthy: Its stock languished at around 10 all summer, hurt by worries that the government might curtail spending on Medicare and Medicaid--a large source of earnings. Lately, however, the stock has perked up. Starting in early October, Beverly shares rose from 10 1/2 to 12. The reason: fresh talk of a takeover.
Beverly isn't a newcomer to the rumor mill. Last year, there was speculation that a big hospital-management company was eyeballing it--a prospect that fizzled. Now, there are whispers that a big health-care operator is preparing a bid. This suitor also operates nursing homes and provides institutional pharmacy services.
Last year, Beverly announced it would sell up to 19.9% of its Pharmacy Corp. of America in an initial public offering. Analysts put the value of the unit at $377 million to $600 million, or $4.30 to $7 a share. But the spin-off got put on ice. Some investors think the deal was held off because of an impending buyout of the company.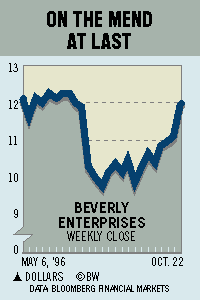 One California investment manager reckons the offer will be in the high teens. An analyst at a New York investment bank says there is a chance Beverly will indeed be acquired--or split up. In that case, he says, it could fetch a price in the mid-to-high teens.
Beverly operates 637 nursing homes, 33 retirement and assisted-living facilities, 11 hospitals, 53 pharmacies, and 8 rehab clinics. According to Zacks Investment Research, Beverly should make 75 cents a share this year and 85 cents next, up from last year's 66 cents. Beverly says it doesn't comment on rumors.
Before it's here, it's on the Bloomberg Terminal.
LEARN MORE