For Capitalists, It's The Ho Chi Minh Trail
Vietnam is losing its luster among foreign investors. And reforming the laws may be a slog, too
By
Overseas investors are finding it increasingly difficult to operate in Vietnam because of poorly crafted laws and a hostile bureaucracy. In two stories, BUSINESS WEEK analyzes Vietnam's attempts to improve its investment climate and looks at Toyota's efforts to establish itself in a tough new market.
AT LAST, HANOI LENDS AN EAR
Even so, business is bailing out
Usually, the first day of Vietnam's National Assembly goes strictly according to tradition. First, the country's lawmakers file past the embalmed remains of Ho Chi Minh. Then, the Prime Minister delivers a speech vaunting the country's economic success. But this year, when Prime Minister Vo Van Kiet took the podium on Oct. 15, he deviated from the script. He slammed his government's inefficient bureaucracy and corruption, charging they were hurting the investment climate. "Foreign investors deplore the weakness of the Vietnamese judicial system and believe there are plenty of risks involved in their businesses," said Kiet.
Kiet's unusual candor is the first indication that at least some Hanoi policymakers are finally listening to the complaints of foreign investors. But Kiet may not have the support to usher in widespread economic change. Even though the National Assembly is debating revisions to the foreign-investment law, the proposed changes don't go nearly far enough. The problem is that party hard-liners view foreigners with deep suspicion and regard any measures to improve the investment climate as a threat to their power. Their position is key in a country where policy is made by consensus.
What is clear is that Vietnam is losing its luster. Approved foreign-investment projects were down 34% during the first nine months of this year, to $3.6 billion. Just over $77 million worth of U.S. projects have been approved by Vietnam so far in 1996, only one-fifth as much as during the same period last year. Foreign companies, wanting to avoid joint ventures with troublesome Vietnamese partners, are trying to structure deals so they have exclusive control.
A group of visiting top executives from Japan's influential Keidanren organization made this clear to Vietnam's leaders earlier this month. In an uncharacteristic departure from their usual reserve, the Japanese publicly blasted Hanoi's recalcitrance. "I hope they listen carefully this year," says Akira Nishio, former president of Nissho Iwai Corp., which has more projects under way in Vietnam than any other single Japanese company. "We emphasized our points with a very loud voice."
STONEWALL. But the proposed changes to the investment law show action may be slow in coming. "Everybody was disappointed," says Noboru Uesugi, Mitsubishi Corp.'s general manager for Vietnam. He is dismayed that a hoped-for change in the law governing joint ventures failed to make it into the final draft. This means local partners, who typically hold minority stakes in joint ventures, still can stonewall their foreign associates, because by law all major business decisions must be approved unanimously.
Other aspects of the proposed new law provide "no new incentives," according to one foreign lawyer. One clause outlines sectors in which 100% foreign-owned projects are not permitted. But foreign investment in these fields, including real estate, telecommunications, and power, has long been restricted anyway.
Some foreign investors have reached the end of their tether. Occidental Petroleum Corp. in Los Angeles pulled out of a $109.4 million deal to build a plastics plant after the authorities licensed a rival project. Australian mining concern Westralia Sands Ltd. quit Vietnam earlier this year, leaving behind millions of dollars worth of equipment. And Maryland's BBI Investment Group, whose proposed $243 million development at China Beach is the largest licensed U.S. project to date, might be the next big deal to unravel.
Vietnam may lose more such projects before it becomes more investor-friendly. It's clear they are getting the message from foreign investors. But until there's consensus that their money is for the good of the nation, Vietnamese hard-liners may refuse to listen--even to their own Prime Minister.
TOYOTA GUNS IT--INTO THE SLOW LANE
It's making Corollas from kits
As a plant opening, it was a bit of a cheat. On Oct. 10, Toyota's first two made-in-Vietnam Corollas rolled out on a red carpet as 14 schoolchildren with drums and cymbals clanged out a welcome for honored guests. But the plant is just a skeleton of steel girders: Production won't start till June. Instead of a high-production assembly line, 50 Toyota workers in a makeshift storage facility assemble two cars a day from kits imported from Japan. "We had to move fast because others are already here," explains Takashi Hasegawa, president of Toyota Motor Vietnam Co.
Toyota is jumping the gun, because 13 other makers have licenses to build cars in Vietnam's undeveloped market, and five have already begun. With so many entrants into a country where per capita income is under $250 a year and where annual new-car sales number 10,000, analysts predict it will take 5 to 10 years to make a profit. Why scramble for such meager pickings? No one wants to miss out on another Thailand, where auto sales jumped sixfold, to more than 500,000 cars a year, in the past decade. Vietnam, with 74 million people, is even bigger, and carmakers want to be able to cash in on the huge potential demand. "People are excited because it's one of the last untapped auto markets in Asia," says Nicholas J. Speeks, director of operations at Mercedes-Benz Vietnam.
DEEP POCKETS. Toyota is starting out small, with a $35 million investment, to produce 10,000 vehicles per year. It will focus initially on the Hiace van, widely driven in Southeast Asia, and will ramp up with the Corolla as the passenger-car market grows. The plant's eventual production is slated for 20,000 cars by 2000, with investment climbing to $100 million. Hasegawa hopes to make back the company's initial outlay within a period of five years.
That's an ambitious strategy when each van costs $29,000. But going in early and staying for the long term has worked for Toyota elsewhere in Asia. The carmaker has a healthy 23% market share in Southeast Asia. And it has the deep pockets to hold firm through profitless years, while others get squeezed.
The company faces tough competition, however. "It'll be a real fight between the major players--Toyota, Ford, and the Koreans," says W. Wayne Booker, Ford Motor Co.'s executive vice-president for international operations, who attended the Vietnam motor show in October. Ford is putting a plant right next to Toyota's, with an annual capacity of 7,000 to 10,000 vehicles, and is beginning production next fall. Daewoo Motor Co. is also going in big, planning a $662 million investment to produce 100,000 vehicles near Hanoi by 2000.
But other manufacturers are scaling back after rushing in. Chrysler Corp. got approval for its planned $192 million plant last year but hasn't broken ground yet. Vinastar Motors--a joint venture of Mitsubishi, Vietnam's Transport Import-Export & Investment Corp., and Malaysia's Proton--closed one of two plants after just 12 months.
The profit problem for everyone in Vietnam is exacerbated by the absence of local parts. "We can't even find Vietnamese companies to supply battery acid, oil, or paint," says Speeks. The Vietnamese government, hoping to lure parts makers, isn't cutting any slack on local-content requirements of 5% in five years and 30% in 10 years.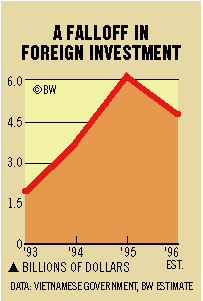 "ALMOST NOTHING." That has led Mercedes-Benz, Mitsubishi, and Isuzu Motors Ltd. to discuss sharing parts, such as wiper blades and carpeting. Toyota's Hasegawa is skeptical about the chances of suppliers' making money. "Even if we combined all 14 makers' specifications, volume is still almost nothing," he says. But Toyota has the clout to draw in its own suppliers. Three companies of the Sumitomo group have set up a joint venture in Hanoi to build electrical wiring systems for the cars. "Our relationship with Toyota was a big factor," says Katsumi Kurita, a deputy general manager at Sumitomo Corp.
Even with the anticipated doubling of per capita income by the end of the century, it will be years before the average Vietnamese can afford a car. But by then, Hasegawa figures, some competitors will have dropped out. Not Toyota, though. It's willing to fight for its markets, making cars just two at a time.
Before it's here, it's on the Bloomberg Terminal.
LEARN MORE