Dole's Bus Is Running Out Of Gas
Dole sputters on, but the campaign is mired in infighting
Paul Magnusson
Bob Dole is trying to follow the advice given to losing boxers in their final rounds: Just put your head on the other fellow's chest and keep on punching to his body. But Bob Dole is no Joe Frazier, and as his Presidential campaign flails away in its last two weeks, it seems to be fighting itself more than the Clinton White House.
As Dole and his seven-bus caravan crisscrossed southern Michigan, what emerged was a discomforting portrait of a loser-to-be who can't do anything to save himself. There was discontent, even rebellion, as partisans acknowledged that their candidate is 8 to 15 points behind the President in the state.
JAB AND FEINT. The numbers are the same in much of the country, and it's not hard to see why: Dole simply isn't connecting. In Detroit, eight GOP governors convened an Oct. 21 economic "summit" to tout Dole's 15% tax cut. Yet the candidate himself shuffled vaguely from issue to issue--school vouchers, regulatory reform, flag burning, school prayer, killing the Internal Revenue Service. He feinted at tax reform before jabbing his opponent. "Facts never got in the way of President Clinton," Dole said without much conviction.
This is a typical performance. "We didn't stick with our message," says a top campaign aide. "It was drugs, then taxes, then ethics, then taxes, then tort reform, then something else." The campaign's best hope at this late date, says this official, is to stoke hatred of Clinton among hard-core Republicans to generate huge turnout. "Otherwise, local Republican candidates in close races are going to be dead meat," he laments.
The candidate senses the bad news, too. After the governors' meeting, he stopped at a Main Street rally in picturesque Chelsea. Dole scanned the flag-waving crowd and realized it consisted mostly of children. "Of course, you are smiling because you got off from school to come here," he acknowledged. Dole's self-defeating asides spill out everywhere. Of his $1,260 tax cut for a typical family of four, Dole concedes: "Maybe that's not much money." He tells crowds: "Maybe nobody cares about politics anymore." Other times it's "trust" that nobody cares about. Still, Dole insists that he remains "the most optimistic man in America" because he believes he can win.
There's little evidence of any Dole momentum in the battleground states where the 73-year-old Kansan has chosen to begin his final push: Michigan, Ohio, California, Florida. Even Republican governors are flailing away at Dole--and each other. Ohio Governor George V. Voinovich says of Wisconsin Governor Tommy G. Thompson, who has been openly critical of the Dole campaign: "Some people have got to cover their own rear ends in their states, and the way to do it is to complain."
Inside a cavernous Detroit Diesel Corp. warehouse, site of the GOP governors' meeting, the massive engines sitting on wooden flats outnumbered the spectators. Blue-shirted members of the United Auto Workers hung back out of camera range so they wouldn't appear to be supporting the Republican. A year ago, President Clinton attracted so many well-wishers the production line had to be shut down.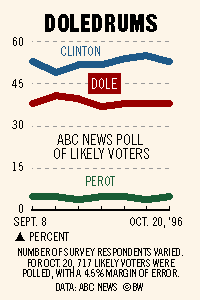 SOME FIREWORKS. Dole's crowds contain supporters, of course, but they seem to hold few of the crossover Democrats or independents who are the key to victory in traditionally ticket-splitting Michigan. Elaine Worsham, 33, was pressured to attend a rally in Jackson by other members of her home-schooling support group. "The moral issues" have the most appeal, says the mother of two, who opposes abortion rights. For lifelong Republican Barb Hesterman, it was "the philandering that Clinton has done--we need an example for the children."
Stopping briefly in Columbus, Ohio, on the way home, Dole was energized by an enthusiastic 6,000-person rally at Otterbein College, complete with fireworks. The candidate joked to the crowd about President Clinton's receiving "foreign aid" from Indonesian millionaires. But he also insisted that "your economy's not any better." His evidence: People are tapped out on their credit cards. It's not a zinger. Dole, suffering from a cold and surrounded by squabbling supporters, seems about tapped out as well.
Before it's here, it's on the Bloomberg Terminal.
LEARN MORE