Britain: A Rising Tide For A Rate Hike
The British economy is gathering steam--and so are inflation pressures. Chances are good that economic growth will shift into the 3.5%-to-4% range in 1997, up from a projected 2% to 2.5% this year. However, it now looks as if the 2.5% target for underlying inflation will not be met. Despite the government's opposition, pressure for an interest rate hike before next May's election is growing.
Consider the recent data. In September, the jobless rate fell to 7.4%, its lowest in 5 1/2 years. Because of tighter labor markets, the annual pace of average earnings in July and August accelerated to 4%, the fastest rate in more than two years (chart). The broad M4 money supply in September grew 9.8% from a year ago, leaving growth above the 9% upper boundary of the government's monitoring range for more than a year now. And underlying inflation in September, the government's target rate, which excludes mortgage interest, picked up to 2.9% after holding steady for five months.
With the economy set to heat up, these pressures will not abate. Domestic demand rose strongly in the first half in response to cuts in taxes and interest rates, and it appears to have remained robust in the third quarter. Although inventory reduction has thus far hindered a snapback in manufacturing, that is about to change: The British Chambers of Commerce's third-quarter business survey showed that the manufacturing sector was gaining momentum.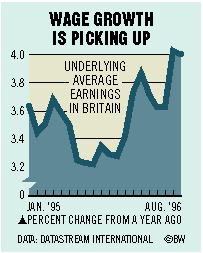 To be sure, prices aren't going to explode. Wholesale inflation, excluding energy and food, hit a 29-year low of 0.9% in September, and a stronger British pound will also mute inflation. Because of prospects for strong growth and higher interest rates, trade-weighted sterling is up 6% in the past two months. In fact, Chancellor Kenneth Clarke will undoubtedly use the stronger pound to argue against a rate hike. Under the "4-to-1 rule," a 4% rise in sterling has the same anti-inflation impact as a one-point rate hike. But if emerging price pressures continue to build, Clarke's position will be increasingly difficult to defend.
Before it's here, it's on the Bloomberg Terminal.
LEARN MORE