Beijing's Shadow Doesn't Spook This Bull
Hong Kong investors bet China won't mess with a healthy market
Dave Lindorff
Emerging-markets guru J. Mark Mobius was deep in a South African copper-ore pit two weeks ago, scoping out a mining business, when a company official approached. "The first thing he asked me was: `What's going to happen to Hong Kong after July 1, 1997?"' says Mobius. "Anywhere you go in the world, it's what people are interested in." Mobius' answer to the exec? China's leaders, aware of intense international scrutiny as they resume control of the former colony, "aren't going to blow it."
Mobius is putting his money where his mouth is. His Templeton Developing Markets Trust fund is 15% invested in Hong Kong stocks. And his faith in the territory's future is far from unusual. Hong Kong's Hang Seng Index rose more than 5% in the first three weeks of October and is up 23% so far this year, hitting a record 12,510 on Oct. 18. Despite uncertainty over Hong Kong's new leadership and the precise amount of freedom Beijing will allow, investors are betting that China will keep its hands off Hong Kong's economy--at least in the short term.
Besides such optimism, "there are solid fundamental reasons for the performance of the Hong Kong market," says Peter Churchouse, head of research at Morgan Stanley Asia Ltd. in Hong Kong. The U.S. Federal Reserve's September decision not to raise interest rates removed one fear that had limited Hong Kong stocks' advance. Also, at a time when other regional markets are either too pricey, like Malaysia and the Philippines, or slumping, like Thailand and Indonesia, Hong Kong's valuations look attractive. The average price-earnings ratio is about 14.5, the market's 10-year average. In addition, earnings are picking up, and China is loosening credit slightly.
The market's locomotives have been property stocks and so-called Red Chips--companies operating in Hong Kong but largely owned by Chinese interests. Because of government intervention to discourage speculation, residential property prices have tumbled 30% since 1994. But thanks to an easing of mortgage restrictions and an improving local economy, residential prices have begun to recover, especially in such desirable locations as Hong Kong Island.
The turnaround shows up in the earnings and share prices of such leading real estate players as Cheung Kong (Holdings) Ltd. and Sun Hung Kai Properties Ltd., whose stocks are at historic highs. Analysts say they now expect second-tier companies, such as Sino Land, Wheelock, and Great Eagle, to start playing catch-up. Banks, heavily dependent on mortgage business, are benefiting from the trend, with shares of HSBC Holdings PLC and Hang Seng Bank Ltd. also setting records. Commercial property, while still in the doldrums, is widely thought to have bottomed out and may pick up, thanks to an inflow of Chinese companies and personnel as the handover approaches.
Red Chips are riskier, because transparency problems make these companies' earnings harder to predict. But their recent performance has been stellar. Shares of conglomerates Shanghai Industrial and China Resources Enterprise set new highs, while flagship Citic Pacific Ltd., the government investment vehicle, is up 119% this year. Why? Investors expect that mainland interests will soon begin taking advantage of loosened credit at home to inject fresh capital into these Hong Kong entities.
The only question is how far this bull can run. While analysts and fund managers agree about the causes of the current boom, they disagree about its future. "I would be hesitant about chasing the Hang Seng," says Goldman, Sachs & Co. analyst Janice Wallace. The market could pull back if U.S. interest rates rise after the Presidential election, as some are predicting. Beyond that, she warns: "The big gains have already been made."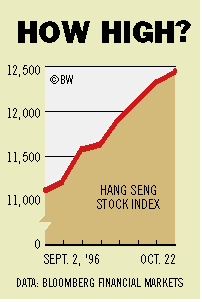 NEW INFLUX. But Morgan Stanley's Churchouse thinks the Hang Seng may break out of its recent strong correlation with the U.S. stock market. Churchouse predicts Hong Kong stocks can stay strong into 1998 and beyond, on the expectation that some 150,000 wealthy mainlanders will soon begin pouring into the territory. The Hong Kong government has already agreed to grant 55,000 new residency permits this year. "That's going to be a big shot in the arm for the local economy," says Churchouse, "with these people buying flats, offices, fancy cars, club memberships, and so on."
Bad things could happen, of course. With world attention focused on how the Chinese manage the Hong Kong transition, one wrong move could send investors running. But most observers and market analysts speculate that Beijing wants a booming stock market when it takes over Hong Kong. If the current euphoria lasts, they'll get their wish.
Before it's here, it's on the Bloomberg Terminal.
LEARN MORE