A Brighter Glow On Alumax?
by
"The music has to stop--sometime," says Tony Hitschler, speaking of the market's record climb. "So what we're doing is accumulating some truly ignored and depressed stocks." There are still plenty of worthwhile issues that, for whatever reason, have lagged behind this year, notes Hitschler, head of Brandywine Asset Management, which steers some $4.5 billion.
One stock Brandywine has been buying is Alumax (AMX), the nation's third-largest aluminum maker. It recently rebounded from 29 to 32 3/8.
The stock hit 38 in early February--before Alumax rejected a hostile offer from Kaiser Aluminum to acquire the company for $2.2 billion to $2.5 billion, or 40 to 45 a share. Some analysts think Alumax, which turns out aluminum ingots plus aluminum and steel products for building and transportation use, could still be takeover prey.
"Truth is, Alumax remains an attractive--and vulnerable--takeover target, in spite of the poison pill that management instituted," says Hitschler. He doesn't think Kaiser will put in another bid. But he says a big foreign metals outfit could tempt Alumax with a more attractive offer before long.
Takeover prospects aren't the driving force behind Hitschler's bullishness. He says Alumax is way undervalued at its current price, and he notes that the company is currently selling at about its book value, while its peers are at 1.5 to 2.5 times book. Based on next year's projected earnings, the stock has a price-earnings ratio of 10, vs. 19 for Aluminum Co. of America, and 24 for Reynolds Metals.
Even without a takeover, Hitschler figures Alumax is worth more than 50, based on the replacement value of its assets. At the end of 1995, Alumax had total assets of $3.1 billion and posted revenues of $2.9 billion.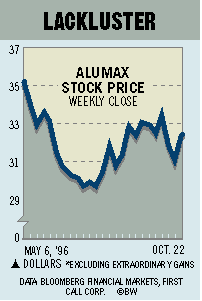 Alumax will be a big beneficiary in aluminum's coming turnaround, says Hitschler. Analysts see the aluminum glut ending by next year. Oversupply has sent prices plummeting. "The period from mid-1997 to the end of 1998 should be a time of solid recovery," forecasts Clarence Morrison, a metals analyst at Prudential Securities. Improving demand and plant shutdowns should bring supplies and consumption "closer to balance," he says.
World aluminum consumption, he figures, should rise 3.5% this year, to 27.6 million metric tons, and will increase a further 4.3% next year.
Before it's here, it's on the Bloomberg Terminal.
LEARN MORE