What Might Derail The Csx Conrail Merger
Worried shippers or a bid from Norfolk Southern
Joseph Weber
Somebody must have thrown a switch somewhere. Back in the mid-1980s, when a rival railroad tried to swallow up federal government-controlled Consolidated Rail Corp., the line's managers fought tooth and nail to stave off the takeover. Even though the U.S. Senate weighed in with a pro-acquisition vote, the managers won and Conrail instead went independent by selling stock to the public. These days, Conrail's executives are chugging down a different track. Eager to see his company sold to rival CSX Corp. for $8.4 billion, Conrail Chief Executive David M. LeVan calls "the opportunity to be with our ideal partner just tremendous."
This linkup, announced on Oct. 15, may not be an easy ride, however. The competitor that was denied Conrail in 1985--Norfolk Southern Corp.--is already flashing warning signals about the deal. Saying in a prepared statement that the acquisition "raises serious concerns," the rival railroad vows to "act responsibly and aggressively" to protect shippers, shareholders, employees, and the communities it serves. The statement raises the possibility that Norfolk may make a higher bid than the $92.50 cash-and-stock offer from CSX. Says Norfolk: "We do not rule out any options."
"HOT TOPIC." Some shippers, too, may have reason to fret. The deal allies a Northeastern powerhouse with a Southeastern giant, but will cut competitors in some Midwestern markets from three to two. Shippers already are worried about a lack of choice in the West, where the recent mergers of Burlington Northern with Santa Fe and Union Pacific with Southern Pacific cut the number of big carriers to two, depriving some regions of competing lines. "This will be a hot topic of discussion," says Robert A. Voltmann, policy director at the National Industrial Transportation League.
Richmond (Va.)-based CSX and Philadelphia-based Conrail appear to be gearing up for plenty of wheeling and dealing to placate the critics. CSX Chairman John W. Snow says he and LeVan will meet with Norfolk Southern officials to "see if we can't accommodate their concerns." Union Pacific Corp. and Southern Pacific this year got a government go-ahead to merge only after they agreed to let rival Burlington Northern Santa Fe run its trains on their tracks. If the CSX-Conrail deal is to get done, awarding such track rights seems inevitable--most likely in a negotiated deal between the rival carriers.
A merger-friendly climate in important quarters in Washington, however, means that CSX and Conrail won't be pulling entirely uphill. After recently approving the creation of the Union Pacific-Southern Pacific behemoth, which has $10 billion in annual sales, regulators could be hard-pressed to nix this deal. Indeed, when Washington's Surface Transportation Board, the agency that regulates railroads, approved the UP-SP deal, it did so over the objections of the departments of Justice, Transportation, and Agriculture, the Texas Railroad Commission, and plenty of shippers. And this deal may raise fewer worries: Chrysler Corp., a critic of the UP-SP merger, already is saying the CSX-Conrail merger will promote efficiency.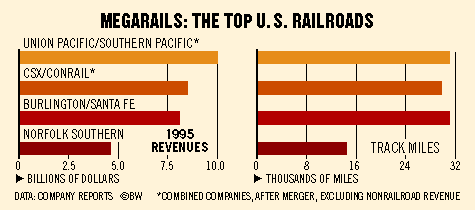 CSX officials know their way around D.C., too. Chief Executive Snow is a Washington-educated lawyer who in the 1970s was Deputy Transportation Under Secretary and administrator of the National Highway Traffic Safety Administration. The 57-year-old CEO plans to stay on as the merged railroad's chief for two years, with LeVan, 50, as his chief operating officer and successor. Already, Snow is making a "national competitiveness" case for the merger. The new outfit, with annual sales of $14 billion, will have tons of financial heft. And Snow contends that joining CSX's Sea-Land Service Inc. shipping unit with the merged railroad would offer seamless service and boost international competitiveness.
However this deal turns out, it may set the stage for still more alliances, and maybe even a transcontinental rail carrier. There have long been rumors, for instance, that Burlington Northern and Norfolk Southern might find common ground--though officials at both carriers decline comment. Whether that deal happens or not, CSX-Conrail may not be the only big rail merger chugging down the tracks in a few months' time.
Before it's here, it's on the Bloomberg Terminal.
LEARN MORE