U.S.: Retailers May Get Their Christmas Wish
Lean inventories and confident consumers promise a better Yule this year
by
For retailers, Halloween and autumn leaves can mean only one thing: The holiday shopping season is nigh. Christmas cards and gift catalogs are already available. And for many retailers, the next two months are make-or-break days that can account for up to half of annual sales and two-thirds of a year's profits.
Retailers are undoubtedly nervous as they look around at the lackluster sales gains racked up during the summer. However, the retail outlook this holiday season, while maybe not great, does look a lot better than last year's disaster. First of all, retailers appear to have learned from their mistakes. In particular, their inventories are leaner. And second, consumer fundamentals are solid, despite poor summer buying.
For the outlook, fourth-quarter buying looms large in its implications for inflation and interest rates. If consumer spending bounces back, economic growth this quarter will rebound from the third quarter's listless pace. And if retailers can make consumers blink first when it comes to price increases, inflation jitters could resurface in the stock and bond markets.
September retail sales rose a sturdy 0.7%, according to the Commerce Dept.'s tally, but August sales, originally reported as a 0.2% increase, were revised downward to show a 0.2% drop. As a result, inflation-adjusted retail sales registered their poorest quarterly growth in four years (chart). Third-quarter consumer spending on goods and services, as it goes into the gross domestic product, appears to have risen at an annual rate of only about 1%.
WHILE THE SEPTEMBER INCREASE was decent, the details raised questions about the breadth of the gain. Excluding a strong increase in car sales, food stores accounted for two-thirds of the month's increase in nonauto purchases. That result seems related more to higher prices than increased volume. Sales of nonauto durable goods were flat. Department-store receipts rose a modest 0.3%, and apparel sales fell for the fourth consecutive month, despite a 0.5% increase in September clothing prices.
So why shouldn't retailers batten down the hatches for another stormy holiday season? Because this would be an unusual time for consumers to fold up their wallets and stay home. To begin with, consumers are exceptionally upbeat. The latest evidence: A preliminary index of consumer sentiment for October by the University of Michigan edged up from an already high September reading. In addition, the weekly survey of store sales by LJR Redbook Research shows that October buying got off to a good start, showing a smart 0.9% rise from the September level.
More important, because of strong labor markets, wages are growing faster than inflation for the first time in a decade. And despite last month's weak increase in private-sector payrolls, the current trend in job growth still appears to be fast enough to keep job markets tight and wages growing.
Throughout this expansion, initial claims have been a dependable indicator of trends in job growth. In the four weeks ended on Oct. 5, claims averaged 332,000, which is close to the average for the third quarter (chart). Based on historical comparisons, that level of claims is consistent with monthly payroll gains well in excess of 200,000, strongly suggesting that job growth will bounce back in October.
Moreover, real aftertax income of consumers appears to have risen at an annual rate of about 5% in the third quarter, the fastest quarterly growth in more than two years. Households are saving more of their income than at any time in the past 3 1/2 years. And consumer balance sheets are getting a big lift from the bull market in stocks and increasing home prices.
To be sure, rising installment debt is a problem for some overextended households. However, installment-debt growth is slowing, suggesting that consumers on the whole have the wherewithal to pay down debt, save more, and spend more, all at the same time.
NOT ONLY ARE CONSUMERS able and ready to spend this season, but retailers are approaching the holidays a little differently this year, too. Last Christmas was dreadful for store owners, only partly because spending was lackluster. Retailers entered the period with too much inventory. So price-conscious consumers played their '90s game of chicken with retailers, refusing to buy until the last minute, when retailers gave in with sales to move their goods. Profits got hammered.
This year could be different. Last year at this time, inventory growth was outpacing sales growth. So far in 1996, it has been just the opposite, as stores' buying policies have turned a bit more conservative. Retailers are giving themselves every opportunity to muster whatever pricing power they can. This year, they might not be so quick to cave in to the last-minute shopping strategy that has characterized recent holiday seasons.
Consumers will still be looking for bargains, of course. That's one reason for the ongoing benign look of the price indexes. There is still little evidence that companies from manufacturers to retailers are having much success at passing along price hikes.
THE PRODUCER PRICE INDEX for finished goods rose only 0.2% in September. Excluding energy and food, the core PPI rose 0.3%, but the rise would have been smaller if not for a jump in new-car prices that was related to a Labor Dept. difficulty in seasonally adjusting for price changes in a new model year. Still, annual core inflation for the PPI remains on a downward trend, and the core index for intermediate goods, further back in the production process, is below its year-ago level.
Consumer prices remain subdued as well. The consumer price index for September rose 0.3% for all goods and services, and excluding energy and food, the core index posted a similar advance. Both indexes rose 0.1% in August. Over the year, inflation remains below 3%, and core inflation is on a downtrend (chart).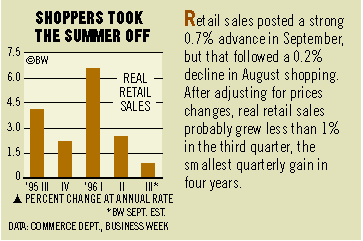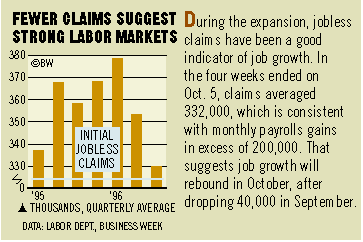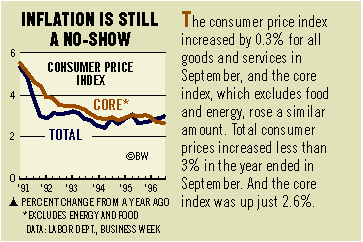 Even if retailers can avoid deep discounting, profit gains might be difficult. Tight labor markets mean that retailers have to pay more for the workers they hire. Last year, hourly earnings of retail workers rose 2.8%. So far this year, pay is rising at an annual rate of 3.5%--and that figure does not include the 50 cents jump in the minimum wage on Oct. 1. Higher labor costs may well squeeze the fourth-quarter profit margins of many nonretailers as well. For the third quarter, at least, earnings results appear to be holding up fairly well, as suggested by BUSINESS WEEK's quarterly preview of profits.
With the World Series in full swing and Halloween candy not even out of the bag, it's way too early for most consumers to be thinking about the holidays. But in the race for solid sales gains and hefty profits, you can bet that retailers are already counting the days.
Before it's here, it's on the Bloomberg Terminal.
LEARN MORE