The Apple Of Anyone's Eye?
The new PowerBook does the job, but breaks no ground
by
The distinguishing feature of Apple's new PowerBook 1400 laptop, and its most noticeable innovation, is a set of panels allowing customers to customize the exterior of their machine's casing. There's laptop gray, or five snazzy patterns that come with the machine. Outside companies may even whip up panels in leather or wood grain.
Well, it's better than nothing--which is about what Apple Computer Inc. has had in stores since May, when it recalled all its PowerBooks to fix a string of glitches. Indeed, when Apple on Oct. 16 reported an unexpected profit of $25 million on sales of $2.3 billion for the quarter that ended Sept. 30, and gross margins that more than doubled to 22% in two quarters, it did so without a strong laptop line to sell. That was no small trick, considering that laptops command gross margins as much as five points higher than desktops.
If the 1400, set to be unveiled on Oct. 21, does well, it may be a key weapon in CEO Gilbert F. Amelio's drive to boost profits further. The 1400 is a good first step toward reestablishing credibility with retailers and customers, analysts say, although it won't be shipped in volume until early next year. In January, Apple plans to unveil another machine that is significantly faster than any Intel Corp.-based notebook, followed later by a subnotebook designed with IBM for the Japanese market, analysts say. But it may be tough for Apple to make a total comeback in laptops: International Data Corp. says the company's notebook market share fell from 7.1% in 1995 to 4% in the first half of this year.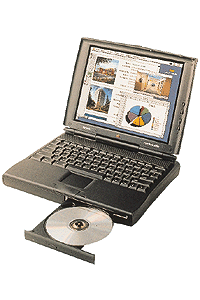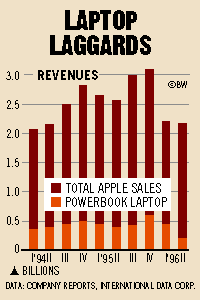 The job of resurrecting the PowerBook has fallen to Dale L. Fuller, who came to Apple in September after overseeing NEC Corp.'s climb from No.10 to No.5 in the U.S. laptop market since 1994. He aims to inject much-needed discipline into the laptop operation. He plans to introduce a product every nine months--whether fancy new features are ready or not. "If you always shoot for home runs, you strike out a lot," says Fuller. "We want to raise our batting average."
Apple has the advantage of pent-up demand from Mac loyalists. Plus, laptop sales were up 33% this quarter vs. the previous one, and Fuller says a backlog of orders will last through February. But is the 1400 the home run needed to recapture the old magic? Maybe not. But its contribution to profits will be more than cosmetic.
Before it's here, it's on the Bloomberg Terminal.
LEARN MORE